UVM research partner faces backlash
Environmentalists stand in opposition to UVM's research partner, GlobalFoundries, over perceived attempts to dodge state climate laws, according to an Oct. 27 VTDigger article.
The outrage comes in response to a recently denied request for a status change to become a self-managed utility, which would exempt it from Vermont's climate laws, according to Oct. 27 VTDigger article.
UVM signed an articulation agreement with GF in January 2020 and has interns at GF as well as several collaborative projects, said Kirk Dombrowski, UVM's vice president for research. Dombrowski organizes and directs UVM's corporate partnerships.
"Do I get concerned when I hear environmental activists worried about things? I do," Dombrowski said. "I think we all pay attention to those concerns. I think our partnership with GlobalFoundries was pointing in just the opposite direction of those concerns."
GF reached out to UVM specifically about green, renewable, zero-carbon energy research, Dombrowski said. UVM currently partners with GF and Vermont Gas Systems to research the applications of green hydrogen, according to a Feb. 2 Cynic article.
GF's attempt to become an energy-independent utility would provide them a loophole to skirt greenhouse gas emissions reductions mandated by Vermont's 2020 Global Warming Solutions Act, according to the Oct. 27 article.
The Vermont Public Utility Commission denied the request because they do not have the authority to exempt GF from the state's renewable energy standard, according to the Feb. 17 article.
Jeff Cram, GF's manager of electrical distribution, said GF aims to utilize the partnership to seek out implementation strategies to utilize green hydrogen in its own manufacturing and heating operations, according to the Cynic article.
"If anything, our partnership was sort of a way of saying that [GF] shared environmental concerns with their critics," Dombrowski said. "There's lots of corporate work, and there's lots of complicated laws, and there's lots of outrage in the environmental community about lots and lots of things."
Despite the opportunity to dodge Vermont's regulations, GF remains committed to comply with them, according to a Feb. 21 press release containing statements from Ken McAvey, Fab 9 vice president and general manager at GF.
Fab 9 is GF's Essex Junction campus, according to a Jan. 20 press release from UVM strategic communications.
GF's petition aimed at meeting higher environmental standards and being cost competitive, according to the press release.
"GF appreciates the [Public Utility Commission's] efforts in thoroughly reviewing our petition, and we are aligned with their recommendation to continue our petition under Vermont's Renewable Energy Standard," McAvey stated.
GF is committed to a 100% carbon-neutral energy portfolio in the state and is committed to a 25% reduction in greenhouse gas emissions globally from 2020-30, according to the press release.
"I hear the criticisms and I look at every partnership that we do individually to make sure that they're in line with our values," Dombrowski said. "This was this good project, green hydrogen is a really important piece of our future."
GF has and will continue to meet and exceed Vermont's environmental standards, the Feb. 21 press release stated.
"​​We believe that our proposal actually does more to protect Vermont's environment, to increase use of renewable energy, to keep Vermont energy cost-competitive and to support good-paying jobs for the people of Vermont," McAvey stated.
GF intends to move forward with its petition to become a self-managed utility, which is about competitive manufacturing costs and does not affect the commitment to environmentally responsible operations, according to the press release.
Regardless of GF's motives for becoming a self-managed utility, Dombrowski does not see a profit motive in the green hydrogen research partnership in the short term, he said.
"They're a business," Dombrowski said. "In the long run, if they thought that it would save the money, I think they would be quite happy about it. This is how businesses work. They're trying to stay in business."
Despite GF's profit motive, Dombrowski believes they are responsive to community and environmental concerns, as is UVM.
"We take the concerns of Vermont's environmental activist community very seriously at the University," Dombrowski said. "We're always trying to push that and our collaboration with GlobalFoundries was specifically on ways to take renewable resources, turn them into zero carbon producing fuels."
Gina DeRossi, GF's corporate communications manager, did not respond to the Cynic's request to interview a company representative.
"I can't speak to their motives on these things," Dombrowski said. "They reached out to us because of our work in clean energy and that was what they were looking for help with."
About the Contributor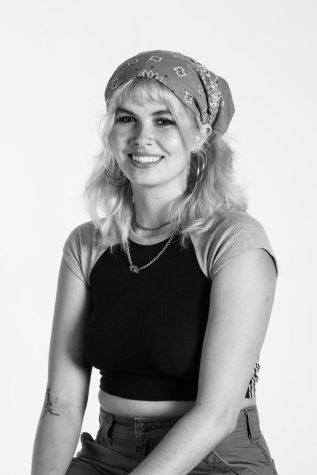 Ella Ruehsen, Editor-in-Chief
​(She/her) Ella Ruehsen is a senior environmental studies major with minors in political science and reporting and documentary storytelling. Before becoming...