In 2020, we can't lose sight of the fight for the Senate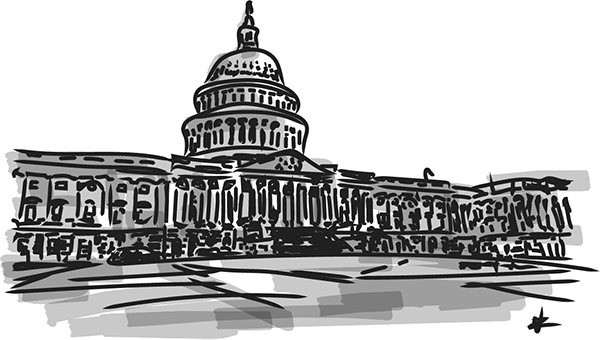 This summer's political headlines have been filled with drama from the run up to the Democratic primary.
Sen. Bernie Sanders did this, former Vice President Joe Biden said that,  Sen. Elizabeth Warren released a plan for that. But one giant piece of the 2020 puzzle isn't getting enough attention: the fight for the Senate.
34 of the 100 seats in the Senate are up for grabs, the majority of which are held by Republican incumbents.
This presents a chance for Democrats to pick up seats, and they need at least four gains to have a majority in both chambers.
As young people with the largest stake in the future of the country, we must elect a Congress that will answer to our needs.
We can start by getting educated about what's up for grabs and who's running for Senate.
Two kinds of seats are up for grabs: seats in states that President Donald Trump lost in 2016, and seats in states that he won.
Let's start with states that Trump lost: Maine and Colorado.
Republican Susan Collins of Maine has been a target for Democrats since her vote to confirm Justice Brett Kavanaugh to the Supreme Court in 2018.
Multiple candidates are challenging her, including former Speaker of the Maine House of Representatives, Sara Gideon.
The most progressive candidate is Betsy Sweet, an activist and former director of the Maine Women's Lobby. You can find information about her on the Justice Democrats website.
In Colorado, Republican Sen. Cory Gardner is running in a state that has moved to the left in the past six years.
John Hickenlooper, failed presidential candidate and former governor of Colorado, earned the endorsement of the Democratic Senatorial Campaign Committee.
Andrew Romanoff, a more grassroots candidate, has been generating enthusiasm around the state.
The former Speaker of the Colorado House of Representatives, Romanoff is standing out with his progressive agenda centered on the Green New Deal and Medicare for all.
He's also earned the praise of key Colorado Democrats, including Sanders speechwriter David Sirota and his wife, Colorado State Representative Emily Sirota.
In Senate seats Trump won in 2016, candidates are trying to unseat incumbents.
In North Carolina, State Sen. Erica D. Smith polled seven points ahead of incumbent Republican Thom Tillis in a June 2019 Emerson College poll.
In Arizona, former astronaut and Democratic candidate Mark Kelly is polling ahead of Republican Sen. Martha McSally, according to an OH Predictive Insights poll.
In Montana, Wilmont Collins, the first African American elected mayor in the state, has made national headlines with his grassroots campaign.
There are too many inspirational candidates in too many important races to profile all of them. But all these candidates can be found on the websites SwingLeft.org, or HowWeFlipTheSenate.com.
Check out which candidates you like and donate money or sign up as a volunteer. You can also simply raise awareness of their candidacy by posting about them on social media or talking to folks around you.
If you live in a state with a seat up for grabs in 2020, make sure you're registered to vote in both the general election and the primary.
Without the Senate in 2020, any Democratic agenda will be impossible to pass.