Travel must be simplified for students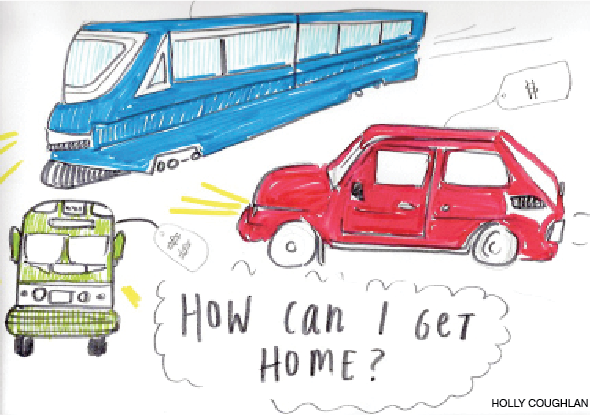 We've all been there: break rolls around and after trying to ride with a friend or join a carpool, you give up and buy a bus ticket.
Shivering in the Downtown Transit Center, afraid to get out of line because you might lose your spot, you ponder the choices you have to get home.
Surely there's a better way.
Although direct public transportation to larger cities such as Boston and New York City is plentiful, there should be an expansion to smaller cities, such as Providence, Rhode Island, and Paterson, New Jersey.
Expansion would increase the use of direct public transportation in general, reduce the carbon emissions of private transportation and provide students with a safe, easy way to get home.
Many UVM students live in smaller cities or towns. It seems like every time you meet someone new, they're from "outside of Boston," and without a car, they have to use two or three different forms of transport to get home.
My routine has been the Megabus from Burlington to Boston, the train on the Providence/Stoughton line and finally either the Rhode Island state bus system or a ride from family or friends.
Many students have more difficult trips. I have friends from Illinois and Virginia who fly home, which is more costly and leaves less room for mistakes.
If you miss your flight out of Burlington, or miss a connecting flight, it's more of a hassle than waiting for the next bus or train.
Burlington International Airport may have a Skinny Pancake, but it doesn't have a huge variety of flight destinations. According to their website, they recently added flights to New York City, Chicago and Orlando, Florida.
While this expansion is helpful, it still caters primarily to city students.
In recent years, there have been efforts to correct this problem.
The popular ride-sharing app Wheeli lets students offer others a seat in their car for a low price or sometimes for free.
These rides are affordable and more likely to serve the needs of students from smaller towns, especially when traveling home for school breaks.
While carpooling lowers the carbon footprints of travelers, it still produces a decent amount of waste and is not as reliable as a scheduled public transit system.
Cars release 70 grams of carbon dioxide per passenger, whereas trains release only 50, according to a July 2013 Guardian article.
In addition, Wheeli is dependent on the driver's will. Public transportation is not.
With direct service to smaller cities, rail and bus companies would gain a significant amount of customers during the school year.
More importantly, students would gain an easy, consistent ride home.