Unpopular Opinion: All skinny jeans should go out of fashion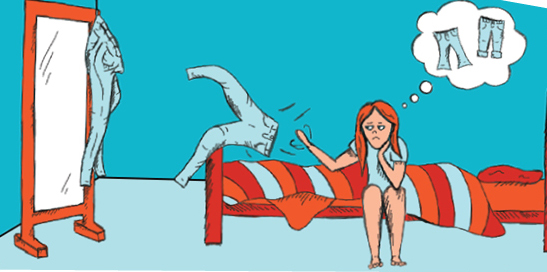 I work at American Eagle.
It's a great job, minus staring at the same promo poster of Addison Rae while on greeting duty — which is just cruel and unusual punishments for introverts — seriously, who likes saying hello to strangers for two hours straight. 
We specialize in jeans: thirty one cuts and 210 washes, including skater jeans, skinny bootcut, original bootcut, 70s flare, 90s favorite boyfriend (which is misleading; is the boyfriend the favorite, or is it the jean?) and so on and so forth. 
What's frustrating is that we have all these options, and yet few of them are sold in stores. The culprit? Skinny jeans. 
In an "Invasion of the Body Snatchers" turn of events, skin tight denim has taken over the fashion industry, and brainwashed the population into believing we look good in pseudo-spandex with a square centimeter of pocket space to match. 
And some of you do look great in skinny jeans. I just don't happen to be a member of the community who was blessed with legs like Gigi Hadid. 
I'm short, with wide hips and, thanks to years of soccer and skiing, thighs that could crush a medium sized watermelon. In skinny jeans, my already stubby legs qualify me for the live action remake of "Gnomeo and Juliet". 
They just never fit right. They're always too loose in the waist, too tight in the thighs, too long in the leg or a disastrous combination of the three. 
Stores like AE make body inclusive cuts to accommodate those of us with, to quote Fergie, "junk in the trunk."  
Curvy jeans eliminate restricting waistbands, removing that obnoxious gaping in the back, making belts obsolete, and you a lot happier, now that you don't have space fit for a small country between your skin and waistband.
But even with their modifications and inclusions, I would still rather stick my head in a microwave than wear skinny jeans. 
You cannot convince me that alterations to a waistband or extra stretchy fabric can make up for the struggle of tugging jeggings on after a shower, or the task of hiding the hem of a sock beneath your favorite ripped skinnies. 
And don't get me started on men's skinny jeans. I spent four years watching Harry Styles' pants get tighter and tighter, as if by the minute, to know that no man should ever be shopping on the extra-skinny side of the jean wall.
Gentleman, if you look at yourself in the mirror and wonder "Would it be less inappropriate to just not wear pants today," you are doing something wrong. 
I know this is a very "kids these days" sounding column, so in lieu of sounding like a disgruntled mother in front of Hollister, I'll offer you a few alternatives to the trend that never seems to be "out". 
Mom jeans are my personal favorite. They sit high on your waist, and cinch in at your ribcage, so that they give you a "snatched" waistline, while simultaneously holding in the three bowls of Annie's mac and cheese you had for dinner the night before. 
They're tighter in the thighs, but looser in the ankles, which gives you a long legged, but still curvy shape. The pockets are big enough to fit almost anything, be that a phone, keys or a packet of fruit snacks if you're an actual mom, and not a college student who wants to make their butt look good. Which, by the way, it will. 
If you're more the "born in the wrong decade" type, allow me to suggest a 70s flare jean. They can be high or low waisted, and hug your thighs before flaring out a little after the knees. 
It's a flattering shape that accentuates your natural curves and if anything else, they make a cool sound while flapping down the street. Pair them with a braided belt and a tunic style top and your 'fit will be enough to make even Stevie Nicks jealous. 
Regardless of your shape, put your skinny jeans in the back of the closet and come visit me at work. 
I'll be Tan from Queer Eye and you'll be my lost soul that just needs a push in the right direction. 
Just don't tell my manager I complained about greeting duty.