UVM needs to improve contact tracing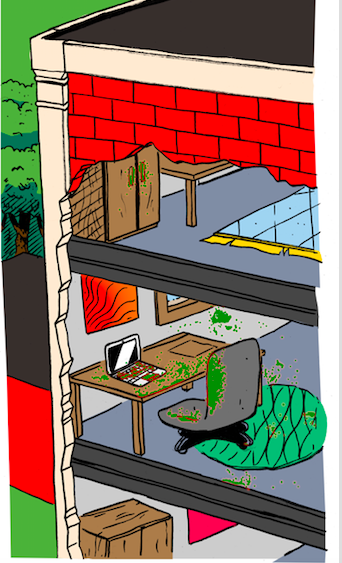 Two weeks ago, a student on my floor tested positive for COVID-19. 
They lived two doors down from my dorm. Everyone on the floor uses the same showers, toilets, sinks, door handles, common rooms, and washing machines. I waited, expecting an email from UVM addressing the situation.
I learned of the COVID result as I sat in our common room, chilling, scarfing down some parmesan goldfish. A student walked into the room, and was alarmed when I explained I lived on the first floor. His eyes widened, he asked, "did you hear about the guy who tested positive?" 
I had not. 
The following day, my roommate and I decided to self-isolate until a negative test came back. I headed down to the Davis center and informed them of my situation. Confused, they sent me to Student Health Services for a rapid COVID test. 
The difference between the Davis center tests and a rapid COVID test, is the rapid test comes back in 15 minutes. Unfortunately, SHS didn't have these tests, so they sent me back to the Davis Center. I could sense the school's confusion and panic.
I proceeded to self-isolate for the next day and half until luckily my roommate and I tested negative. I was relieved but still bewildered that we hadn't been contacted by the school. 
Let's say I did test positive for COVID, and hadn't self isolated.? In those two days I would've come in contact with hundreds of UVM students and professors, exposing them and their families to the virus. There's got to be a better way to go about this. It doesn't feel smart to leave students in the dark.
So, with this in mind, I sent Res Life an email. That email was then forwarded to UVM Strong. Today, I was informed my email is now in the hands of Dr. Michelle Paavola, the medical director of SHS. My email asks this question: "How does contact tracing work at UVM?" 
I've called UVM Strong, SHS, and Res Life multiple times throughout the week, each time being dished to one of the others. It's a circle of confusion. I wanted to write this article informed of how CoVerified works. My goal was to help educate students on UVM's contact tracing process. The University has denied me this opportunity. d
Still waiting on an answer, I am left feeling uncertain how prepared my school is for the coming months. More COVID cases are inevitable, and I believe there's a better way to handle them. 
According to UVM's website, close contacts of a positive testee are the only people who get notified of the COVID result. UVM's definition of a close contact is someone who's been within six feet of someone for 15 minutes or more during the time they are considered contagious. 
In a UVM Microsoft Teams FAQ on August 13th, one attendee asked if students attending a class would be contacted if a classmate tested positive, as the room ventilation and length of the room could affect who is a "close contact."  
UVM responded saying they were following the CDC's recommendations for contact tracing, which didn't include ventilation or size  of the room as factors.
Even if that's true, the CDC also states this, "current evidence suggests that SARS-CoV-2 may remain viable for hours to days on surfaces made from a variety of materials." So, depending on if a room is used for multiple classes, students may be using the same desks and seats as many of their potentially positive testing peers. 
I have heard from students that some professors require students to wipe down their desks before and after class but that doesn't solve the ventilation issue. 
This is why UVM's contact tracing is flawed. SHS claims contact tracers will contact students, staff and faculty who are considered close contacts by being within six feet of someone for 15 minutes or more during the time they are considered contagious. 
They also say if you have class or live in a hall with someone who becomes infected UVM will only notify you if you meet these parameters. I conclude that this is why my roommate, floormates, RA and I were not contacted when a student in our hall tested positive. 
Just because we didn't fall under what UVM considers a "close contact" we still we're subject to contracting the virus from our communal bathroom and common rooms. ?
UVM should ask themselves how they'd like their students to be informed of a positive case, 18 year olds gossiping through the halls or an email from the school taking action to prevent the spread of COVID-19. 
I'd take the latter, and I don't think it's that difficult to achieve.
I suppose I'll know more once my email gets a response. If it gets a response.