UVM, take climate action and divest from fossil fuels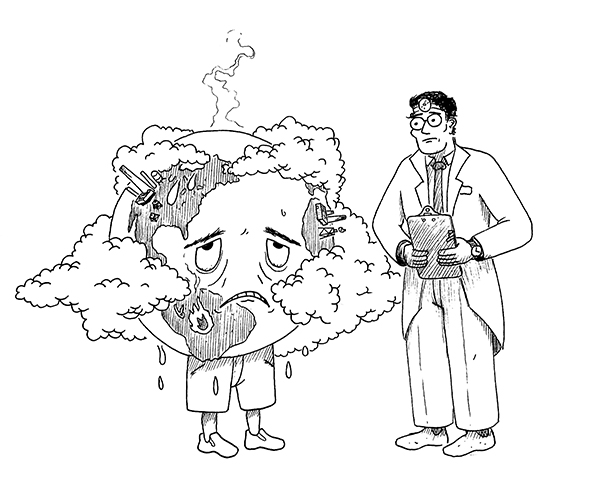 Students around the world walked out of school Sept. 20 in a powerful display of action.
Over 4 million students participated in the youth-led Global Climate Strike, according to a Sept. 21 article from 350.org, a major environmental advocacy group and a co-organizer of the event.
The goal of the strike, spearheaded by 16-year-old climate activist Greta Thunberg, was to pressure adults to take action about climate change for the next generation.
Thunberg, a Swedish high-school student, delivered more forceful leadership on climate than the Democratic Party has been able to accomplish thus far.
Thunberg is right about the youth's role in solving the crisis. We have to take action to ensure an environmentally sustainable future.
Climate legislation is urgently needed to help transition away from our unsustainable patterns of consumption.
But the government isn't the only place to target our efforts. Fossil fuel corporations lobby our legislatures against climate action, directly financing the destruction of our environment.
Local green advancement efforts are blocked all over the country by big moneyed interests.
The conservative Koch donors killed public transit projects across the country by investing in political action against public transit expansion, according to a June 2018 New York Times article.
The U.N. says it will completely transition away from fossil fuels towards sustainable energy to avoid a climate apocalypse. But we can't meet those goals if we keep giving money to fossil fuel corporations.
In a globalized world, the transportation and food industries alone account for 38% of carbon in the atmosphere, according to the University of Michigan's Carbon Footprint Factsheet.
Giving these corporations  extra money is a direct betrayal of our generation. It helps them destroy any chance we have to avoid a climate apocalypse.
Unfortunately, the University continues to give money to these corporations.
In 2017, students asked the University to divest from the top 200 most carbon emitting corporations as indexed by the Carbon Tracker Initiative, according to an October 2017 Cynic article.   
Students have asked the University to divest since at least 2013, according to a May 2013 VTDigger article.
The board of trustees' subcommittee on investment is composed of only four individuals who have the most power to control our investment, according to the board's membership page.
As the youth that will face the consequences of climate change, and as the student body of the University, we should demand divestment from fossil fuels.
We have the strength and power to force change in our communities, regardless of our young age or status as students.