UVM's "party school" reputation falls short of reality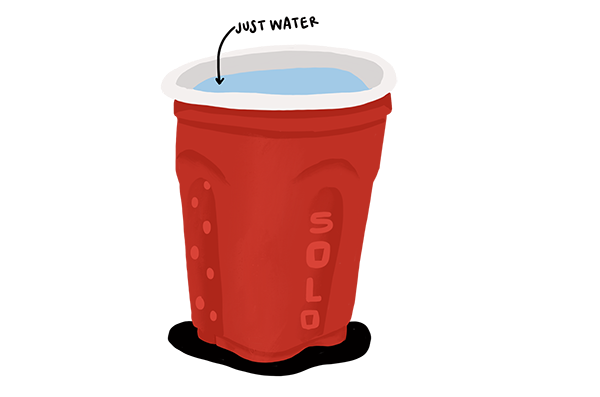 It's Saturday night. Dorms across the hall are blasting music, and you're hoping to find a house party to go to.
You text all your connections, but the typical answer is, "Well, something is going down here, but I can't invite you."
It is clear from my time at UVM that this school is not a party school; it's a stoner school.
In 2018, the Princeton Review  inaccurately ranked UVM No. 12 on its list of party schools.
Of course students party here. It is a state college after all, but they are not partying enough to warrant a top 15 spot.
Fraternities are open most weekends to people with tickets. And for those over 21, What Ale's You or Rasputin's are weekend options.
The exclusivity of these functions, however, means that not everyone will be partying that night.
The Princeton Review takes into account the amount of drugs on campus as something that would raise a school's ranking.
While party drugs, such as cocaine or Xanax, do exist here, the most notable and easy-to-find drug on campus is cannabis.
The only problem is that weed is not a party drug in the way alcohol or MDMA is.
The average student is not spending their weekend chugging beers and taking shots. They're in their dorm rooms smoking.
UVM is more of a stoner school than a binge drinking school. Walking down the halls of most dorms, a person can smell the pungent, skunk-like scent of cannabis.
UVM is also well-known for its 4/20 celebration — not the 5K on the same day, but the gathering of all stoners at the University on Redstone campus.
People gather in a massive crowd, and when the clock hits 4:20 p.m., they take bong rips, smoke joints or light a bowl.
Even with the weed factor, UVM's ranking on the list is inflated. Perhaps the Princeton Review may be looking at all four years on average.
By the time a student is legally allowed to drink, they will have access to Burlington nightlife, but only looking at the parties to come doesn't consider the full UVM experience.
For the first two years of college, weekends will usually be spent in a dorm.
There will be the occasional party, but more often than not, none.
If the Princeton Review thinks drinking in a dorm with close friends is a party, so be it.
Still, UVM doesn't have the crazy 400 person affairs seen on TV and in movies. Ranking this school that high on the list is just misleading.
Catamounts love to get down, but not enough to warrant a spot in the top 15 party schools.
Maybe we are worthy of a top 15 spot for drug use, but parties are not the University's specialty.
The Princeton Review should take that into account.