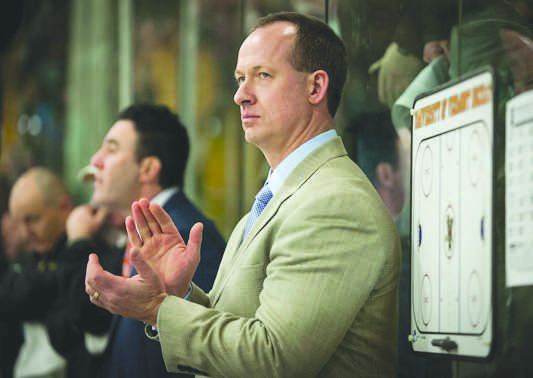 The men's hockey team played without their head coach Jan. 22 after he was suspended for his behavior during a previous game.
Head coach Kevin Sneddon was suspended for one game by Hockey East Commissioner Joe Bertagna for "inappropriate behavior" toward referees during a Jan. 16 game against Providence College, according to a Hockey East press release.
Sneddon threw a piece of equipment on the ice in the direction of the referees after a call that he disagreed with.
Sneddon, members from the men's hockey team and UVM athletics were unavailable for comment regarding the suspension.
However, since his suspension, the Cats have gone 2-0, with a 4-2 win against the University of Connecticut and a 6-4 win against the University of Massachusetts at Amherst.
Did Sneddon's antics prove to be the catalyst for the team?
I think it is a bit too early to tell.
The University of Connecticut and the University of Massachusetts are not exactly the powerhouses of the Hockey East – it is not as if the Cats beat Boston College and Boston University.
If nothing else, Sneddon's outburst caused an increase in the Cats' scoring rate.
After scoring seven goals in their three games before his suspension, the Cats scored 10 goals in their past two games.
But for a men's hockey team that has struggled with consistency for most of the season, the team's recent success cannot go unnoticed.
With two upcoming games against divisional foe University of Notre Dame next weekend, the Cats need all the momentum they can get.
There are eight games left in the regular season.
The chances of making it into the NCAA tournament in March and April are next to zero.
With that in mind, the Hockey East playoffs are still within reach.
In their next eight games, the Cats face only Hockey East teams, including the University of Notre Dame, the University of New Hampshire, Boston College and Merrimack College.
As of Feb. 1, Notre Dame is ranked 10th nationally and Boston College is ranked fifth nationally, according to U.S. College Hockey Online.
In order to muster up some momentum, it is crucial the Cats remain at least .500 during their final stretch of games.