Economist, lecturer, Ironman
CDAE lecturer Kevin Stapleton competes in Ironman Triathlons
With 2.4 miles of swimming and 112 miles of biking behind him and a 26.22 mile run in front of him, CDAE lecturer Kevin Stapleton, in his first Ironman Triathlon at Lake Placid, laced up his running shoes and took off.
As a former swimmer, he likes that leg of the race and as someone whose weekend-long rides on the bike consist of 6 hours and 120-mile rides, he enjoys and is prepared for the bike. But for the run, he has to dig deep.
"Getting off of the bike and starting a marathon, that is purely a drive to want to get this damn thing over with," he said. "The swim and the bike are a really happy place for me and the run is just dark."
Stapleton is a lecturer in the CDAE department, where he teaches classes in international development, ecological economics and sustainable community development. 
He is also the Vermont Assistant Chief of Economic & Labor Market Information Division of the Vermont Department of Labor, where he collects, analyzes and disseminates information about the Vermont economy
He has been doing triathlons since 2000. He started with a sprint triathlon, which is a .46 mile swim, a 12.4 mile bike and a 3.1 mile run, and worked his way up. He completed his first Ironman Triathlon in 2016.
"I was a swimmer when I was very young, but I really came to Ironman from the bike," he said. 
He realized his strength wasn't necessarily his speed, but his endurance. 
"Whatever ability I have is related to going long distances, not going fast," he said.
Stapleton has competed in four half Ironman Triathlons and two full distance Ironman Triathlons. He's slated to compete in his next full distance on July 12, but due to the coronavirus outbreak he's not sure if that's going to happen.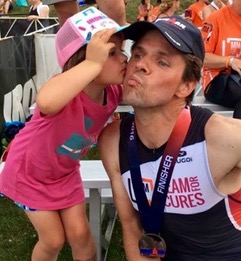 Right now Stapleton is training from his basement, but usually you can find him swimming at the YMCA, UVM pool or in Lake Champlain, going for 20 mile runs around Burlington or taking 100 plus mile bike rides on Vermont country roads.
"Vermont is tremendous for road bike rides," he said. "There's just a plethora of great roads and gravel roads.
Every fall, Stapleton teaches an international economic development course with a travel component, where he takes students to Saint Lucia in the West Indies over winter break. While there, Stapleton has been known to take his students out to train with him.
"I go to the same place every year, and a group of students and I always run together," he said. "I learn that I'm a slow runner and they kick me around for a bit."
When thinking about his favorite moment as an Ironman Triathlete, Stapleton remembers crossing the finish line of that first race in Lake Placid.
With thousands of people cheering around him, Stapleton ran his last half mile downhill through the streets of Lake Placid and crossed the finish line on the Olympic oval.
"I wish I could package up the feeling in that last half mile," he said. "When I'm needing inspiration, I can tap into that feeling. It was unbelievable." 
 Stapleton made it clear this wasn't something he ever thought he could do.
"If you had asked me even 10 years ago if I would do that and would accomplish that, I would have said, there's no chance," he said.
However, Stapleton doesn't see himself as unique in the endurance sports world.
"I don't think I have any more drive than anyone else does," he said. "I just don't want to be the person who drops out."
Enjoy this story? Read about Karen Benway, a UVM statistics professor and ultra runner.