UVM professor spends free time running ultramarathons
When she isn't lecturing statistics to her UVM students, Karen Benway is running distances upwards of 26 miles.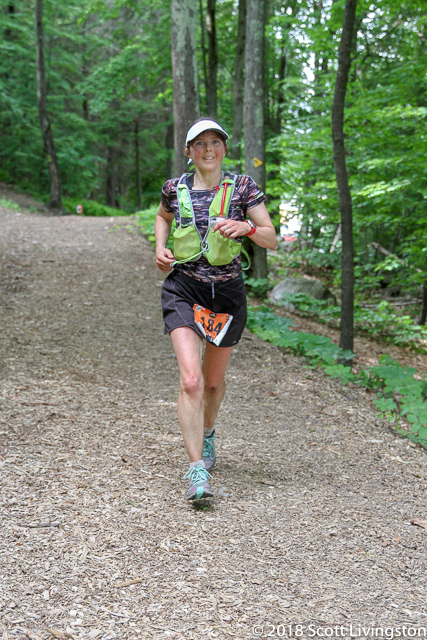 She competes in ultramarathons; rugged, often multi-day races that stretch beyond the customary marathon.
"I've run races of pretty much every distance from a mile up to 100 miles," she said.
Benway possesses a unique drive that encourages her to pursue physically demanding competitions of this caliber.  
"I do enjoy going out and pushing myself physically," she said. "I find it fun to challenge myself to do a longer distance or a harder course." 
The COVID-19 pandemic has altered the social aspects of the sport and upended her anticipated race lineup. 
"I would have been running the Boston Marathon today," Benway said during her April 20 interview. "All of my races this year have either been canceled or postponed to the fall." 
Benway is still running everyday, though her training is less focused and she is particularly considerate of her body's needs.
"I don't want to train to the point where my immune system is weakened, so I'm trying to pay close attention to how I'm feeling and be extra vigilant not to over-train," she said. 
When addressing the grueling nature of ultramarathons, Benway retains a positive perspective.
"You have to take [setbacks] as small problems and keep focused on a few miles at a time," she said. "It's a physical challenge, but as much as anything it's a mental challenge." 
To keep in shape, Benway adheres to a rigorous training schedule. 
"During the week, I fit in somewhere between 5-8 miles each day including one longer run and one faster one," she said. "I usually run at least 20 miles at least one day on the weekend." 
Training is a year-long commitment, and even in the dead of Vermont's brutal winters Benway opts to run outside. 
"I tend to just bundle up and go out," she said."The piece of equipment that is indispensable to me in the winter are my training shoes with carbide spikes called Icebugs." 
These shoes ensure that those who wear them can run confidently on slick ice without fear of falling. 
"They changed my whole outlook on training in Vermont in the winter," she said.  
Benway shared some of her favorite places to run in and around the Burlington area, from trails within the city to breaktaking views beyond. 
"The Intervale is a great place to run with friends.There are some trails that are fun and craggy at the top end of North Beach, if you're running in town." she said. "In Charlotte there is a town park with super scenic running trails, it's incredibly beautiful." 
Running is an important social outlet for Benway and she often trains with friends who share her ambition.
"
Most of the closest friendships I've made over the years have been through running."
— Karen Benway
"Most of the closest friendships I've made over the years have been through running," she said. "They've kept running fun for me, especially doing longer distances." 
Benway's love of running has also proved to be a valuable way to connect with her students at UVM. 
"I think it's good for students to know something about me, to show them that I'm actually human," Benway said. "So many UVM students are so active and this gives them a good entryway to come talk to me about their running."
Though Benway is a statistics lecturer, she herself does not track the data of her running performance.
"I don't even record how much mileage I run every week," she said. "I have a ballpark estimate in my head but I get enough data [at work] and I don't want running to be work; I want it to still be a hobby."
Benway said ultrarunning helped her adapt to adverse situations and she has learned to maintain a similar flexibility in the classroom. 
"One thing about ultrarunning is it forces you to be resourceful and think about what you can do with what you have to solve a problem," she said.
In both her roles of lecturer and competitive runner, Benway came to understand that she must persevere through obstacles in her path to progress. 
"There's a problem-solving aspect; sometimes things don't go smoothly, you prepare and think you're going to have something that works great and something goes wrong." 
Despite countless ultramarathon accomplishments under her belt, Benway deemed her most satisfying career memory to be helping her daughter train for a half-marathon relay that they completed together. 
"Seeing my daughter finish was my proudest and happiest running moment," she said. "It was really rewarding for me to help her train so that she could do that, and seeing that feeling of accomplishment." 
Her family's unwavering commitment to Benway's ultramarathon endeavors is what she cites as the key to her success. 
"I'm lucky; if my family wasn't so enthusiastic about my running, I don't think I could do ultramarathons," Benway said. "I wouldn't want to."
Enjoy this story? Read about Kevin Stapleton, a lecturer in CDAE and a triathlete.