Conversations with a senior: Maddy Holden
Class of 2023, the time is near. Graduation is almost upon us. I have been asked many times over the last few weeks and months if I am ready to graduate. More specifically, I've been asked if I'm going to cry. The answer of course is, "I'm not crying, you're crying."
Seriously though, it might be time to kickstart our nostalgia. The last four years have been challenging for everyone. Along with the usual struggles that come with being 18-22 years old, our class is the last one to have gotten to experience college before the COVID-19 pandemic. Maybe that's worth something, but if not, this might just turn into a senior soapbox. Either way, get your popcorn.
I've decided to find some seniors and ask them to reflect on their time at UVM. My goal is to find cool and interesting soon-to-be graduates to chat with, so if that's you, please reach out. 
Maddy Holden is the first senior that agreed to speak with me. Holden is a third-generation student at UVM—her grandfather and then mother both attended before her, so UVM felt like a logical choice.
"It was the only school I knew in a lot of ways," Holden said. "I knew if I got into UVM, I was going."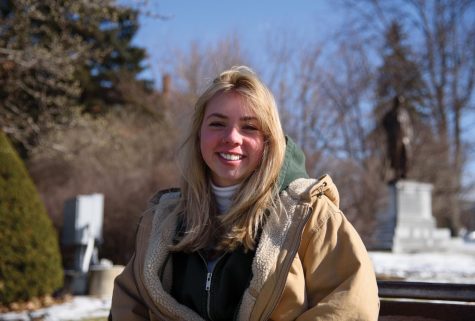 Before arriving at school her first year, Holden took part in UVM's TREK program. Put into a small group of eight—six incoming students and two student leaders—Holden said she gained some confidence heading into the first semester of her college career.
"I feel like TREK was huge," Holden said. "We had such a comfort level, with having each other already."  
Still, UVM felt pretty big, she said. Holden remembered the obscurity of her first-year dormitory.
"I've talked to multiple people and they're like, 'Austin?'" she said. "Someone showed me on Snap Maps, they zoomed in on MAT and said, 'see, it isn't here.'"
Holden persevered and made friends with people on her floor, she said. After being very involved in extracurriculars during high school, she was content to just focus on school and have an unstructured social life by the time she got to college. 
"I was really involved in high school," Holden said. "I was president of the Community Service Club. I did ski club, [I was] involved in a lot of sports. I came to college, thinking I would be more involved, and I was like 'I'm kinda good.'"
As Holden began to find her place at UVM, the pandemic hit.
"It was just getting good and fun right before COVID," she said.
The time spent at home during the pandemic felt rejuvenating in a lot of ways for Holden, she said. However, she remembered feeling conflicted upon her return to UVM.
"Sometimes, I'm nostalgic for quarantine," Holden said. "I remember my mom dropping me off for sophomore year and I looked at my mom, and it felt like an end to an era."
Nevertheless, Holden felt lucky that she was able to live in a suite in the Living/Learning Center, though the suite did not shield her completely from the strict COVID-19 guidelines the University implemented. When an infamous knock from an RA would come, Holden remembered thinking, "leave it all, hide your body." 
With severe punishments for merely socializing with peers, Holden remembered getting crafty with hiding places, ducking under beds and into closets. 
While COVID-19 cases may have been low at UVM, Holden recounted frustrations with the mental strain that was inflicted on students.
"It is a type of anxiety that I never hope to feel again in my life," Holden said.
Despite her struggles, Holden managed to find a silver lining. As a second-semester sophomore in the spring of 2021, she taught a UVM class called "CAS Connect."
The class was designed for transfer sophomores who had just arrived at UVM, she said. Rather than focusing on material, Holden took great lengths to give her students a safe space to vent.
"I would just say to them, 'here's your opportunity to trash UVM,'" Holden said. 
Soon enough, Holden witnessed her impact. After class one day, Holden remembered seeing students from her class eating lunch together. 
"To know that I had even a sliver of impact in making that happen, I think that's rare," Holden said.
Today, Maddy is set to graduate in May with an English degree. She is hoping to pursue a master's in fine arts with a concentration in poetry. 
When asked what advice she would give her first-year self, she had one thing to say: "take it seriously, but not too seriously."
Conversations with a senior is a recurring piece. If you are a UVM senior and would like to be featured, email [email protected].