Letter from the Editor-in-Chief: Why we didn't blur photos of protestors
In the Vermont Cynic's second issue we devoted three pages to covering and showing protests against police brutality that have been occurring in downtown Burlington.
Since those photos were uploaded to the web and spread on social media, some people have expressed concerns over the safety of protestors given recent threats of police action against demonstrators and violent retaliation from those who disagree with the demonstrators.
I want our readers and the commenters to know I have read each of these comments and taken the community feedback to heart.
That decision rested on my lap because as the Editor-in-Chief it's my task to drive the Cynic towards a larger vision and make tough ethical decisions.
Before diving into my response to these concerns, I wanted to explain why the initial decision to post these photos was made.
First, the Cynic is a vehicle for the First Amendment, that's how we're able to function. However, it's important to note that we are not an activist group.
We're a media organization that seeks to document the news and stories happening on UVM's campus. That means our role is a little different than that of the protestor.
We have a responsibility to report and record history as it happens, the way it happens. At times that often means how we do that and what we write or publish diverges from the interests of activist groups.
The reason photos with protestors' faces were posted and used in publication is because I wanted to represent these historic demonstrations in the most authentic way possible.
Years down the line, I want to open a book about the history of Burlington's fight against racism and police brutality and see the courageous faces of those who stood against injustice.
Just like journalists at professional orgs, student journalists have the right to take photos of protestors demonstrating in public, without their consent. If you're in a public place, someone else can take your photo, according to a mountain of U.S. case law.
The next part of the decision-making process is the journalist weighing what their responsibility is.
Since these photos were published, the promise of retribution from the Burlington Police means we have a responsibility to allow people to continue demonstrating without the fear of police action.
Going forward, each time protests and other public demonstrations are photographed, before photos are published they will be individually reviewed by the Photo Editor, the Managing Editor and myself.
I can't make a broad policy that explicitly says we will never show a protestor's face again. Each situation is different, every photo taken is different, therefore the policy will shift with each situation.
We have a common goal: expose injustice and fight for what's right, but at times that'll diverge and look different.
For more information, I encourage you to read this article from Poynter, a global leader in journalism. 
Sincerely,
Sawyer Loftus 
Editor-in-Chief
Leave a Comment
About the Writer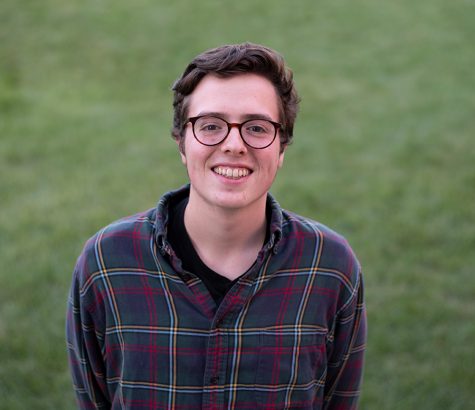 Sawyer Loftus, Editor-in-Chief
Sawyer Loftus is the News Editor for the Vermont Cynic. He is a junior History major with a passion for News. This past summer he was an intern in the...