Dance showcase marks 10th anniversary of first performance
Last Friday evening, golden light shined through the trees of the Fleming Green as an audience distantly gathered around its perimeter to watch the dance performance, "Moving Through the Flood."
"Moving Through the Flood," directed by Dance faculty member Julian Barnett, is a site specific outdoor performance that brings together live dance, music and theater to convey the metaphor of water's movement. 
It was the 10th year anniversary of the site performance.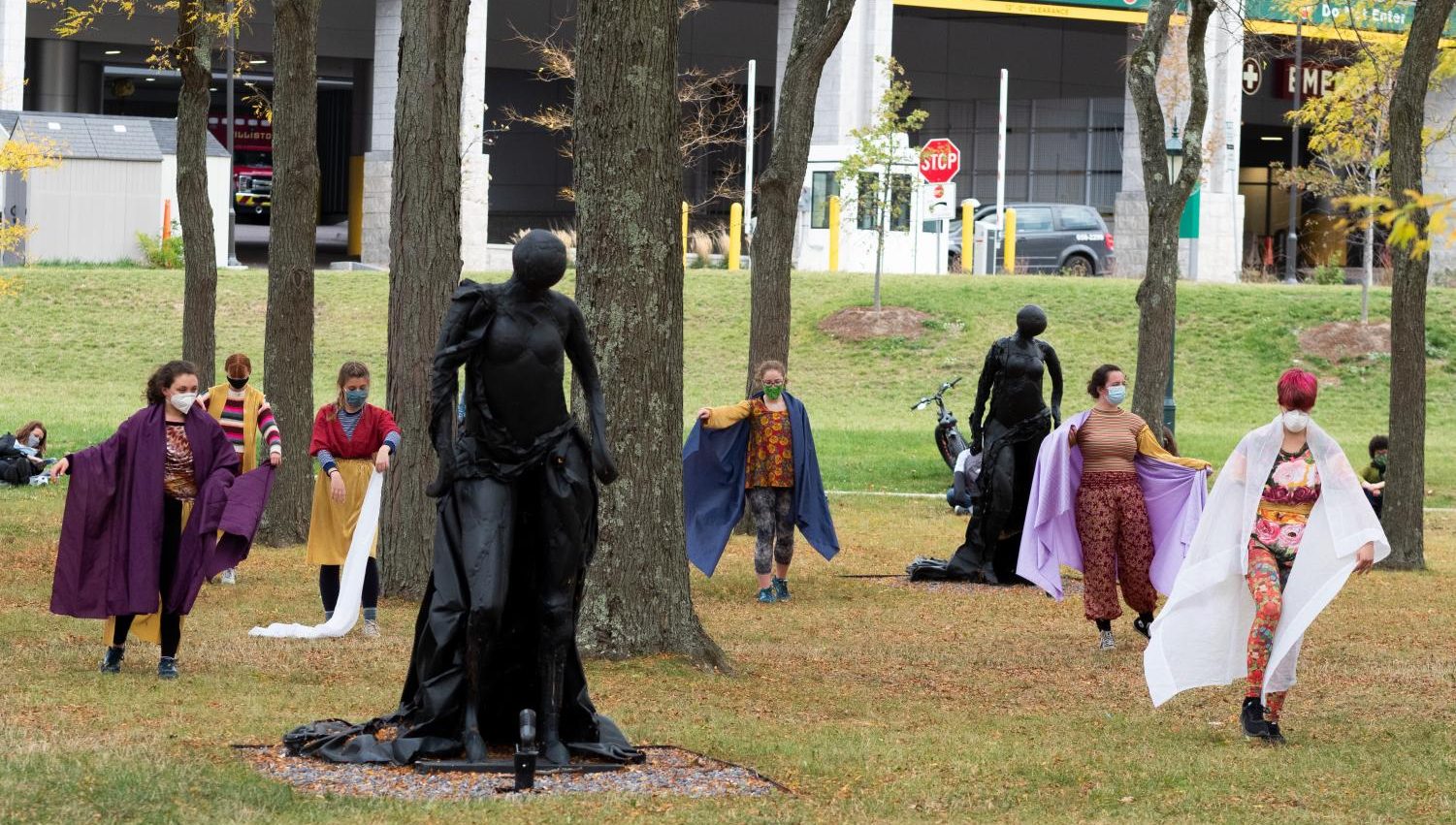 Dancers portrayed water's flooding, rippling and waking effects through their movement to express living in the turmoil of 2020.
The dancers in the performance were students in the Site Performance Practicum class, offered once every other year. A live cellist also accompanied the dancers. 
Junior Emma Askew was one of the live dancers. 
"'Moving Through the Flood' is about working through this year, learning about yourself and moving through all the obstacles that are coming right now," Askew said.
Like water, the performance flowed smoothly through seven sections. Three dancers taking Barnett's advanced choreography class choreographed some sections of the performance.
"I was really interested in the metaphor of the flood acting as the context for where we are," Barnett said. "This notion that water has this profound ability to wash away, to wake us up, to engulf us. Iit has this full spectrum of positive and negative."
A bed of amber leaves became a stage as seventeen dancers entered, all wearing accents of yellow clothing and street sneakers, forming a large circle around the statues to begin the show.
Chole Schafer, a senior dance major, choreographed the first section, which was about emotional flooding and how individuals hold that within or around them.  
"That proximity of touch is not available, so how can you spatially still hold all of this?" Schafer said. 
The dancers ran and jumped through trees, distantly interacting with one another while the breeze beckoned the leaves to dance along with them. 
Water's engulfing nature was visible at the climax of the performance, when dancers ran to one end of the green, screamed and collapsed to the ground.
They stood up, and started to speak in unison, saying "I woke up this morning." "I washed my hands." "I called my family in California." "I ate alone."
Then, several dancers broke off into their own personalized monologue as they danced away from the main group.
Askew explained how this section was to express student's new daily routines amidst the complications of 2020.
"It's a very unique opportunity for the audience to hear different stories based on where they were sitting," she said. 
For the closing section, dancers gracefully carried light blue curtains and laid them on the ground to represent the current of a flood. They slowly walked through the metaphorical flood to exit. 
"I feel so grateful that I'm able to perform," Askew said. "We have the professors who are more than willing and excited to use different environments to perform in."