Dance students adjust to COVID regulations
At the start of the year, UVM dance students said good-bye to their makeshift kitchen counter ballet bars and carpeted living room floors at Zoom university, as they return to the studio with their classmates.
Dance classes are in session on-campus this semester. The majority of dance classes are held in Mann Gym on Trinity Campus, while others are held at Royal Tyler Theater and Patrick Gym.
Students who were once free to dance through Mann's open space are now confined to their own 10 by 10 foot box laid out in tape. The strict measurements allow for 15 to 16 people in the studio.
Masks are mandatory and doors and windows are propped open for ventilation. Dancers are still able leap and turn across the floor and learn choreography in small groups with proper distance.
Class ends early for cleaning protocols and each student is responsible for wiping down their own box. Junior Emma Askew is a dance major taking two dance classes this semester, Dance Composition and Site Performance.
"It's a little more difficult to connect with people because you can only see their eyes,"Askew said. "It's been hard to read other dancers."
Paul Besaw, the program director of the dance department, said staff members have been brainstorming how to safely return to the studio since April.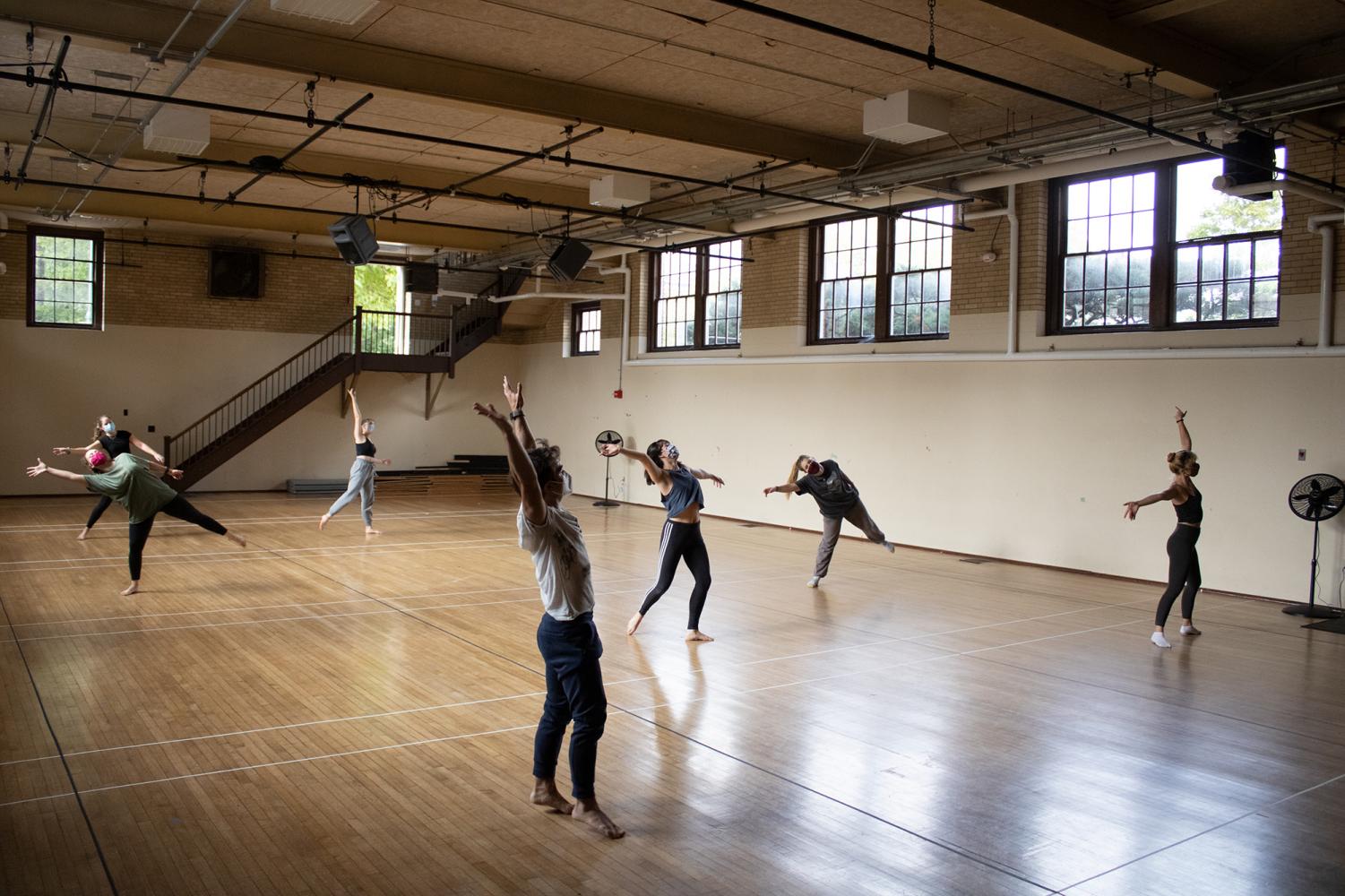 To devise a safety plan, staff members shared floor diagrams with each other, spoke with people in charge of the facilities on campus and referred to Dance U.S.A's guidelines and recommendations for the process of re-opening, Besaw said.
Julian Barnett, a faculty member of the dance department, is working together with his students to face these challenges. One of Barnett's responses to the changes has been teaching part of class outside, giving students more space to move.
Bigger changes Barnett has noticed are the higher frequency in water and breathing breaks due to sweating and
breathing heavily under masks. Dancing in masks has provided challenges for some students, like senior Emma Murphy.
"Especially towards the middle and end of class where we are getting more into choreography and fast paced movement, I'm breathing so heavily I'm like inhaling my mask," Murphy said. "But everyone is in the same boat."
As stated in the new safety rules, physical touch is not allowed.
"We don't get to come in contact with each other and I think it's a real hindrance," Barnett said. "We don't get to really feel the person's energy, we can't ride another person's momentum, it's possible through social distancing but it just feels very different."
The students are still getting to used to their new situation.
"It's very limiting, there is obviously a lot less contact which is very weird for dancers," Askew said.
Despite the hardships of readjusting to new standards, there is a sense of appreciation for the ability to practice in
person. Barnett acknowledges the challenge of returning to the classroom, but is grateful for the shift to in-person classes.
"We are still moving, we are still pushing, we are still learning complex phrase work," Barnett said. "We are still talking about art."
In comparison to dancing in isolation this past spring, students and staff are grateful to be back, even with the restrictions.
"On the more optimistic side, the fact that we are able to do this safely, within the pandemic is a testament to the perseverance of the dancer and of the program," Barnett said. Despite all the odds, the dance will not be denied, we'll keep dancing."