Student-athletes score record GPA
UVM student-athletes achieved the highest GPA on record in history of UVM athletics for the fall 2017 semester.
They earned an average cumulative GPA of 3.28, according to UVM athletics.
"It was nice to see the hard work that our student-athletes, coaches, the Student-Athlete Development and Academic Affairs Department and our professors paid off this semester," said Cathleen Rahill, associate director of athletics, student-athlete development and academic affairs.
Coaches help improve students' athletic skills, but also serve as part of a support system to ensure academic success, Rahill said.
"We make sure to point out all the small victories during the week with grades that come back on tests and quizzes," Chris Feifs, men's lacrosse head coach, stated in a Jan. 18 email.
Student-athletes also have the Student-Athlete Development and Academic Affairs Department as an option for academic support.
The department provides support for student-athletes, but does not take the place of faculty advisors, Rahill said.
"We always tell our student-athletes that they need to be seeing their faculty advisors first," she said.
A large part of their role is to connect students to other resources, Rahill said.
The department has policies set in place to help with their academic success, including an academic success center and mandated study hours, she said.
The coaching staff recruits strong students and creates a team culture that values academic success, athletics director Jeff Schulman stated in a Jan. 10 UVM Athletics article.
"It is important for our program to find young men who are self-motivated and want to be successful in the working world post college," Feifs stated. "This tends to lend itself to a more focused approach with improving and contributing on the lacrosse field."    
The Catamount Sports Psychology Counseling Department has become another resource this past year where student athletes can also go for support.
"I think that has also played a significant role in this, in that student athletes have a place to go right here in [Patrick Gym] to get support on sport psychology issues, but also counseling issues if they're feeling overwhelmed or stressed," Rahill said.
With the last semester's achievement, many are optimistic that student-athletes will continue to be successful this spring.
"Our guys are proud of the standard they have set, but they also realize that they must live in the present and attack the challenges the current semester will throw at us, all while playing a demanding spring schedule on the field," Feifs stated.
Rahill expressed similar optimism for the upcoming semester.
"Our first-years had a really strong semester, which is usually indicative of having a strong class, so I think we clearly have a strong group of student athletes here right now," Rahill said. "I'd predict that they'd have another strong semester in the spring."
About the Writer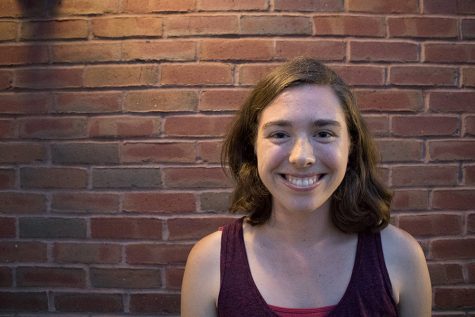 Sabrina Hood, Sports Editor
Sabrina Hood is a senior French and business administration double major. She joined the Cynic in February 2016 as a photographer and a year later joined...