Student theatre to appear downtown
Shoes fall from the sky against the northern lights in "Almost, Maine," The University Players' spring production.
"Almost, Maine" will debut March 30 at the Main Street Performing Arts Center.
The play follows the titular town's residents falling in and out of love over the course of a midwinter night.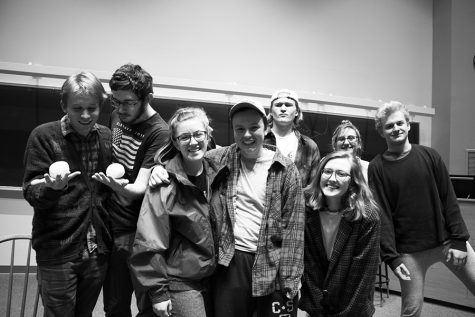 The University Players is a student-run theater club that aims to generate creative community involvement through live theater, according to their Facebook page.
In addition to two annual productions, The University Players also hosts improv, one-act and playwriting festivals.
Junior Ben Bieri, the play's director, said that despite incorporating supernatural plot elements, he believes the simplicity and authenticity of "Almost, Maine" will resonate with audiences.
Bieri said he finds the play's message about the difficulties of love to be relatable.
"It's really hard to be in love and it's really hard to make the right choices," he said.
Though the play touches on sad themes, it is a comedy in many ways, Bieri said.
"We have a powerful combination of genuinely comedic elements and emotional intensity," he said.
Bieri fell in love immediately with "Almost, Maine" while looking through the script as part of The University Player's director application process, he said.
"This was something that really drew me in and I felt really attached to," Bieri said.
First-year Maggie McCloskey, an actress in the play, emphasized the play's staying power and said she believes the work touches on a variety of themes.
"There's a moment for everyone," McCloskey said. "It's a really honest look at what it's like to be a person who has had love and lost love."
McCloskey plays the characters Sandrine and Hope.
Though she has worked in theater before, this is her first time participating in a UVM production, she said.
McCloskey first heard about the auditions from a friend, and found the process more self-motivated than previous theater experiences, she said.
"You have to go out and find it if you want to be involved," McCloskey said.
The rehearsal structure was unique, focusing on developing foundational skills like body movement before getting into the play, McCloskey said.
"This process has been very experimental," she said, adding that the workshopping made it easier and more enjoyable to get into the piece itself.
Many of the cast members were newcomers, either to UVM or to theater in general, Bieri said.
In addition to providing an opportunity for showcasing new talent, Bieri enjoyed the sense of realness in  the cast's performances, he said.
While she had fun discovering The University Players, McCloskey wishes there was more promotion surrounding plays and auditions, she said.
Junior Suzanne Black said she would like to see more people participating in campus theater.
"I'd love to see plays acted by people who had never done theater before," Black said.
Theater has the ability to reach out to a wide range of people, she said.
"Everyone is attracted to different forms of art," Black said.
Bieri believes theater's ability to touch on common themes is important and hopes audiences will see themselves in the characters of "Almost, Maine" as he has, he said.
"It's a good moment of reflection and growth," Bieri said.
Bieri also wants to see theater receive more exposure at UVM, he said.
"I wish there was more of a presence on campus," Bieri said. "But that's something we can work with."
"Almost, Maine" will run 2 p.m. and 7 p.m. March 30 and 7 p.m. March 31 at the Main Street Landing Performing Arts Center. Tickets are $5 for students and $10 for the general public.