Student brings soul food to Burlington
Nigerian-American UVM student Harmony Edosomwan learned to cook from her mom. She said that in Nigerian culture, a lot of pressure is placed on women to do the cooking so that's what she grew up doing. 
"I grew up in a household where my mom was constantly cooking," she said. "That's where my love for food definitely grew."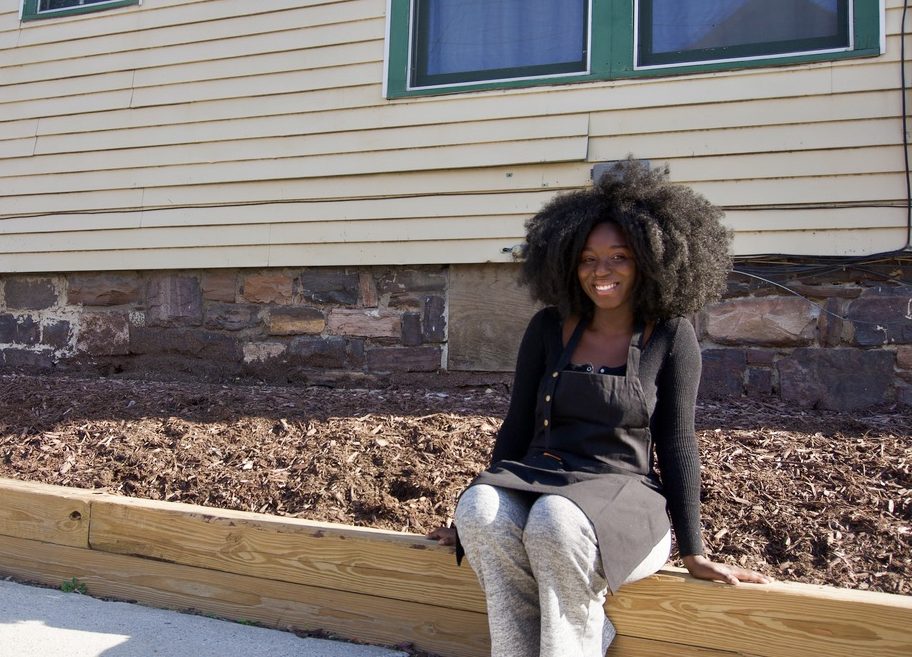 About 12% of UVM students are people of color. In Burlington, there is about 15% POC, with Black people being 5%. Imagine wanting to support Black-owned restaurants in Burlington, except there was only one. Edosomwan didn't feel comfortable with that statistic. So, she took matters into her own hands and created her own restaurant: Harmony's Kitchen. 
"Originally when I started, I recognized that there isn't really someone here specifically making soul food and selling it so I wanted to be that person," she said.
One of Edosomwan's biggest inspirations is Anthony Bourdain. 
"His love for culture and his love for food inspired me and my sister. When he passed, I thought I definitely want to do something with this passion that he's given me," she said. "Me and my sister always said if we could just travel the world and eat different foods exactly like he's doing, we would feel really happy doing that as a career."
Senior Ama Sika said that being African and coming from the Bronx, food is everything to her.
Sika said she didn't want to eat anything. "Coming here, I struggled a lot to find good food," she said. "I just used to cook my own food. But seeing Harmony, she has made it possible for people that are POC's to get that away from home food." 
Senior Hannah Rose said it feels good to support a black femme business. 
"I'm so proud of her. I taste tested some of the food before she put it on the menu. It's really amazing to watch her thrive and be successful at something she loves to do and is so good at and something that the community really needs," she said.
Edosomwan started her business in January of this year but had to shut it down due to COVID-19. 
"COVID impacted my business to the point where I literally couldn't sell food since March," she said. "I waited it out a bit and then we saw that it was actually pretty serious so I wasn't selling at all during that time."
COVID-19 isn't the only challenge Edosomwan has faced. She said social media was brutal when she launched her company. 
"I was a fresh, new business owner and I had a bunch of people attacking my brand as soon as I came out," she said. 
However, everyone in her immediate circle supported her. Her older sister made her buy all of the materials for the restaurant so that when she got back to Vermont, she would have to start. 
"My sister definitely pushed me a lot," she said.
She re-opened her business Nov. 2. The pre-orders sold out within the first 15 to 20 minutes.
"These past few months, I wasn't only working on my brand but I was also working on remaking the entire menu," Edosomwan said. "I've eaten everything on that menu like a thousand times in like three thousand different ways."
Rose said the food in Burlington is lacking diversity and flavor. 
"I moved here from a city. I know a lot of my friends who moved here from cities feel like the ethnic food scene is kind of lacking and I think that Harmony's Kitchen adds a really nice element of soul food and some real flavor that's been missing," she said.
Customer Nipa Wheatley said Vermont needs to expand its food options to address the deep seated racism. "We need diversity. Food is a great way to bring different types of people together and potentially open up different types of conversations," she said.
Harmony's Kitchen also offers two vegan options. Wheatley said vegan food is very hard to come by in Vermont. 
"I'm painfully food motivated and the fact that she has vegan fried chicken as an option as well as mac and cheese, oh my god, I cannot tell you how excited I am," she said.
Throughout every interview, people spoke of the harm they've experienced due to the bleak ethnic food scene. 
"People feel good when they're eating good food. Vermont can be super brutal, especially for people of color," Edosomwan said. 
She continued, "If there was a Jamaican spot here, I know I would be a much happier Vermonter. I just want to do that for people. When people first take a bite of my food and taste how flavorful it is, seeing their reactions brings me great joy."
Sika said the first time she tried Harmony's Kitchen, it made her night. 
"Her food is really good. It is seasoned right. It tastes so good," Sika said. "I'm so hungry right now that I'm only thinking about that."
Personal chef Emily Eden is aiming to raise 500 dollars to support Edosomwan and her goals. Everyone who donates $10 to Edosomwan's Venmo will be entered into a raffle; the winner gets a personal chef service from her with a $300 value. 
"I'm sure that this is going to be a successful venture but I would also love it to be a smooth path filled with community support and enthusiasm," Eden said. "I think it's super important for black cooks to be cooking soul food and making money off it."
Harmony's Kitchen is a Soul and Afro fusion restaurant. There are six items on the menu ranging from $15 to $22. 
It is open on Mondays and Fridays 5-8 p.m. and orders are made two to three days prior. Right now, online ordering is available through her website, www.harmonyskitchenvt.com. They deliver to all over Burlington and some parts of Winooski. All of the food is made by Edosomwan out of her own kitchen. 
Opening a physical restaurant is something Edosomwan hopes for.
"I've always dreamed of owning a restaurant," she said. "It's definitely something I'm going after full-fledge because it's something I'm passionate about; I'm passionate about black cuisine, I'm passionate about having a place here in Vermont."