Billie Eilish brings youth and maturity to first album
As is always the case, young women are running the pop music scene.
From Lady Gaga to Ariana Grande, the biggest pop stars today must think about what songs will please their listeners while still maintaining their individuality and creating art that is meaningful to them.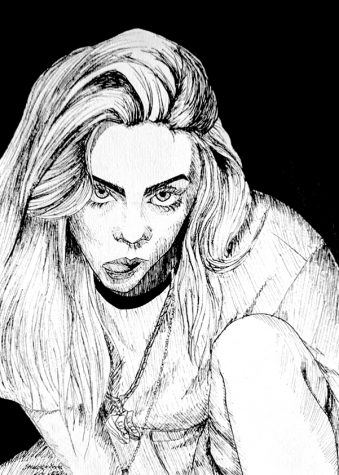 Seventeen-year-old Billie Eilish isn't seeking to please anyone. Eilish's debut album "When We All Fall Asleep, Where Do We Go?" features 14 tracks that are catchy, emotional and are somehow equally tough and vulnerable.
The promising young musician became popular with her single "Ocean Eyes" in 2016 and hasn't slowed down since.
Her 2017 EP "dont smile at me" features hits such as "bellyache" and "idontwannabeyouanymore", but "When We All Fall Asleep" takes a starkly more daring and dark approach while maintaining essential core pop rhythms and beats.
The second track "bad guy," perfectly demonstrates this unique take on pop music that is energetic but almost sinister.
Eilish is not your typical teenybopper in that her music is distinctly her own. She stands up next to her older and more popular peers.
"Xanny" is almost dreamlike, with a buzzing bass line that pounds throughout. The lyrics refer to the recreational use of the prescription drug Xanax, which Eilish has seen kill her friends.
In the chorus she sings, "On designated drives home / only one who's not stoned / don't give me a Xanny now or ever."
This was the song that sold me on the album, because it reminds us that Eilish is a teenager who is immersed in a business that has destroyed young people in the past. Too many artists, such as Lil Peep and Mac Miller, have fallen victim to recreational drug use.
"Xanny" also reminds us that while Eilish is still a teen, she is in no way juvenile.
While Eilish's snippets of "The Office" and interludes of her own speaking voice might give snottier music critics pause, I think that she is speaking to her generation in a way that is unique and relatable.
Her music deals with things that all teenagers deal with, like first love and heartbreak. But it also confronts themes that people of any age can relate to if they keep an open mind.
I think "When We All Fall Asleep" gives us a look into the future of pop music, which is incredibly exciting and refreshing.
My favorite tracks on the album are: "bad guy" for its dark melody and because it's just so catchy; "Xanny" for the beauty of the song itself and emotion in the lyrics; and "My Strange Addiction" for its fun and unique structure — though the incredibly diverse album has something to offer all listeners.
The young artists who are running the pop scene  will dictate the future of music.
Eilish's debut album shows that she is becoming a serious force in the music industry and that it is possible to balance adolescent enthusiasm with maturity and depth.
Eilish's talents result in a way of approaching music that I think many pop artists should learn from.