Dancers interpret victorian era
Under the watchful eye of a sculpture of St. George, a woman clad in white fell gracefully and slowly down the staircase in the Fleming's marble court.
The music she moved to ranged from Chopin to spirituals, and was occasionally overlaid with poetry by Emily Dickinson.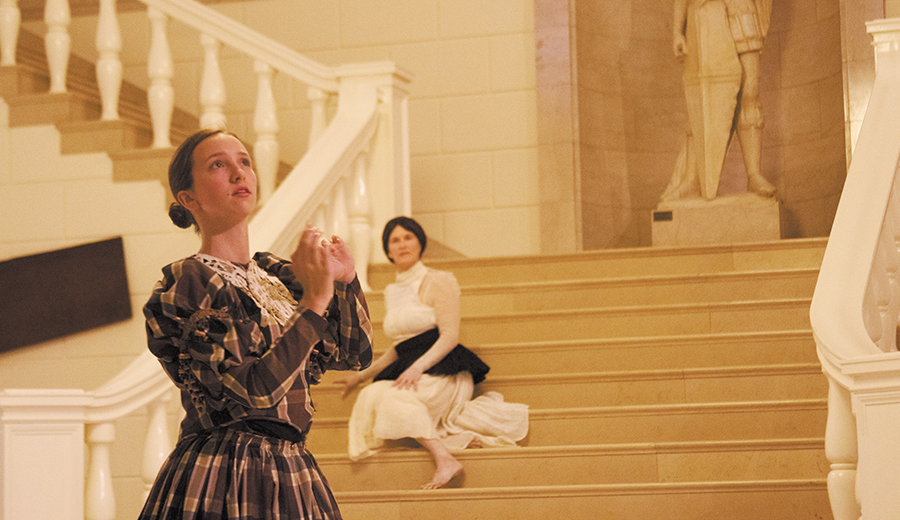 Sam Litra

Polly Motley performed her piece "Falling Downstairs" Oct. 3 at the Fleming Museum in conjunction with the museum's new exhibit, The Impossible Ideal: Victorian Fashion and Femininity.
Motley performed with three UVM students, senior Ariella Mandel, senior Anna Gibson and sophomore Chloe Schafer. Each performer had their own solo moment.
Andrea Rosen, curator of the Fleming Museum said it was important to combine the exhibit with some kind of performance.
"It's always impactful to see an idea translated into a different medium, and it's exciting to see it reach a different audience because of that," she said.
The Fleming's exhibit runs from Sept. 21 to Dec. 14, and centers around women's fashion in the Victorian era and how it relates to a growing sense of women's autonomy, according to the Fleming's website.
"Polly really took the ideas and ran with them," Rosen said, "and I was pleasantly surprised when I received her statement on the piece to see how much she had intuited the message I wanted to communicate through the exhibition."
The juxtaposition of Motley moving slowly down the stairs as she grabbed the railing was meant to echo the way Victorian women must have felt in their roles. The performance implied a duality that Victorian women had to constantly experience in their lives.
Paul Besaw, chair of the Music and Dance department, thought the performance was beautiful and nostalgic, he said.
"Just Polly coming down those stairs and sort of those contradictions between her being beautiful and trying to maintain this gorgeous descent, and then it all kind of falls apart," Besaw said.
"Falling Downstairs" was inspired by the large outdoor metal stairway at the Institute of Contemporary Art in Boston, according to Motley's website. She has performed it in other locations.
For this performance, the performers wore Victorian attire to match the exhibit.
Motley wore her white dress, with white chalk covering her body.
Mandel and Schafer wore more traditional Victorian dresses, and Gibson wore a light green wrap.
Sophomore Mary Guyette thoroughly enjoyed the performance and its music, she said.
"I think it was a unique take on dance while incorporating Victorian dance and style," Guyette said. "It was also very peaceful."