Literary magazine receives an overhaul
Amid recent controversies over budget cuts to the humanities, it can seem like the arts community at UVM is more fractured than ever.
The Gist, UVM's student-run literary and visual arts journal, aims to change this.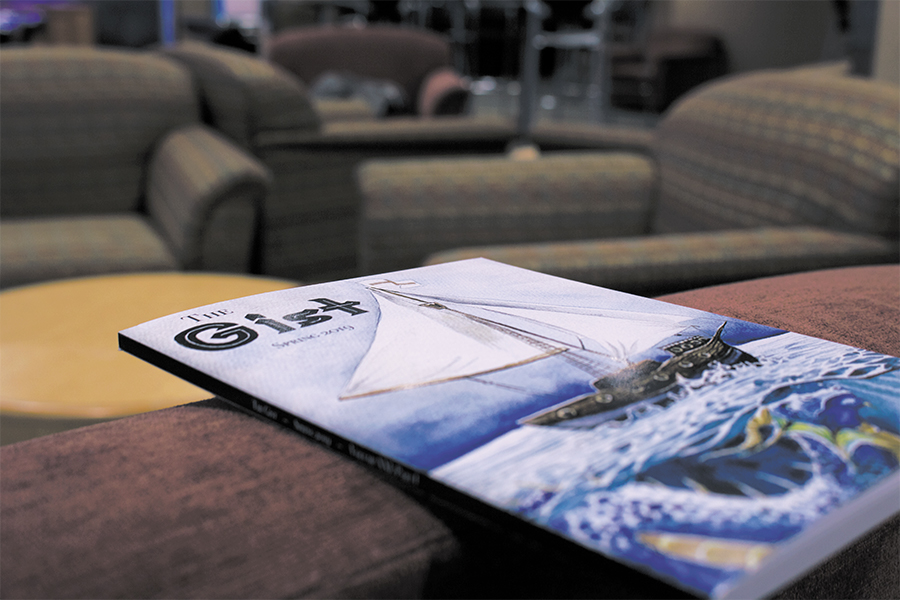 Formerly known as Vantage Point, The Gist publishes once a semester, with weekly meetings to review and vote on student submissions.
Co-editor of The Gist, Seth Wade, a senior, said the journal aims to foster a stronger arts community at UVM.
"We want to provide a space for artists and writers to grow," Wade said.
At the same time, the organization wants to unite other clubs around campus.
Wade and fellow co-editor Chris Soychak, a junior, are in the process of putting together UVM's first Arts and Writing Council.
The council is a collective of student-run arts and writing organizations at UVM, and currently includes The Gist, UVM Rap & Spoken Word, Crossroads magazine, Headwaters magazine, the UVM Creative Writers' Guild and the UVM Film Club, Wade said.
The goal of the council is to encourage communication between the clubs, with the hope that they can help build awareness of each other, he said.
Right now, the council is focused on organizing UVM's Inaugural Creative Arts Expo, which will take place 6 p.m. March 29 in The Trinity Great Room on Trinity Campus, Wade said.
The expo will focus on displaying student art and promoting creative organizations on campus, Wade said.
"It's a place for the arts community across campus to connect with each other and celebrate art," he said, noting that it's the first time a cross-club event of this sort has been hosted at the University.
Upon coming to UVM, Wade was shocked by how frayed the arts scene was, despite a thriving community in downtown Burlington.
Few creative organizations on campus seemed to communicate, he said, and they were often unaware of each other's existence, adding that this still tends to be the case.
As a result, students remain oblivious to the different resources available, and arts clubs are left struggling for membership and funding, he said.
"There's no reason why every club can't thrive," Wade said. "We all benefit from working together."
Soychak echoed this, emphasizing the importance of connecting UVM's creative groups.
Wade and Soychak hope both the council and and The Gist will help people develop their own voice and help the community grow.
Wade added that The Gist itself has had trouble with awareness in the past. He hopes recent overhauls to the journal will help fix this.
This year, The Gist celebrates its 21-year anniversary, he said. In light of this, the organization is going through some much-needed updates – including a name change.
The decision to rename the journal to The Gist was unanimous, Wade said. Members felt the old name was outdated and didn't reflect the journal's goals.
"[The Gist] emphasizes consequence, meaning and purpose over perspective," Wade said.
Though the journal's meetings are mainly focused on selecting pieces to print, members also provide in-depth, anonymous feedback to artists who submit, Wade said.
"Through honest, critical thinking and collaboration, we all can really grow," Wade said.
Sophomore Alessia Potovsky, a member of The Gist, believes this feedback process is a valuable experience. The latest issue will include a piece of her work: pictures of visual etchings on plexiglass.
"If you want to put your art out there, you have to be ready for people to question it," Potovsky said.
Potovsky said she thinks the council will be a good way to draw awareness to UVM's creative culture.
"I am a firm believer in collaboration in the arts community to get more recognition for everyone," Potovsky said.
Wade added that he hopes this awareness will make it easier for artists to gain exposure.
The Gist meets every Wednesday at 8 p.m. in Old Mill Annex A200.