Meet the band: Juicebox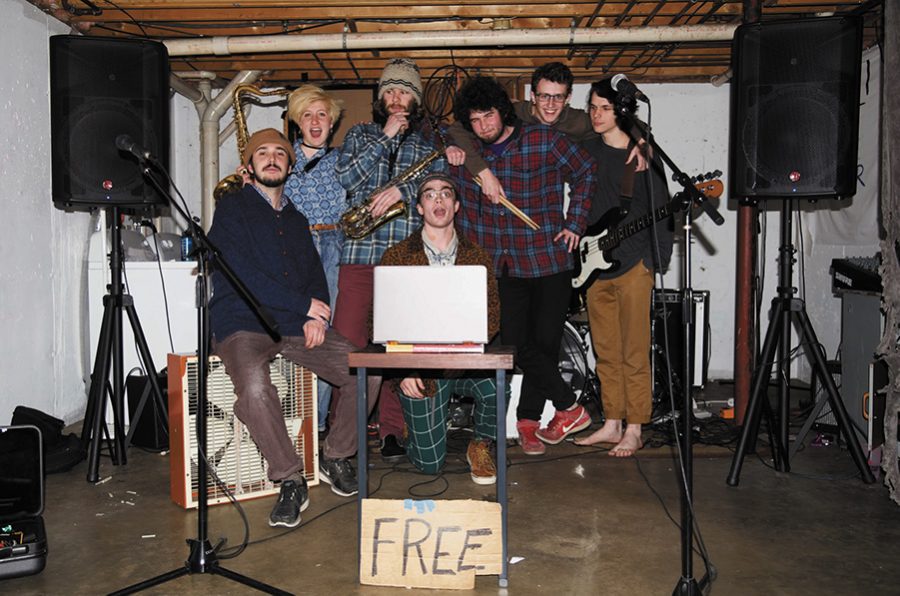 In a dimly lit living room on Hyde Street, the seven student musicians that make up Juicebox crowded around a coffee table. Some sat on couches, some sat on the floor.
Juicebox, the SpringFest opener, was about to start rehearsal on a snowy April 9 night.
Skis were packed into a back corner, several opened jars of peanut butter spilled out of cabinets and ripped newspaper and postcards were scattered around the living room.
Juicebox is made up of junior Thaya Zalewski and graduate student Tim Foley on saxophone, junior Michael Dunham on bass, junior Julian Lathrop on drums and senior Sam Atallah on the keyboard.
Kevin Slafsky '18 and junior Jacob Hartman  are the group's vocalists.
The band lives together in Rathaus, a student apartment with a tradition of hosting local music, located on Hyde Street.
To perform at SpringFest, Juicebox had to win UVM Program Board's Battle of the Bands, which consisted of two rounds, Lathrop said.
"Honestly, SpringFest is such a wild opportunity. At least for me personally, Joey Bada$$ and Flatbush Zombies are the people that when I would listen to them as a kid I was like, 'I want to rap, I want to make hip hop music,'" Hartman said.
Zalewski said the band originally went by the name "In the Workflow."
"I was at Jacob's house before a show and I was sitting on his couch, and Jacob and I were like, we need another name," she said.
"
I like the idea of a juice box because everyone's had a juice box. I feel like you don't have any negative associations with a juice box.  They're fun.
— Jacob Hartman
Eventually, after receiving approval from Zalewski's 13-year-old sister, the band became Juicebox.
"I like the idea of a juice box because everyone's had a juice box," Hartman said. "I feel like you don't have any negative associations with a juice box.  They're fun."
The members of Juicebox described their sound as jazz-rap, though they're not especially fond of that term.
"We want to combine the worlds. We want the worlds to collide," Attalah said. "The worlds of rock and roll, being a rockstar, the worlds of jazz, swinging. No labels."
With so many people and voices in the room, it can be hard to coordinate and stay focused during practice, Lathrop said.
"We're a large group of people, and there's always ideas going on in all of our heads at every practice, and a lot of times we'll all start to play different ideas at the same time," Lathrop said.
Juicebox writes their own music, with some of their signature songs including "Bob Ross Bossa," "What Did You Say" and "Capri Sun."
Hartman said Juicebox's songwriting style can be improvisational at times.
"We listen. Really, that's what we all have in common, we listen," Dunham said. "So if someone changes the form, we all just go with it. That's the kind of group this is."
Attalah added that group members will arrive to rehearsals with ideas, and then the songs will evolve from that.
"My favorite song is 'Capri Sun.' I like it because it's sort of down-tempo compared to our other stuff," Attalah said. "It's all about the balance between organic and synthetic. It's like we engineer it to be a certain way but at the same time, it just speaks for itself, groove-wise."
According to Zalewski, Juicebox's performance at the Battle of the Bands finale was mixed with feelings of confidence and anxiety.
"One thing that set us apart in my mind was the jazz. All the other acts, I feel like, had a more driving rock rhythm," Dunham said. "So for me, it was a test of, does UVM want more rock? Or do they want to try something new?"
To watch or listen to Juicebox before SpringFest, check them out on YouTube, Facebook or Instagram.
The group is recording their first EP and will be performing April 19 at the Trap Door, a house venue in the Old North End.