Professor explores race and inspiration in new book
The author took her place behind the podium to face a crowd of friends, colleagues, students and strangers. The applause died down, and the author smiled.
"I'll try not to cry," she said.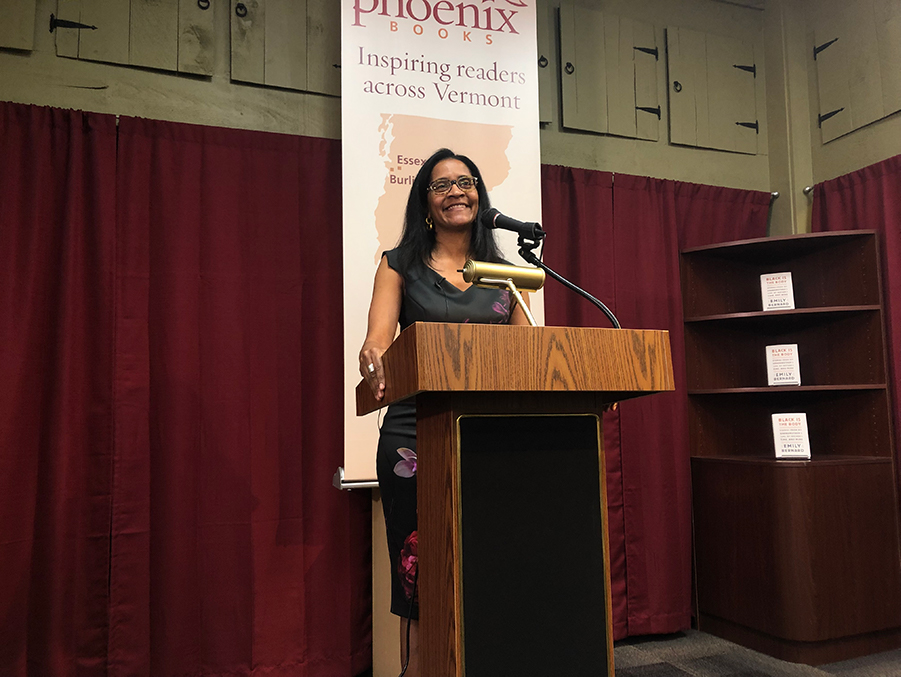 English professor Emily Bernard is the author of "Black is The Body: Stories from My Grandmother's Time, My Mother's Time and Mine."  
Bernard read from her fifth and newest book at her debut Jan. 30. at Phoenix Books in downtown Burlington.
The book is a collection of essays narrating her experiences as a black woman, a daughter, an adoptive mother and an educator.
Bernard grew up in Tennessee and spent her childhood reading books such as  "Jane Eyre" and "David Copperfield," imagining herself in their characters' shoes, she said.
"There was just this magic about making connections with people that I would never meet [and] never would have met," she said.
Bernard said reading Edith Wharton and Nathaniel Hawthorne led her to New England for college. Eventually, she and her husband, English professor John Gennari, settled in South Burlington.
"I still feel at home in the idea of New England," Bernard said. "I don't think I could live anywhere else."
The book features 11 essays, the first of which is a deeply intimate story about a violent attack she experienced while in graduate school that led to a long-lasting health complication that still affects her today.
She made the decision to have the essay, entitled "Scar Tissue," the first in the book because she wanted her readers to know how vulnerable she was willing to make herself, Bernard said.
"It's also so much about storytelling and about how little control we have over the stories about us," she said.
In "Motherland," Bernard describes her and Gennari's complicated adoption of their twin daughters, Giulia and Isabella, from Ethiopia. Bernard said she worries, as any mother does.
"I am very conscious of them moving through the world in their brown bodies," she said.
Junior Mickenzie Zadworny, an English major, said she was especially excited to read a book written by an English professor.
"I love that she is including stories from the lineage of women that she is connected to," Zadworny said.  
One of Bernard's essays, "Teaching the N-Word," has been widely taught in UVM classes.
"Teaching the N-Word" addresses the complications of teaching race in literature classes and how that contributes to the discussion of race on campus and state-wide.
"Talking about race in Vermont, I have found it to be largely productive and really inspiring," Bernard said. "What I find are white people who really want to know and want to do better. And I can't do better than that."
Friend and fellow English professor Sean Witters also teaches that essay.
"'Teaching the N-Word' was a guide for me in many ways, as a white male teaching race in American literature," he said.
Although the book is centered around the Black experience, Bernard wants everyone to feel invited into her writing.
"I want people to feel welcome, and to feel like a book that is pivoting around race doesn't exclude you. You're part of it," she said.
"Black is The Body" is now for sale at local bookstores, as well as on Amazon.