Review: Lake Street Dive shines at sold-out show
When I found out I was attending the sold-out Lake Street Dive concert on July 25 at Burlington's Waterfront Park, I gasped so loudly that my coworkers stared at me. I didn't let out my breath until the show was over. 
As I rode down College Street from work to the show, I saw the full scale of what "sold-out" meant. Cars sat bumper to bumper and I felt lucky to be on my bike as I zipped around cars and dodged pedestrians.
I got down to Waterfront Park and took better note of the crowd around me. The dresses were floral, the fans were all-ages and the early evening sun bathed us in a coveted golden-hour glow. 
Vendors called out to kids and adults, tempting patrons with free samples and stickers. People set out lawn chairs and picnic blankets, chatting with strangers and friends alike. 
Juniors Maddie Ernst and Maddie Cross were both excited to see Lake Street Dive, as they had been following the band for a while. We bonded over this being our first show of theirs. 
I saw similar excitement from alumni Eleanor Krause '13 and Jackie Burrell '13.
Both Krause and Burrell were thrilled to be reunited for the show and to introduce their friend Julia Garcia to Burlington. 
Although they "fucking love" Lake Street Dive and openers the Wood Brothers, a brother act based in Texas, they said the real appeal of the show was the waterfront's beautiful views.  
"Nothing beats the Lake Champlain sunsets." Krause said as her friends nodded in agreement.
I had come to the show not knowing the Wood Brothers' music, but I quickly fell in love with their infectious rhythms and open, sing-along choruses. 
Their songs cover everything from being thankful for what you have to the joys of the Southern dessert shoo-fly pie. In their songs, there is something for everyone. 
As I questioned the extra bells and whistles on guitarist Oliver Wood's upright guitar, my railside neighbor Betty Hynes enlightened me. 
"He calls it a 'shit-tar,' because it's a piece of shit guitar," she said. 
While the Wood Brothers are often classified as a strictly folk band, the brothers played with electric instruments, gospel-style sing-a-longs and more throughout their hour-long set. 
One highlight was when they brought Lake Street Dive members Rachael Price and Bridget Kearney out to join them on their song "Sing About It," turning a folk fingerpicker into a defiant choral anthem through Price's powerful vocals. 
Lake Street Dive returned the favor during their own set, bringing the brothers out for a raucous cover of "Everyday People" that probably gained the song's original singers, Sly and the Family Stone, a few new fans. 
Lake Street Dive started off with some tracks from their newest album, "Free Yourself Up," released May 2018, which was equal parts jazzy and funky.
The audience around me mimicked Price's dance moves as she sang songs about the loneliness of hearing upstairs neighbors getting it on, the fear of not knowing what you're doing in life, and grudges held against ex-lovers.
The band's classical training (they met while they were students at the New England Conservatory of Music) was evident in their songs. 
Abrupt tempo and key changes kept the audience on their toes, while drummer Mike Calabrese kept them moving with varying rhythms. 
My other railside neighbor, Tom Benton kept up with all of them, dancing in place and screaming the lyrics back at the band as loud as he could. 
He told me this was his seventh or eighth show of theirs. "They're my favorite band." he added with a smile. 
As I biked up the hill home, I thought about what I would remember the most about this show. 
I came to the conclusion that although Lake Street Dive and the Wood Brothers were different in some ways, they shared one thing: the ability to bring people of different backgrounds together in support of great music. 
About the Contributor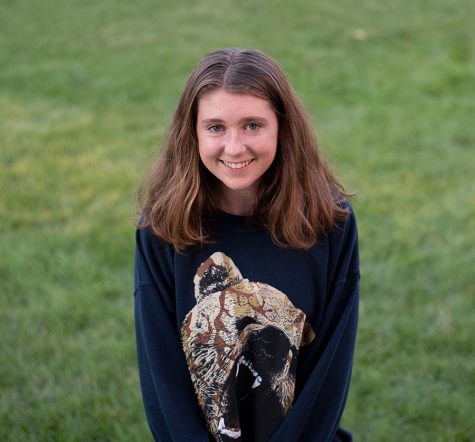 Mills Sparkman, Digital Media Editor
Mills Sparkman is the Opinion Editor for the Vermont Cynic. She is a junior majoring in Political Science from Bristol, Rhode Island, not to be confused...