The issue with posthumously released albums
Posthumously-released albums may seem like a noble idea to continue an artist's spirit, but more often than not, they disrespect what the artist would want.
Once an artist dies their name becomes a commodity. An infamous example of this is Frank Zappa, the virtuosic multi-instrumentalist famous in the '60s and '70s.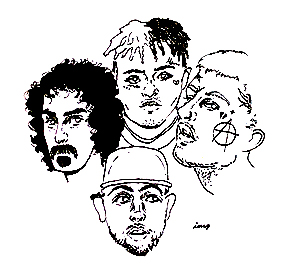 During his career, Zappa fought for the ability to have complete control of creative property. In death his name has been abused by the Zappa Estate. 
The Zappa Estate signed his music away on deals with Universal Studios to make money from posthumous albums, of which there have been over 40, according to an August 2016 Rolling Stone article.
What would have continued Zappa's legacy more than anything is his son's ability to spread his music through live shows. Dweezil Zappa refused to sell Zappa merchandise, so the estate shut down his concerts. 
A more modern example of this issue is that of Lil Peep and XXXTentacion.
More than in any case of posthumous albums I believe that X is like the new Marilyn Monroe. 
In death X has become more famous than ever before. His music sales have risen by 1,603% since his death in 2018, according to Billboard. His name is synonymous with the commodification of dead rappers. 
His newest posthumous albums are filled with features that his label uses to boost sales. 
Originally iLoveMakkonen was supposed to be on X's "Falling Down" featuring Lil Peep, but after both artists passed, their families decided the song would honor them both. 
Both of their record labels saw the opportunity to make a track with two famous rappers that had passed and made a song that could be milked of all its cash. The song has 446 million listens on Spotify.
These types of releases put into question whether this is what an artist would actually want.
Although there are many terrible cases of posthumous albums, there are those that prove otherwise.
For example, Prince sought complete creative control over his music. His posthumous albums added new dimensions to an already legendary musician.
One of Prince's posthumous albums that continues to amaze is his 2019 album "Originals" which exposes sides of Prince that his listeners never knew. This album did his intellectual property and musical prowess justice.
More recently, "Circles" by Mac Miller is an album that satisfied the paradox of posthumous albums. 
Reaching critical acclaim, it gave what fans wanted while also respecting Miller's intellectual integrity. Most of the album was finished before Miller's death.
Even though Mac didn't have a choice of its release after his passing, it is regarded as one of the few respectable posthumous albums.
The bottom line for any posthumous project should be to protect an artist's intellectual property over any sense of commodity. 
This goes for both fans and record labels with both benefiting from a lack of respect to an artist's music.