Coffee crawl: a guide to Burly's caffeine scene
With finals around the corner, it's almost that time of year again. Don't worry though, the Cynic has you covered with a handy guide of Burlington's thriving coffee scene for when you need your next hit.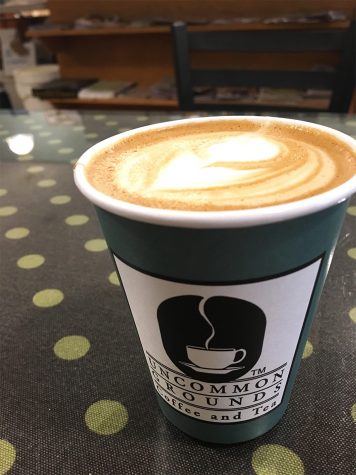 Over the span of an hour, I toured five of downtown's most popular spots, ordering my drink of choice, and actor Hugh Jackman's favorite, the Flat White.
Originating in Australia, the drink recently made waves here across the pond. Jackman, the Wolverine himself, described the humble Flat White as "like a latte with a little less milk and more espresso", in an October 2011 interview with Grub Street.
Starbucks
49 Church Street
I started off my caffeine crawl at the iconic Starbucks on Church Street. Starbucks, a Seattle-based chain with stores across the States, became globally synonymous with American coffee since its founding in 1971.
Starbucks offers a Flat White, and boasts that their "bold ristretto shots of espresso get the perfect amount of steamed whole milk to create a not too strong, not too creamy, just right flavor," according to their website.
Although I have no idea what a ristretto shot is, the coffee itself was okay. The milk was very thick and tasted somehow buttery, which threw me off, but otherwise was much better than expected.
The baristas were very friendly and the cafe was fairly busy with artsy people probably writing the next Harry Potter on their laptops and families enjoying a break from the weather. I'd go back.
Verdict: Not bad, if you're in a rush.
Uncommon Grounds Coffee & Tea
42 Church Street
Already feeling the buzz, I headed to my next destination: Uncommon Grounds.
Uncommon Grounds is a family owned business right in the heart of Church Street. They roast all of their beans in store and have been a fixture of the community for over 20 years.
When I walked in, the first thing I noticed was how busy it was. I joined a steady line of customers The man in front of me ordered his Latte with four shots of espresso. He looked like he was having a rough day.
Unfortunately, my request for a Flat White was met with a rather confused look from the barista, so I instead opted for a Latte as well (minus the extra shots!).
The coffee was very pleasant; not overly bitter and with creamy but not sweet milk. The only issue was the temperature, which was quite hot, meaning the milk was a little burnt.
Verdict: A local gem
The Cosmic Grind
104 Church Street
The Cosmic Grind is by far the coolest coffee shop I've been to. The walls were covered in orbital graffiti and the music blaring sounded like it could've been from a Bo Burnham comedy special.
"Do you guys do a Flat White?" I asked tentatively because I'd been hurt before. "Of course!" was the extremely enthusiastic reply.
The Cosmic Grind is pretty small, and isn't really a dine-in type of joint, but it is apparently dog friendly. I ordered mine to go and sat out in the sun on Church Street.
The coffee itself was brilliant. The milk was smooth and velvety, and the double-shot (which I ordered without thinking) lent a balanced bitterness to the drink.
Verdict: A stellar cup of joe.
Muddy Waters
184 Main Street
I received a tip from the new Culture Editor, Sarah, that Muddy Waters was the place to go, so I headed down Main Street for yet another caffeine hit.
I was greeted by a warm, inviting cafe and  a pleasant, friendly and helpful barista. Although they had never heard of a Flat White before, they were happy to give it a go after some explanation.
The price was reasonable, although I noticed that my hand was trembling when I went to pay. Don't tell my doctor.
Although the drink was a little bit heavy on the milk, the coffee itself was great and I can't take any points off since it was off menu. Judging by the number of satisfied patrons scattered around the jungle-like store, others were similarly enjoying themselves.
Verdict: Kick back, relax and enjoy.
Onyx Tonics Specialty Coffee
126 College Street
At this point, I was tweaking like some kind of coffee addict, so I decided to round out my caffeine crawl at my personal favourite spot, Onyx Tonics.
Onyx Tonics, operating in Downtown Burlington since June 2016, is run by Jason and Tiffany Gonzalez. Jason plied his craft in the UK before setting up shop in Vermont.
The cafe is relatively small but makes good use of the space it has, with clean, modern decorations and art adorning the walls, light colours, and even a "Human Bathroom".
Although on first glance Onyx Tonics may seem a bit too hipsterish, the baristas are incredibly friendly and down to earth, and have an impressive knowledge of coffee.
When I order, I'm asked to choose from three different type of beans from a menu that rotates weekly. Fortunately for me, knowing next to nothing about the different roasts, the menu provides a number of flavour notes. I picked the one with hints of Corn Flakes.
The coffee is quickly prepared. Onyx, like many of the cafes in the UK and Australia, uses espresso shots. I don't have a single artistic bone in my body, so I was blown away by the latte art of a swan that adorned it.
I was similarly impressed by the coffee itself, and savored each sip. Although I couldn't really taste the corn flakes, the milk was foamy and delicious, and there was definitely a distinct flavor that made this cup of joe stand out from the others I tried that day..
Verdict: Outstanding.