Sex education expert offers non-judgemental advice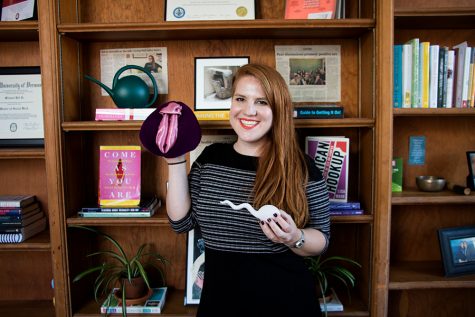 Honesty, humor and inclusivity are pillars of  Jenna Emerson's practice. Posters covered her office as she spoke about her path to professionalism. 
Living Well's sex education expert Jenna Emerson first became interested in sexuality education while taking a gender and sexuality class as an undergraduate student at Seattle University.
Her interest came from the media coverage of the Jonas Brothers' purity rings, a public symbol of virginity which was popular with teen celebrities at the time, including Brittany Spears and Miley Cyrus. 
"The early 2000s were a big time of showing virginity and I began to wonder why that was and how much virginity had to do with sex itself," Emerson said. 
She channelled her curiosity into a thesis on the social construction of virginity and how that manifests in sexuality education. She examined the issue through several lens including race, class and sex. 
"Upper class white women were most likely to be taught abstinence only, which was my experience in San Jose, California, where I grew up," she said. 
"But lower class black women would learn about pregnancy prevention, HIV and the risks involved with sexual activity." 
Emerson emphasized that these different education approaches left both demographics lacking in education. 
Those educated primarily in the risks of sexual activity were not taught to believe that their bodies were valuable, whereas abstinence until marriage tactics left students in the dark about practical prevention practices, she said.
Emerson will be having Sex Ed office hours on Tuesdays from 2:30 to 4:30 in Living Well, where students can pop in and ask the questions they felt they couldn't in school. 
"I'm looking to teach positive, pleasure-based, anti-oppressive lens when educating on sexuality," Emerson said. 
Sophomore Emma Bell said Emerson's non-judgemental mission could make it easier for students to reach out with their questions, Bell said.
"I think it's a really good thing to have, especially with how public schools fail to teach sex education and sexuality," Bell said. 
"I feel like it's hard for some people to talk to people that they know directly about that kind of thing, especially if they think the questions are gonna be embarrassing for them or that they're gonna be judged," she said.
The idea of Sex Ed office hours is intriguing to students like senior EJ Obaro-Best. 
"I feel like everyone has sex, and everyone should be educated about things that they participate in, and that's one of them," Obaro-Best said. "I think that we're paving the way for more universities and colleges to implement such things."
Obaro-Best also said that free STD testing isn't enough to educate students about sex and sexuality. 
"We do the free testing, we do all of this, but people don't know why those things are important," she said. "I would definitely go, and I think I am gonna go."
One of the reason's Emerson's office hours are popular is because of her work in comedy. Her live comedy show "Sex with Jenna" links her two professions. She performs at various Burlington venues such as the Flynn Theater. 
"I use humor to get at an important topic," she said. 
Emerson will perform "Sex with Jenna" Sept. 14 at the Revelry Theater in Burlington.