Community and students show up for Wellness 5K
Despite the rain and overcast weather, several hundred students and community members gathered on the indoor tennis courts and turf of the Patrick Gym for the fourth annual 4/20 5K for Wellness April 20.
At the same time, students from all across campus trekked to Redstone campus to participate in a less official celebration — smoking for 4/20.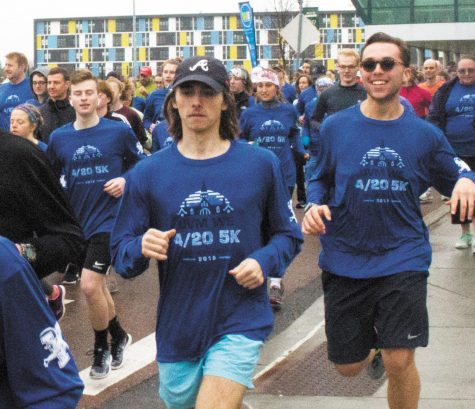 Jim Hudziak, the director of the Wellness Environment, said the 5K is a WE signature event.
 "The idea behind it is just providing healthy options and healthy opportunities on a day where people make decisions that may or may not be as healthy," he said.
Hudziak said he was excited at the participation, citing that over 1,400 had registered.
"The weather may dampen that enthusiasm, but I see it, as I've seen it every year, it's a celebration of our community on campus and in the city," he said.
Junior Lily Brown said many more Burlington residents participated in this year's race than last.
"I'd even say there are more community members than students," she said.
Surrounding the tennis courts were tables for groups such as the UVM Running Club and UVM Dining. There were also tables for local businesses that had sponsored the race, such as Skida, a Vermont-made headwear company, and The Community Sailing Center.
Several food trucks and food from local businesses were available after the race, such as Pingala Cafe, Taco Truck All Stars, Shy Guy Gelato and FeelGood.
Before the race began, race marshall and Interim Provost Patty Prelock addressed the crowd, praising the UVM community's "commitment to health and wellness."
Despite the food, games and activities, junior Erin Brooks didn't think that the 5K was really about deterring students from participating in drug use.
"It seems like students who are already interested in running are the ones participating. I don't know anyone who's like, 'oh I'm not gonna go to Redstone to run the 5K instead,'" Brooks said.
Sophomore JoJo Mcdonald agreed, saying that if students were already set on taking part in the smoking aspect of 4/20, the presence of other opportunities wouldn't stop them.
Beyond the Wellness Environment's attempts at providing alternative programming, UVM's administration warned students against participating in drug use.
An email from Al Turgeon, Chief Risk Officer and Annie Stevens, Vice Provost for Student Affairs was sent out to students on April 19, stating that marijuana is not allowed on campus and is illegal for those under 21.
The email states that students who are "identified in person or by video" to and found responsible for violating university policy and/or state law could receive a minimum fine of $250.
The email left several students across campus unsure of how seriously the fine would be enforced.
"I don't know how it'll be enforced, especially since there are so many people who participate," Brown said. "There's no way they can fine everyone."
Brooks noticed that some students were nervous about the fine, but that most had just been making fun of the email.
"I think the threat of fines has kind of put an air of hesitation over everything, but the people I've talked to don't seem to care," Mcdonald said. "So many people go to Redstone to smoke that if they were going to punish people there's no way that they get everyone."