Hand-poked tattoos rise in popularity
Dip, poke and repeat.
Tons of people are going under the needle to get new ink, and it's not in the traditional method of tattooing with a gun.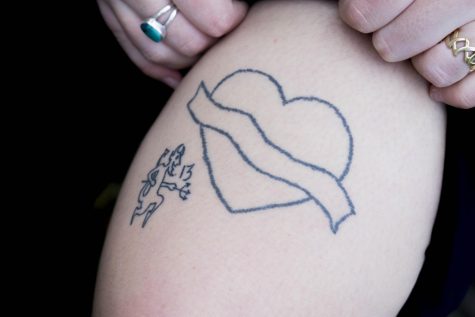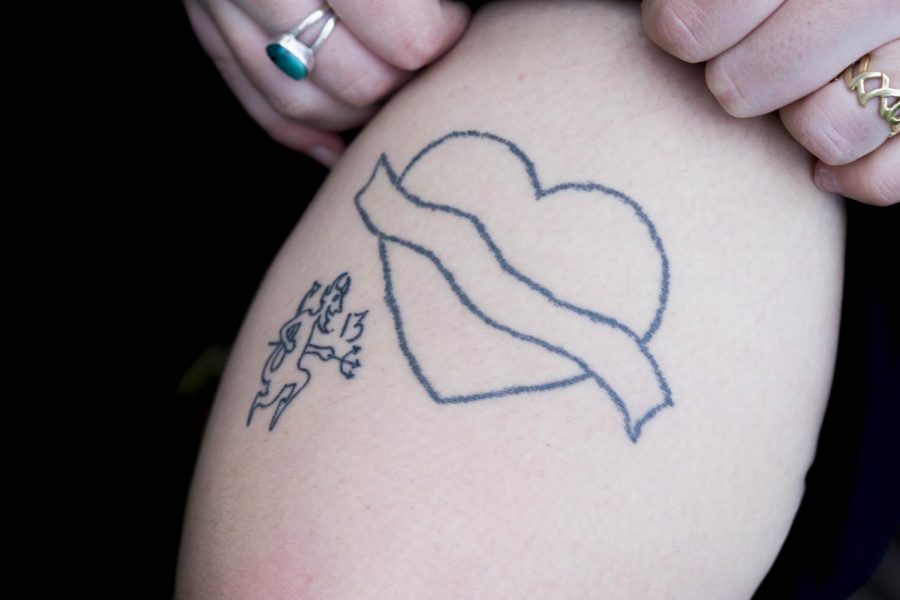 People have been practicing this art for thousands of years. The art has even been traced back to ancient Egypt, Rome and the Victorian era, according to tattoodo.com. 
Stick and poke is not just a new medium of body art. It's a new way to start a business and meet new people in a different kind of social setting. 
Stick and poke tattooing involves dipping a needle in ink and manually stabbing the needle into the skin repeatedly until the design is complete. 
Sometimes, they have to be redone several times to last. 
Junior Garet Ewing prides themselves on being a stick and poke artist. They do various designs on themselves, friends and strangers. 
"I started seeing it as more of an art form the more I did it and the more designs I thought up," Ewing said. "I started challenging myself and used my own body to test out designs and techniques. My ankles are little museums of random pokes." 
Ewing started doing their own tattoos because they were cheaper than getting traditional gun tattoos. A box of sterilized needles goes for under $10 on Amazon.
Ewing said they try to be professional when it comes to working with clients and does their best to give them a design they'd be proud to have on their body for life.  
"I start by poking out the general form of the design, then go in and solidify the lines. It usually takes more than an hour, so we take breaks along the way," Ewing said. 
Ewing is not a stranger to getting inked but has three professional, traditional tattoos. All the rest are at home stick and poke. 
A lighthouse from Clive Barker's "Abarat" was poked into their arm by Ewing's best friend before they left for college. 
"That's my favorite," Ewing said, pointing to it.
Ewing prefers getting stick and pokes over traditional tattoos. While the cost is a plus, Ewing cherishes the ode to personalized design and the intimacy that goes into the art. 
"I prefer getting stick and pokes because I'm not that into perfection or precision," Ewing said. "I think it's overrated. I like the sense of personality you get from a tattoo that someone has spent hours on poking each individual point."
There is a health risk that comes with getting stick and pokes,  but Ewing said they make sure the tattoo environment is clean. 
"Making sure everything is clean and sterilized is hugely important and definitely attainable," Ewing said. "Don't share needles or ink, and make sure the work area and skin is clean." 
Cameron Rokhsar, associate clinical professor of dermatology at Mount Sinai Hospital, said illnesses, infections and communicable diseases usually only happen when the needle is unsanitary or the needle is being shared, according to a May 2017 article Vice article.
Senior Emily Patnaude has not been deterred from the possible health risks and has three stick and pokes: a tree and a mountain on her fingers and a snowboard on her foot, all representing things she loves. 
Due to the slower process, Patnaude said stick and pokes are more painful than traditional tattoos. 
"I have two 'real' tattoos, and stick and pokes just take way longer," Patnaude said. "[The] depth of the needle hurts more as well."
Senior Sid Callaghan said he started getting stick and pokes because they were free and easier to get on a whim. With six random designs on his legs, Callaghan got them all before his other tattoos. 
"I have a triangle on my wrist, a fish skeleton, a crying heart face, a keyhole, some words and a dagger," Callaghan said. 
Either way, the new and exciting trend of at-home inking doesn't seem to be fading anytime soon.