Improv performance shows off humor and creativity
Standing in front of an audience and confronting the expectation to be funny on the fly are challenges improv actors must confront each performance.
Name Pending, UVM's first and only improv troupe, performed Jan. 22 as part of the University's Winter Week of Welcome.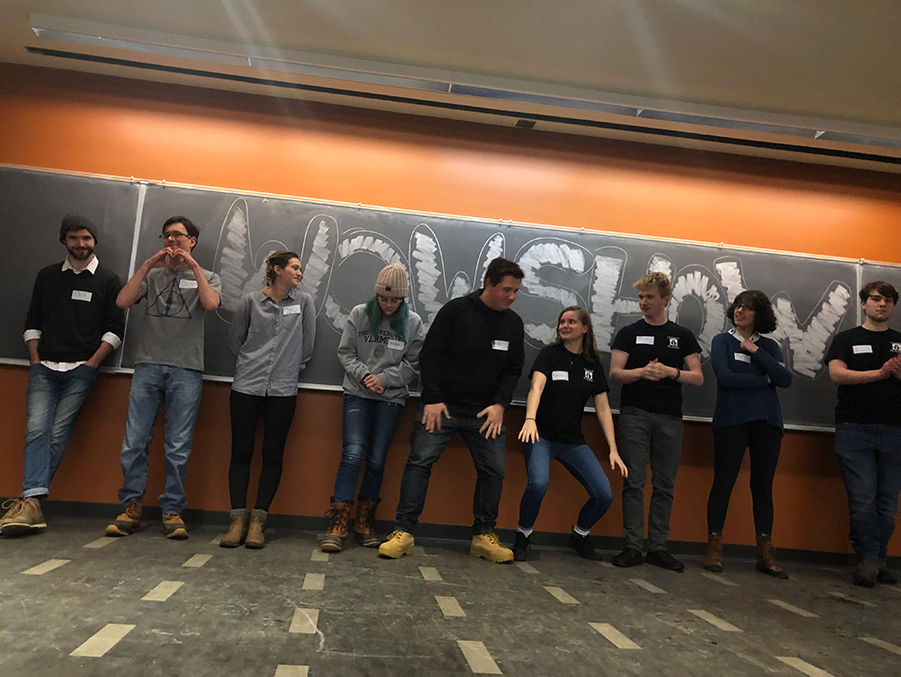 At a Name Pending improv show, a group of actors perform a series of skits, games or act out scenarios per audience suggestion.
Audience members help establish the setting, the relationships between characters or phrases at the cue of the  host. This adds to the element of surprise for the actors and ensures the completely unscripted nature of the show.
The audience suggested that the two people on stage were enemies in a grocery store, and the scene grew from there with the creativity of the actors on stage.
Junior Matthew Noenickx was the host for the night. He joined Name Pending when he was a first-year but has been doing improv since his senior year of high school.
"My favorite part of improv is a good scene with a wacky character or something out of the ordinary," he said.
Noenickx said happens frequently, and the Winter WoW performance was no exception.
There were scenes with a mosquito undercover as a Russian spy posing as a student, as well as a character who pawned his six children off on drunk guests at a baby shower. These, in addition to many others, were situations dreamt up on the spot by students.
"The most difficult part of improv is pushing yourself to put yourself out there in a new group of people," Noenickx said.
He said improv helps build conversational skills and keeps you on your toes while off the stage as well.
First-year Kate Vanni said she was impressed by the performance.
"It's incredible how fluidly everyone works off each other's humor and the amount of quick thinking that must take," she said.
Name Pending is open to anyone and meets every Tuesday night in Fleming 101 in the Fleming Museum. No audition is required to practice with the team, only to be in the shows.
Consider going to a show for a relaxing evening with friends, something a little different than an average night watching Netflix.
"Why should people come see improv?" sophomore Jacob Whittaker said. "Because it's hilarious, obviously."