Interfaith Center hosts Pride service
Sometimes a forbidden symbol in religious institutions, a rainbow LGBT flag covered the back wall of the Interfaith Center as attendees sat together in unity. 
The UVM Interfaith Center held a religious service Sept. 5 to celebrate the 50th anniversary of the Stonewall Uprising and LGBT resilience.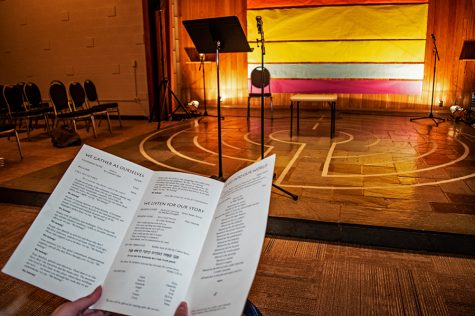 The event was led by a variety of local religious leaders and included a tea ritual, songs and a closing blessing. 
Senior Anna Cataldo thought the idea of a service celebrating LGBT resilience and Stonewall was great.
"I think that a lot of people mistake religious people for hateful people. It's hard, my religion was built on a lot of hateful things, but I think spirituality can be really beautiful," Cataldo said. "I also think that being queer and being religious shouldn't have to be separate things."
Deacon Stannard Baker gave the final blessing before the service ended. 
He explained that the first UVM pride service was held in 1985 in the Presbyterian Church, in the same building as the Interfaith Center.
"Blessed is consent, blessed is respect, blessed are those who I didn't describe," Baker said.
Religious leaders like Baker want to bridge the divide between queer identities and spiritual affiliations.
"Our purpose was to recognize the wounds the churches have done to many queer people, help churches open up to them and help people explore their spirituality," he said.
Baker also explained his role as a plaintiff in the case that led to the legalizing of gay and lesbian civil unions in Vermont. 
Baker is the named plaintiff in the Vermont Supreme Court case Baker v. Vermont in 1999 that determined Vermont's ban on same-sex marriage unconstitutional. 
"Our goal is to expose the institutional homophobia of some of the churches, but also show the queer community that many churches are welcoming and want them involved," he said.
Baker said it was important to heal the divides between LGBT and Christian people. He cited how some LGBT people had been dismissed or hurt by religious groups.
"My sense is one of the most radical things you can do is create change and openness in the fundamentalist institutions of our society," he said.
Rev. Laura Engelken, the center's Interfaith Coordinator, said she sometimes found it hard to be understood in mainstream queer spaces and some Christian spaces. Engelken led the tea ceremony during the service.
"For me, it's being at home with who I am and who I am called to be and being centered in that," she said.
Engelken explained that she was rejected by her childhood church from pursuing leadership because she is a woman, and by the church in general for being a lesbian.
She said that religious or philosophical fundamentalism of any kind fails to understand how different people within a group can be from each other.
"I think because my experience of life has been being outside of the norm, I have more space for other people who are outside of the norm," she said.
Rev. Josh Simon felt his connection to God was more important than what others thought of him.
He said he could not see God disapproving of LGBT people if he created them.
"I just live my life, if other people have issues with it then it's their problem, not mine," he said.