Rail Jam transforms Davis Center green
Hundreds of UVM students braved the Burlington cold to check out the local skiing and snowboarding talent on display at this year's Winter Rail Jam.
The event, organized by UVM Ski and Snowboard Club in conjunction with Jay Peak Parks and UVM Program Board, kicked off 7 p.m. Jan. 25  outside of the Davis Center.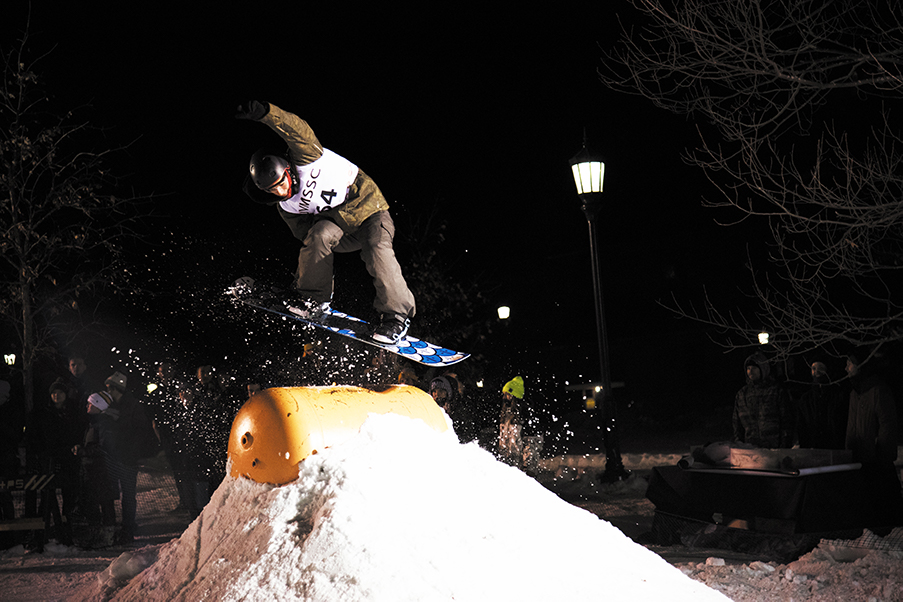 A panel of judges watched  as UVM's skiers and snowboarders attempted to pull off their best tricks in order to advance to the finals later in the evening.
The Andrew Harris green was transformed into a skier's paradise, with a course built that included a rail section and, for brave competitors, a large ramp.
Unlike at last October's rail jam, organizers had no problem finding enough snow to put together a course for the evening.
First-year competitor Alex Sciaruto said everyone from the skiing and snowboarding community volunteered to help set up.
"It only took around two and half hours to put everything together. Everyone helped. I came after math class to shovel," he said.
Not everything could be achieved by shoveling snow, however.
"The rails and ramps were provided by Jay Peak," Sciaruto said.
Spectators looking to warm up could grab a free hot chocolate and grilled cheese, courtesy of UPB and UVM FeelGood. They were also treated to a variety of tricks and falls from snowboarders and skiers alike.
For UVM student Coco Kero, the most entertaining moments were the attempts at the main ramp, she said.
"I appreciate that the tricks on the rail are probably harder and require more skill. But they aren't as cool," she said. "For me, the highlights are always the jumps off the ramp."
Others, such as first-year Abby Carpenter who was attending her first Rail Jam, were a little more amused.
"It's just the most UVM thing possible. Where else do you have skiing in the middle of the uni?" she said.
Following a closely contested final, seniors Brandon Westburg and Cooper Talty took the top honors in the men's skiing and snowboarding categories, respectively. Junior Caitlyn Lucadamo and first-year Emma Schact won the corresponding women's events.
First-year Donny Hicks, who took home second place honors in the Men's Skiing category and the award for best trick in only his second competitive performance, credited the energy of the crowd and his fellow competitors for his success.
"I loved it. It's so hyped. The crowd made it because it was so huge," he said. "It's great to compete with your friends."
First-year and fellow skier Tristan Schumer was also impressed by Hicks' performance.
"If he keeps this up, he might make X Games," he said while laughing.