Restaurant Week offers discounted prices, new foods
April 21- 30 is Vermont Restaurant Week, a great way to sample the amazing restaurants Burlington and Vermont have to offer.
"Vermont Restaurant Week is 10 days of eating, essentially," said Corey Grenier, the marketing and events director for Seven Days, said."We have 118 Restaurants across the state offering menus at $20, $30 and $40 per person."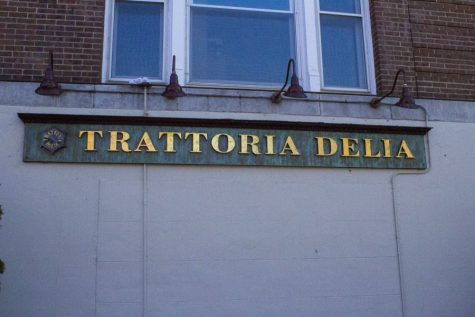 Grenier said that some restaurants craft special menus for this week and even offer discounted prices, making it a perfect time to try new places.
After perusing different menus on the restaurant week website, I plan on visiting Butch and Babes, a restaurant I've been wanting to try for a while.
$20 at Butch and Babes during Restaurant Week will get you a three course meal: brussel sprouts or a mac and cheese pancake for the first course, vegan pasta or pork dumplings for the second course and a cookie du jour for dessert, according to the Vermont Restaurant Week website.
Another intriguing option that caught my eye was a "happy meal" offered by ArtsRiot for $15, which includes a burger, popcorn chicken or maple-roasted broccoli served with rosemary-sage fries, a drink and even a toy.
Other Burlington Restaurants offering deals include Single Pebble, August First Bakery & Café, The Gryphon, Citizen Cider, The Farmhouse Tap & Grill, Duino! (Duende), Trattoria Delia and more.
During Restaurant Week there are "special Foodie Events," Grenier said.
"April 30 is our finale event, which is a brunch bash where there will be eight brunch chefs serving up bite-size samples of classic brunch dishes," he said.
Besides the Bottomless Brunch Bash, there are other events throughout the week such as a discussion about growing grains in Vermont, a trivia night, a "snacky social hour" and even an instagram scavenger hunt challenge, according to the Restaurant Week website.
Restaurant Week benefits the Vermont Food Bank, Grenier said.
"Last year we raised $20,000 through a variety of ways," he said. "We have special events throughout the week where proceeds from admissions go to the foodbank."
For anyone who loves eating out, this is the week to celebrate Vermont's amazing restaurants.
While you dine you can give back to the Vermont Food Bank and help feed others in the community.
Use the website to plan out your route or buy tickets to events and start eating.