Students celebrate religion through song
In the center of the room, an individual raises their voice and begins to sing.
Eventually, all members are singing, eyes closed, drumming on the desk and creating a song that overtakes the room.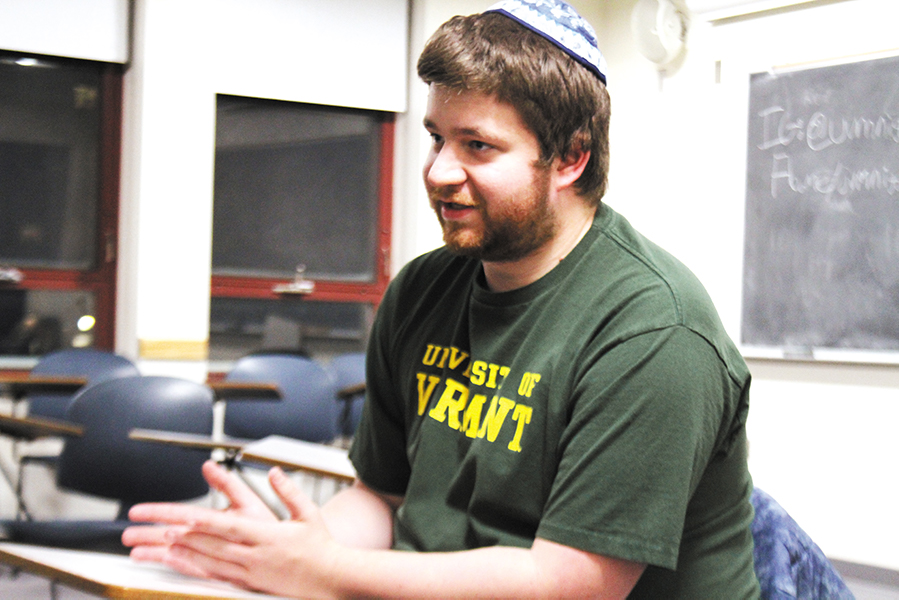 The Niggun Collective Club,  started by sophomore Navah Fried and senior Alec Collins, is a gathering of students who practice niggun singing and meet at 6:30 p.m. every Wednesday in Lafayette L102. 
A niggun is a melody that originated in Jewish religion.
It is a wordless tune that uses musical sounds such as "lai-lai-lai" and "ya-da-dai" to create a spiritual experience beyond words.
Music has always been a key part of Jewish culture.
The role that music plays can be traced back to ancient texts such as the Book of Psalms, according to My Jewish Learning's website.
Fried and Collins got the idea for the club a few months ago after they attended Joey Weisenberg's singing collective when he came to a synagogue in Burlington, Fried said.
"[Weisenberg] is a leader who brings more music to Jewish prayer and Jewish community," Fried said.
Weisenberg is the director of Hadar's Rising Song Institute and the author of "Building Singing Communities and The Torah of Music," winner of a 2017 National Jewish Book Award, according to his website.
He inspired the two club leaders to attend a four-day workshop in New York at the Rising Song Institute.  
From there, they learned how to lead similar niggun collectives for themselves, Fried said.
The collective hopes to bring in new students and invite them to share their own melodies so that people feel they are part of the community. Another goal is to inspire wellness and  spiritual and mental well-being, he said.
"It's a super calming and relaxing thing to do to close your eyes and sing with people and not worry about the words because there is no sheet music," Collins said.
In each club meeting, the members sit together in a circle.After one person begins to sing, other members jump in and join the melody.
Some songs are slow, while others are faster; each song changes the mood of the room.
Fried and Collins agree that the greatest take-away from the club is the sense of calm and joy.
Junior Tyler Lederer, a member of the Niggun Collective, said he wanted to get involved with the club so that he could connect to his Jewish identity. He had experience with niggun singing on Birthright Israel, a trip where individuals of Jewish heritage visit Israel.
"It doesn't matter if you think you are a good singer, or if you're comfortable or if you have not sung before," Collins said. "Everyone is welcome and all you need is your voice and, however it sounds, it's perfect and we'd love to have you."