Tying the knot: married and engaged students on campus
When an undergraduate Public Communication major joined Chi Alpha, an on-campus Christian fellowship, she didn't expect to meet her husband.
The average marriage age for women in the U.S is 27 years old and for men is 29, according to the November 2018 U.S. Census. That statistic doesn't stop some students from marrying younger.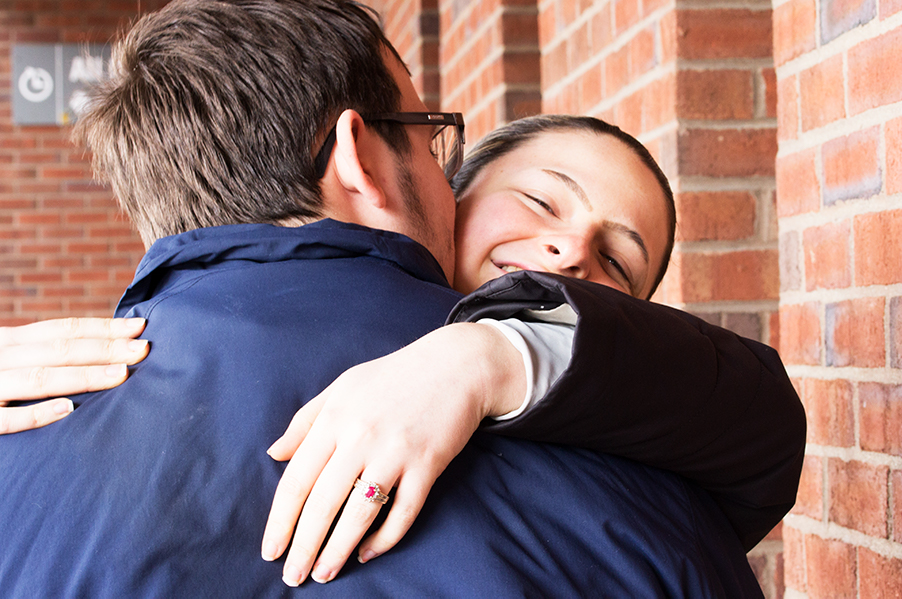 Senior Laura Beth Saaman met her husband, senior Paul Saaman, a Sustainable Landscape Horticulture major, through Chi Alpha.
The couple started dating in March 2017, and were engaged Feb. 10, 2018, tying the knot six months later.
"I didn't really date anyone in college until Paul, so I definitely didn't expect to get married before my senior year," Laura Beth said. "But it just made sense once I'd met him."
Her family and friends were pretty surprised, but Laura Beth said they've been supportive, nonetheless.
"Friends who have known both of us don't find it odd that we got married, but a lot of them were like 'why now? why not wait?'" she said.
Saaman said the success of her early marriage was thanks to being very intentional while dating.
"We were really clear about what we wanted from the start… We weren't just two kids trying to get married as quick as possible," she said.
There are definitely pros and cons to being in a serious relationship while in school, Laura Beth said.
Since Laura Beth and Paul are both full-time students, their relationship has to work under the strain of classes, jobs and homework.
"It can be a challenge to juggle our responsibilities with sustaining ourselves and our relationship," Laura Beth said, "but it's really fun to be able to share my time with someone."
Laura Beth said that the most special part of their relationship is that they're able to share the good  times and help each other through the bad.
She acknowledged the argument that they could be together without being married, and in response said marriage is a public profession of commitment that she felt ready to make.
"Life is a gift, and it's so unpredictable, " she said. "No part of me would regret spending a day with him."  
Her advice for students looking for relationships while in college is to not rush into anything.
"Some of the best times of my college experience came when I was alone, when I was able to explore who I am," she said. "That helped me a lot to be content with who I am away from a relationship."
Once she was comfortable with herself, it was easy to fall for Paul, she said.
Sophomore Ethan Welch, a student at UVM, is engaged to first-year Sandra Guyette, a student at St. Michael's College.
The couple said they agree that confidence is extremely important to a relationship.
"You have to be okay with being alone," Guyette said. "For better or worse, anything can happen in a relationship, so you have to be comfortable with yourself."
Welch and Guyette are both from Wallingford, Vermont. They met in 2015 through a mutual friend and began dating a few weeks later. Welch proposed on August 19, 2018.
Welch decided to get down on one knee in a local graveyard, he said.
"We were on a walk and came across these beautiful blossom trees," he said. "I had the ring in my pocket and I was thinking, 'I know this is a bit of a weird place,' but it was just so beautiful. I just figured, 'why not now?'"
Guyette said being engaged made coming into college less scary.
"I don't have to deal with the discomfort or anxiety alone," she said.
The couple is planning to get maried after they graduate. They said they aren't sure how marriage would change their eligibility for financial aid.
College students who are married must file as independent, and list their and their spouse's income and assets, as opposed to their parents' information. This can alter their aid eligibility, according to the Office of Federal Student Aid's website.
Sophomore Keerthi Onkaram said she wouldn't get married while in college.
"I think I need to focus on bettering myself before I commit that much to someone else," she said.
Junior Joanna Santoro said she doesn't think marriage is an inherently sacred, once-in-a-lifetime thing.
"I would get married tomorrow and if it didn't work out, I'd get divorced, and married again later," she said.