UVM FeelGood gathers most donations for poverty fund
UVM's chapter of FeelGood is the non-profit organization's most successful chapter.
UVM FeelGood is a student-run deli, and its purpose is to raise money for the Commitment 2030 fund, an investment strategy to end poverty by 2030.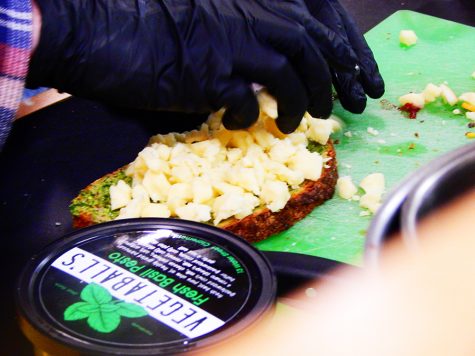 Located at the entrance to the Davis Center tunnel, FeelGood is open between 11 a.m.  and 3 p.m. Tuesdays and Fridays. The small stand, wedged into the corner, is backdropped by caricatured sandwiches painted on the wall.
"At UVM, we make grilled cheeses with all local ingredients, and all the proceeds are equally allocated to our four partner organizations," said senior Sam Morse, co-president of the UVM FeelGood chapter.
FeelGood collaborates with the United Nations 2030 Sustainable Development Goals by contributing money to The Hunger Project, Pachamama Alliance, Choice Humanitarian and Water for People.
"Last year, we raised $25,000, while other organizations raised $1,000 to $4,000," Morse said. "We are so far the most successful of the 25 chapters out there. It's pretty cool."
Each FeelGood chapter is separated into tiers based off of the amount of money they are able to collect for the 2030 fund. Currently, the UVM FeelGood is the only Tier 5, with the next closest university chapter being on Tier 3.
"We were in Tier 4 originally, and FeelGood decided that we were way too big for this. So they created another tier just for us," Morse said.
The club's biggest fundraisers is their monthly late night event. From 8 p.m. to midnight they deliver grilled cheeses all over campus, Morse said.
Junior Kate McGann, co-president of the UVM FeelGood Chapter, said the club's advertisement team puts up big posters all over campus and little flyers in bathrooms.
Not only does the club work to raise awareness of their own projects and goals, but they often partner up with other groups on campus.
FeelGood will often use bread made by Challah for Hunger, a UVM club that bakes challah every week to raise money for its partner organizations. FeelGood hopes by using the group's bread for their sandwiches, they can spread the word about both groups.
"We once even made a special jam sandwich that we called Jamming with MaCoco for the Womyn of Color Coalition," McCann said. "Partnering with other organizations on campus is a big part of our club."
The supplies and ingredients – including bread and cheese – are often sourced through local donations, according to the official FeelGood website. None of the revenue is used by the organization itself.  
"We get our bread from Red Hen and Cabot Cheese supplies our cheese," sophomore Shannon Taggart, the FeelGood prep manager, said. "Then all the other ingredients come from our ingredients manager, and what she can find."
The FeelGood club is always looking for new volunteers who are willing to put even a little bit of time towards  helping them reach their goals, Morse said.
"It's a low commitment club," she said. "If you want to come in for one week and never again, or come every week, then that's okay."