Who has the best bagel in Burly? We've got the results
With so many bagel places around UVM, it can be hard to decide on the best post-Friday night bagel spot. Don't worry, the Cynic has you covered.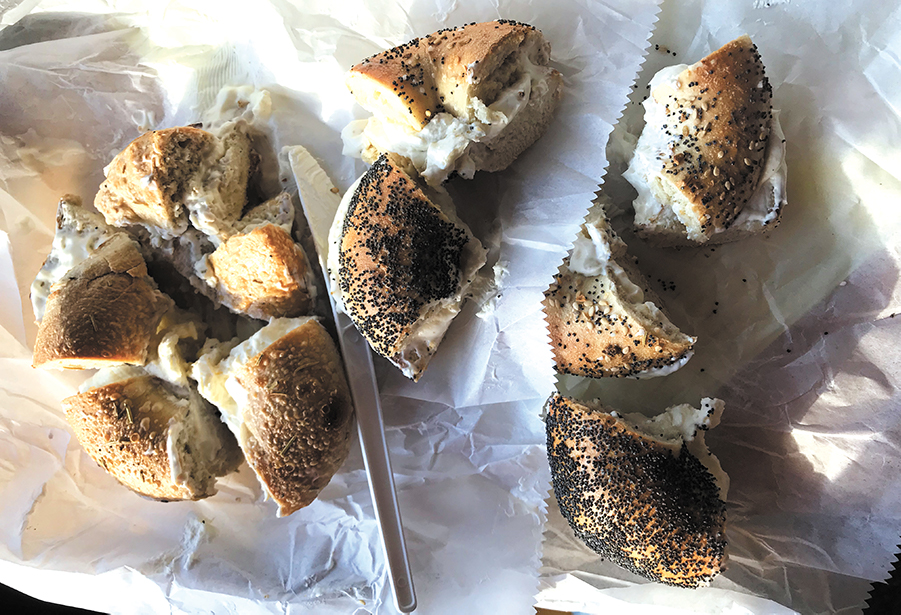 Cyrus Oswald

One groggy Saturday morning, I along with my team of five hungry college students, scoured Burlington for the best bagel in town. Here are the results.
Willow's:
Our day started off strong. With cozy wood paneling and art hanging on the walls, this bagel stop has a very modern Vermont feel. This specific Saturday, the shop wasn't packed. Only four people were in line, and 15 more were sitting down eating their bagels.
When I asked the friendly cashier what the best bagel was, she told me to order the everything. Willow's had all sorts of pastries and also served drinks, including Cannibidiol infused coffee.
My bagel cost $3.06. Although somewhat smothered in cream cheese, the bagel itself was light and fluffy on the inside and crisp on the outside.
Patrons had high opinions. Bagel eater and Burlington local Ben Wagner got the jalapeño cheddar bagel. "Nine out of 10. It was really good, very creative," he said.
Local Merritt Gates was also satisfied with her cinnamon raisin bagel. It was an eight out of 10, she said.
We were also not disappointed with the bagel. Scores from my expert team of college student taste-testers were all in the sixes, a just-above-average bagel. It just about met expectations of what you would figure a handmade, fresh and local bagel tastes like.
Average bagel score: 6.1
Myer's:
Myer's wasn't too crowded. There were about 10 people waiting in line and the same number enjoying their bagels.
The store has an open layout where customers can very easily see the bagel-making process. The menu was written in chalk on a board above the counter.
This store came highly recommended by locals. So of course when we got there, we had to cash out.
To get a full array of flavors, the staff recommended their popular Montreal Spice with veggie cream cheese on one half and jalapeño on the other half, and sesame sunflower, with butter, bagels.
For $5.08 total, the two bagels were a steal. Smaller and less bready than a typical bagel, these bagels lend themselves well to sandwiches.
"Not too much bread for a bagel sandwich," first-year Jacob Mintz Roberts said.
Average bagel score: 8.6.
Feldman's Bagels:
Myer's high scores provedhard to beat. Our next stop came close.
The staff had a hard time deciding what their best bagels were, but after much deliberation, they recommended the Everything and the olive and herb bagels with cream cheese.
When the order came out, however, we were given everything and poppy seed bagels with cream cheese. After informing them of the mistake, we were quickly given our olive and herb for free.
For $6.50 for two bagels, they were a solid sweet spot between a hard and a soft bagel. The team  was impressed with the poppy seed and surprised with the olive and herb.
Average bagel score: 7.7.
The Bagel Place: (right off Williston Road, near Higher Ground)
By the time we made it to The Bagel Place, the bagels were becoming harder to swallow, and there were fewer in the store. Nevertheless, we persisted.
A local in line told us we had to get the baja with asiago, but unfortunately they were out.
Instead, we got the cinnamon raisin with walnut honey cream cheese. It was very good. The staff was also very friendly.
The Bagel Place bagel was much softer and chewier than the other bagels we ate. I enjoyed the bagel, but one member of my team did not.
"Why would you put raisins on anything?" first-year Jeff Goldman said.
On average, the pricier $3.40 bagel got a score of 7.3. Frankly, I enjoyed it the most. It made me want to eat bagels again, something I had lost along the way.
Average bagel score: 7.3
Dunkin' Donuts (just east of The Bagel Place):
It wouldn't be accurate to describe the Burlington bagel scene with only the best bagels.
Willows, Myer's, Feldman's and The Bagel Place all had very highly-rated products with super friendly staff. Dunkin' Donuts provided a great contrast.
The line inside must've had 20 people. We all got the feeling it wasn't because of super high demand, but slower working staff. When we finally got to the cashier, I asked some standard questions.
"Hi, I'm Cyrus Oswald, trying to find the best bagel in Burlington on assignment for the Vermont Cynic, UVM's on-campus newspaper. What is the best bagel on your menu?" I said.
"Oh, you're not from around here," the cashier said.
Clearly, even Dunkin's staff was aware of the poor state their bagels were in. I ordered the everything bagel, which considering the name, had almost nothing in terms of flavor.
"That bagel sucks," Goldman said.
The scores for the bagel averaged a generous four. No one was impressed, and everyone was left with a bad taste in their mouth.
Average bagel score: 4
In Reflection…
There are a lot of tasty bagels around campus. Although technically Myer's got the highest scores from my elite crew of bagel tasters, Feldman's, Willows and The Bagel Place were not far behind in scores.
Here are the final recommendations: if you are looking for a classic Montreal-style bagel, Myer's is the place to be. For a softer inside, make the trek to Feldman's. The Bagel Place makes good bagels, and it's certainly the closest to campus.
But whatever you do, don't buy a bagel at Dunkin' Donuts. They're very bad.