Women's Summit empowers audience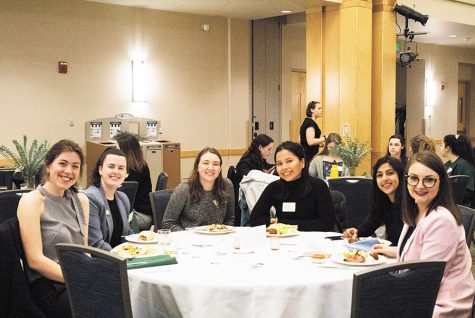 The air buzzed with chatter, and pop music filled the Grand Maple Ballroom as students found their seats at the fifth annual Women in Leadership Summit.
The event, held March 20, was an evening of discussion and listening. Female-identifying leaders within the Burlington and UVM community gathered in a safe space.
The summit began with its student speaker, sophomore Dia Brown. Brown's speech recalled her struggles as a multiracial woman in engineering and how she learned to find her voice in the face of adversity.
"For the longest time, I felt the constant weight of being called a woman," Brown said. "I am here today with the realization that being a woman doesn't suck. "
There is no limit to what women can do, she said.
Sophomore Maddy Zimmerman said they felt inspired after hearing everyone speak.
"
I am here today with the realization that being a woman doesn't suck. "
— Dia Brown
"I was crying during Dia's speech and felt so good after," Zimmerman said. "It felt good to hear so many perspectives and I felt so inspired to hear so many powerful and brave women speak out."
Christine Velez, an assistant professor of social work, took the stage next. Velez also touched on her struggles as a woman of color and how she often feels like she must apologize for existing.
"Women of color have to apologize for existing and taking up space," Velez said. "But we do deserve to be here and take up space with our presence, questions and curiosities."
Margaret Bass, an associate professor of English at St. Lawrence University, delivered her speech next. Bass spoke to the struggles she faced on her journey to becoming a leader.  
"Leadership is a term we think we need. We think of leaders as positive people," Bass said. "Leaders stand out in a crowd, but context matters."
Bass talked about what it was like to be a black woman in predominantly white communities throughout her life and what it was like to be a plus size woman.
She emphasized that not all of her identities are equal and that being plus size presented her with more challenges on top of her black identity.
The night ended with the speakers being given bouquets.