UVMMC's Harvest Cafe: an unexpected comfort
Walking into UVM Medical Center's Harvest Cafe, I wasn't expecting anything great. After all, hospital food isn't known for its quality. 
But the setting itself wasn't exactly hospital-like. It wasn't the most beautiful space, but it didn't seem too sterile either.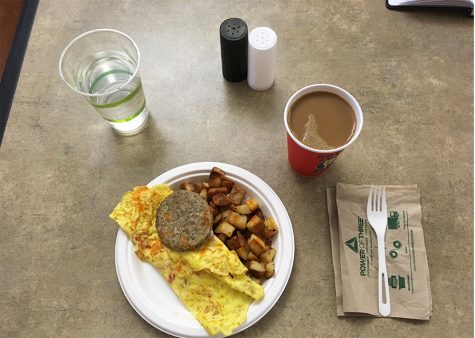 In fact, the cafe was quite reminiscent of the Living/Learning Center Marche. 
For the price, Harvest Cafe is hard to beat. For under $7.50, I got a small iced coffee, home fries, a sausage patty and an omelet with cheese and veggies in it. 
The food was pretty tasty. It's hard to find individually cooked eggs on campus, and they had them in the "fresh off the grill" section. 
The eggs were cooked well, the home fries tasted salty and just greasy enough but the sausage was just a bit tough. 
They also had a "crusts and such" area, think pizza, and a spot called "chef's concoction." Nothing was there the morning I went, but the menu outside said something about mac and cheese being served that day. 
Although I didn't try them, they also had freshly made egg sandwiches, which cost $4.05 fully loaded: sausage, cheddar cheese and of course egg.
They also offer them with cheese and vegetables for $2.30 and plain with egg and cheddar cheese for $2.05. 
Besides made-to-order food, they had a salad bar, ice cream freezer, bagels and other pastries, plenty of Speeder and Earl's coffee dispensers.
Don't let anyone tell you they have a small selection. 
The coffee was pretty cheap. A refill was $1, and a large cup was $2. They also had hot tea and Oregon chai, $1 and 95 cents respectively. 
A scrambled egg is 75 cents: and with cheese and veggies it is $2.10. 
The staff was very friendly, if caught off guard by my presence. I asked the chef working the grill what the best thing on the menu was, and she didn't know what to say.
Nonetheless, after a little digression the eggs were decided the most popular. In the evenings, she said the burgers are the thing to get.
The man behind me chimed in to say that the home fries were the most popular. 
If the cafe took them off the menu, he figured there would be a riot. 
Harvest Cafe was not very crowded. At most there were 15 people present. Most of the patrons were clearly affiliated with the hospital: doctors, medical students or other professionals. 
I only saw two other people who looked like undergraduate students. 
For how sparsely populated with students it was, I have heard some buzz around campus about it.
 "It's on my UVM bucket list to eat there," sophomore Mokoto Burlage said.
The atmosphere was surprisingly comfortable. The paper plates, no-nonsense presentation and workers and patrons joking with one another helped make it very homey. 
Pictures line the walls, which are painted a warm yellow. In fact, you wouldn't know you were in a hospital if it weren't for the uniformed nurses and doctors. 
Harvest Cafe is located on the north end of the hospital, right by Fleming Museum. 
Their hours are from 5 a.m. to 3 a.m Monday through Saturday.