A look at UVM's Boulder Society
Over a century ago, UVM students came together and decided they needed a way for the student body to directly communicate with the administration.
To answer this call, the students founded the Boulder Society in 1905. More than a hundred years later, the SGA has taken over the original role of the society, and now the Boulder Society serves primarily as an honor society.
The current president of this year's Boulder class Mwai Nyamu said male senior students are nominated and go through an interview process, then the current Boulder class selects the next class from the pool of nominees.
"Every guy that has been in Boulder exemplifies scholarship, leadership, and service," Mwai said. "That criteria is used to pick the next class, and it acts as an honor society."
But what any particular class does as a Boulder class is up to them, he said. This year's class has yet to set its agenda.
"I think we as a group all want to do something this year," said a member of this year's Boulder class and former SGA president, Ethan Foley.
However, there are some time constraints to accomplishing things as a group, he said.
The reason why we were all nominated into the society itself is because each of us are highly involved students who are trying to make UVM a better place in a variety of ways, Foley said.
"I personally have some ideas to run by the guys next time we hang out and hopefully something will come of that," he said.
A look at the past
Howard Lincoln is a member of the Boulder Society class of 1980-81, and he currently works for UVM as a part of the UVM Foundation.
His senior year was a time when Bernie Sanders was just elected mayor and UVM's relations with Burlington were a little strained, Lincoln said.
"[Bernie] had a bit of an adversarial stance on UVM initially, because students living off-campus were putting housing pressures on families in town; on top of that, UVM doesn't pay property taxes," Lincoln said.
Lincoln's Boulder class took on the task of bettering UVM's reputation in town as their class' main project.
Their group wanted to develop a plan to demonstrate the economic contributions of UVM students to the city in a simple way.
Gold dollar coins were distributed to students in exchange for cash, and they were encouraged to spend that currency for a period of time downtown to make it apparent how much money was being generated in the city by way of student spending, Lincoln said.
"It didn't get off the ground quite honestly," said Lincoln. "It was a gesture to garner publicity and be more symbolic than anything else."
The UVM Boulder and the Society
Sitting outside of Old Mill hall, facing University Place, is the UVM Boulder, the namesake for the society.
The UVM Boulder was discovered in a pothole in the 1840s when workmen were blasting for the Central Vermont Railroad.
This 200-pound boulder had been formed and eroded into a natural sphere. Geologists from Dartmouth and UVM speculated on its composition and how it came to take on its shape.
Former Vermont Governor Charles Paine helped UVM get the boulder, and it was transported to Old Mill. It's remained there undisturbed for almost half a century.
In 1894, however, students began a Halloween night tradition of rolling it away to an area near where Williams Hall is today. After several years of this prank, the administration warned students that continuing to take part in the practice would result in immediate expulsion of those involved.
Being naturally round, the boulder came to be a symbol of well-roundedness and exceptional qualities that students at UVM were thought to exhibit. UVM President Matthew Buckham (1871-1910) suggested this analogy in a speech, and the symbol stuck ever since.
When the Boulder Society formed in 1905, they took on the UVM Boulder to represent their group.
In 1947, the boulder was stolen by Middlebury College students to make a point for a football rivalry between the two schools, but the boulder was re-obtained by UVM and permanently attached to a base to end such occurrences once and for all.
Two UVM icons: the boulder and the tower
In 1913, a similar honor society for women was formed, known as Mortar Board, or AKRAIA — Greek for "the highest, the peak, the top of the student body," according to the UVM website. It became the first organization in the country to honor female seniors in this fashion.
However, in 1975, the Mortar Board became coed while Boulder remained a men's group only.
An equivalent honor society for women was formed once again in 1981 to fill this void. Originally called TOWERR (The Organization of Women Exemplifying Reason and Responsibility), TOWERR became the Tower Society in 2008.
Since then, the Tower Society has offered membership not only to women but also to those whose gender identity or expression is fluid or non-binary.
The suggestion of merging Tower and Boulder has been made in the past, Foley said. "I can't speak to why that hasn't happened. The traditions of both groups are pretty long-standing and are a significant part of the University's history," he said.
It's also important to recognize that both groups have a large number of alumni scattered throughout the country and world and that they have a large influence on the way things are carried out in the current classes of seniors in each society, Foley said.
Leave a Comment
About the Contributor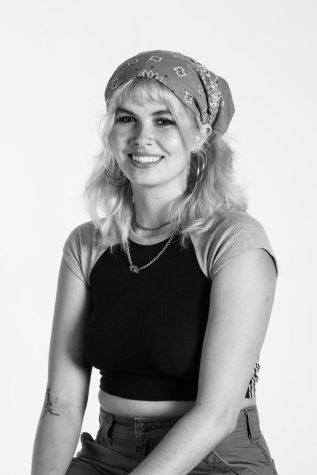 Ella Ruehsen, Editor-in-Chief
​(She/her) Ella Ruehsen is a senior environmental studies major with minors in political science and reporting and documentary storytelling. Before becoming...