BREAKING: 30 students in quarantine after one student tests positive for COVID-19
Thirty UVM students were moved into quarantine Tuesday after at least one student tested positive for COVID-19 after a Halloween weekend that drew increased warnings for students to stay safe.
UVM spokesperson Enrique Corredera confirmed late Tuesday night that 30 students were deemed "close contacts" after a student who took a COVID-19 test out of state learned of a positive result.
"All contact tracing, isolation and quarantine protocols have been followed," Corredera said in a Nov. 3 email to the Cynic. "Thirty on-campus students were identified as close contacts and moved into quarantine. There is no need for on-campus students to take any action unless they are contacted by a health professional."
On Monday, the University released its latest COVID-19 numbers from results received between Oct. 26 and Nov. 1listing zero positive student results and two positive staff tests.
It's unclear how many students have tested positive Monday.
An RA from UVM's Redstone campus that did not want to be identified confirmed that at least one student has tested positive for COVID-19 and at least 30 are in quarantine.
Another student, first-year Joe Porriello, who lives in Wing Hall on UVM's Redstone campus, told the Cynic that around 3:30 p.m. Monday he was walking back to his dorm from the UVM track when he saw another student outside his building with a bag.
Once he got into his building, Porriello said he was greeted by a full lobby of students with bags.
"I walked in the door and I see more people, dragging bags out and someone is sitting on the chair in the lobby who has a bag and so I'm like 'are people go home this early?'" Porriello said.
"But then, this girl was dragging a bag out of Wilks and her friend was like, 'Watch out everybody, the trail of corona is coming through."
Porriello said he then went upstairs to his room and looked out the window to see a yellow van.
"I was looking out my window, and people were loading stuff into a van," he said. "And then they started to walk as a group and I counted about 17 people."
Less than 24 hours earlier, UVM's President Suresh Garimella took to Twitter Nov. 2 to celebrate the most recent lack of positive test results.
"Woohoo – 10,429 students tested last week, ZERO positives," Garimella said in the tweet. "No exhaling, not patting ourselves on the back, just thankful for the outcomes to date and for our good work as a community."
Porriello said other than what he's heard and seen firsthand, he's received little other information about the situation
"Who knows how many [positives results] we're gonna have by the end of the week because that was just [test results from] Monday," he said. "And then people who tested today are gonna find out tomorrow and then so on and so forth. So that scares me."
Leave a Comment
About the Writer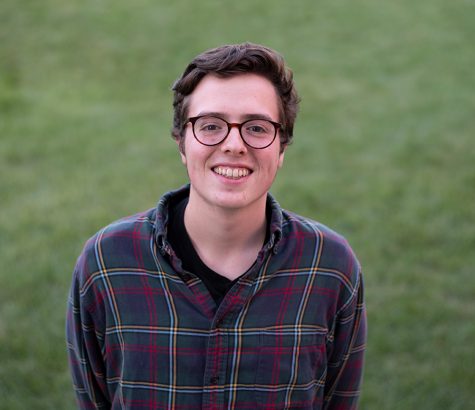 Sawyer Loftus, Editor-in-Chief
Sawyer Loftus is the News Editor for the Vermont Cynic. He is a junior History major with a passion for News. This past summer he was an intern in the...