Dozens gather, urge University to divest from firearms industry
Editor's note: This story will be updated as new information from UVM administration becomes available.
More than 30 people gathered on the University green April 12, calling on UVM to evaluate its monetary investments and to divest from any funds that may be contributing to the gun industry. 
The demonstration was organized and hosted by the UVM chapter of Students Demand Action, a group committed to ending gun violence in communities across the country, according to the organization's website.  
An associated petition from the parent group, containing 17 demands for gun manufacturers to meet, has amassed about 75 signatures from UVM students, faculty, staff and alumni as of April 13. 
University Spokesperson Enrique Corredera and Trustee Coordinator Corinne Thompson informed the Cynic they were in the process of gathering information about the precise nature of the University's investments as they pertain to the gun industry in April 13 emails. 
First-year Avery Hamill, UVM's group leader on the National Advisory Board for Students Demand Action, founded UVM's chapter last semester. The organization's week of action for gun divestment campaigns nationwide was this past week, he said. 
Hamill's personal stake in the matter has much to do with their community growing up, they said. There was once a school shooting a block and a half away from their house, and they often worry about the safety of their little brother while at school or on bike rides. 
"I grew up in Philadelphia and violence is something that happens down the block from me daily at home," Hamill said in an interview with the Cynic. "Universities are still actively profiting from the business that is killing us." 
In addition to speeches from four hosting student organizers in SDA, including Hamill, the rally featured a speech from a student from UVM's Lawrence Debate Union, as well as remarks from two student speakers representing UVM's chapter of Planned Parenthood Generation Action. 
The rally also included a speech from SDA community partner and newly-elected Ward 8 City Councilor Hannah King '22, who not only called on University officials to meet student divestment demands, but also spoke to the need for the state government to approve, enact and implement improved local gun legislation, in line with what Burlington voters want. 
Though the Burlington City Council recently divested from weapons manufacturers, King stressed in her remarks Wednesday that gun regulation work is far from over, calling on UVM to follow suit. 
Being a UVM alum herself, this issue is especially close to home for King. Ward 8 is the ward with the highest UVM student population in Burlington, King said, rendering this issue all the more prevalent for her as a city councilor representing the students who are fighting for change. 
King told the Cynic she called a University spokesperson the night before the rally to inquire about the status of UVM's investments in relation to the firearms industry, and was told that University officials are interested in looking into the status and are working to find answers. 
Though they could not make it to the rally in person, state representatives Mary Katherine Stone and Barbara Rachelson voiced their support for the firearms divestment initiative at UVM in a video posted on the UVM Students Demand Action Instagram page. 
First-year Astrid Foster, event speaker and member of Students Demand Action, finds it particularly ironic and problematic that UVM, as an institution of education, may have investments in the most prevalent industry contributing to school shootings across the country on a regular basis, she said. 
"[Guns are] the largest killer of young people today, and we are all young people," Foster said in an interview with the Cynic. "An institution promises to give us all these incredible things like education to further our lives—but we can't do that if we're not here." 
The plan, Foster said, is to show the petition to the UVM administration once it has garnered about 100-150 signatures to demonstrate that it isn't just the four organizers of the rally, but a large portion of the student population, that is backing the cause. 
The last time a student-led push for divestment was achieved was in 2020, when students successfully pushed for the University to divest from the fossil fuels industry. The process is set to be completed in its entirety by this upcoming July, according to a July 14, 2020 UVM Today article. 
"We get diplomas at the end of our four years," she said. "To be able to put confidence in where our money's going will be really important for students." 
Hamill said their group will continue to push UVM to divest from the gun industry until it does so, and will consider employing similar tactics to that of the fossil fuels divestment movement if necessary, such as sitting in and speaking at the next board of trustees meeting.
About the Writer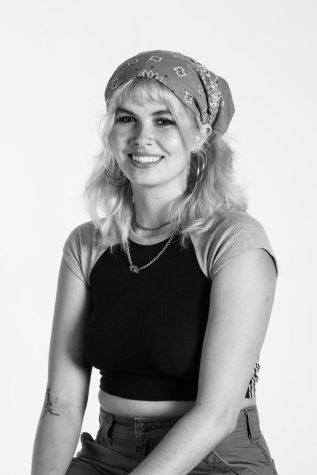 Ella Ruehsen, Editor-in-Chief
​(She/her) Ella Ruehsen is a senior environmental studies major with minors in political science and reporting and documentary storytelling. Before becoming...