Local advocacy group hosts rally on campus in support of Palestine
Approximately two dozen people assembled in front of the Waterman building Sept. 21 to show their support for Palestine at a rally organized by local advocacy organization Vermonters for Justice in Palestine. 
Organizers of the rally called for support for Palestine and implored supporters to not be deterred by attempts to redefine antisemitism. The rally comes a week after initial reports that the U.S. Department of Education's Office for Civil Rights is currently investigating the UVM administration's alleged mishandling of antisemitism on campus.
By 2:45 p.m., protestors—several of whom identify as Jewish—gathered to converse with organizers, showing support by waving flags and embracing one another. Passing motorists occasionally honked in support, with one raising a fist as they drove by.  
At 3:00 p.m., VTJP member John Heermans stepped up and began to read a statement to the crowd.  
"The complainants are following up on their strategy," Heermans said. "They are attempting to turn any whisper of criticism into a PR campaign that scares universities into adopting their highly-contested, widely-condemned definition of [antisemitism] that is specifically designed to target advocacy for Palestinians—not to keep Jews safe."
Junior Jojo Kofman, who attended the rally, believes the conflation of Zionism and Judaism is harmful to Jewish people, she said. 
"As a Jewish person myself, [it] makes me very sad to see because I think that this whole investigation puts so many people on board against what they believe to be antisemitism," Kofman said. 
The campus conversation around antisemitism came to a head Sept. 13 when news broke of the OCR investigation.
Following the news of the investigation, UVM President Suresh Garimella denied the allegations of wrongdoing, stating that media coverage "painted our community in a patently false light." 
Sophomore Adam Franz believes there is antisemitism within UVM's community, but has not personally felt it to be a hostile place, he said. 
"I've not found hostility because I'm Jewish at the University," Franz said. "I think conflating supporting Palestine and hating Jews is incorrect and pretty offensive." 
Vermonters for Justice in Palestine is a Burlington-based organization that works to end the illegal occupation of Palestine by Israel, Heermans said. 
Fellow VJTP member Wafic Faour, who grew up in Palestine, said the group does work in other social justice areas as well. 
"We work with Justice for All and the Coalition for Racial Equity, we met with the mayor on this issue and we are working on the state level," Faour said. "We support that struggle because we look at the Palestinian issue as part of that whole struggle."  
Their website and social media accounts showcase their work, including bringing a hotly-debated resolution to the Burlington City Council last year and pressuring Ben & Jerry's to end sales of ice cream in illegal settlements, as they stated in a September 2022 press release. 
VTJP took to Instagram Sept. 17—four days after initial reports of the OCR investigation—to announce plans for the rally. 
"Criticism of APARTHEID ISRAEL is not ANTI SEMITIC!" the post reads. "Solidarity with UVM students, Faculty, and administration who are standing in solidarity with Palestine!" 
The Waterman building, which houses administrative offices such as Garimella's, is a popular location for campus protests. Faour said the symbolic nature of the Waterman building is the reason they held the protest there. 
As the UVM community grapples with a federal investigation into antisemitism, a larger debate has been sparked about what exactly constitutes the charge, as well as its relation to anti-Zionism. 
Anti-Zionism generally pertains to the state of Israel and its government, as opposed to Judaism as a religion or ethnicity.  Anti-Zionism is defined as "opposition to the establishment or support of the state of Israel" according to the Merriam Webster dictionary.
In its statement following the initial reports of the investigation, VTJP denounced efforts to demonize criticism of Israel, saying preventing criticism of Israel on grounds of antisemitism infringes on free speech.
Concerning the University's response to alleged antisemitism on campus, Heermans said the administration addressed the incidents properly but the administration's response wasn't the point of the protest. 
"The point is that these accusations are taken out of context and put into this overall comprehensive strategy by the Jewish lobby," Heermans said. 
The complaint filed with the Department of Education that sparked the investigation includes a demand that UVM adopt the International Holocaust Remembrance Alliance's definition of antisemitism, an action Heermans urged Garimella against at the Wednesday rally. The IHRA is an organization of several countries, including the United States, dedicated to Holocaust education.
"Criticizing Israel is freedom of speech, and everybody has the right to do it," Heermans said.  
Antisemitism is a perception of Jews that can be expressed as hatred, according to the official IHRA working definition of antisemitism.
According to the U.S. Department of State, the federal government uses this definition and encourages its use. A 2021 proclamation issued by Vermont governor Phil Scott recognizes the IHRA definition, stating the U.S. and Vermont must refocus on addressing a global rise in antisemitism. 
The IHRA, Department of State and gubernatorial proclamation all note that the working definition is not legally-binding. The IHRA definition goes on to add that criticism of Israel doesn't necessarily constitute antisemitism. 
"However, criticism of Israel similar to that leveled against any other country cannot be regarded as antisemitic," the IHRA definition stated. "Antisemitism frequently charges Jews with conspiring to harm humanity, and it is often used to blame Jews for 'why things go wrong.'" 
Denying Jewish peoples' right to self-determination could constitute antisemitism in certain contexts, the IHRA states. This is where the connection between anti-Zionism and antisemitism comes into play. VTJP is completely anti-Zionist, according to Heermans.
"It's a racist concept," Heermans said. "When they started Zionism, they had one objective in mind: to come down to Israel and kick up the Palestinians." 
Heermans and Faour said VTJP has worked with Students for Justice in Palestine, a UVM student organization not recognized by SGA. 
The Cynic was unable to reach SJP for comment. 
Messages from Garimella and other administrators following the news of the OCR investigation reminded students of resources available to those who feel they've been the target of antisemitism. 
In light of recent events, Jewish students and allies in need of support were invited to talk with Patricia Prelock, provost and senior vice president, Amer Ahmed, vice provost for diversity, equity and inclusion, and Erica Caloiero, vice provost for student affairs, on Sept. 23 alongside Hillel, the Interfaith Center and Student Life, according to a Sept. 22 statement from Prelock. 
Hillel Director Matt Vogel declined the Cynic's request for comment and declined to publicly comment to any other organization beyond Hillel's original statement on the ongoing investigation, but remains committed to its mission, Vogel stated. 
"We stand unequivocally with our Jewish students, allies, friends, and family and are committed to helping them bring their voices to the table and be heard by the university," Hillel's statement stated. "We're here to support our students' right to be Jewish in the way they want to be so they can make an enduring commitment to Jewish life, learning, and Israel."
About the Writer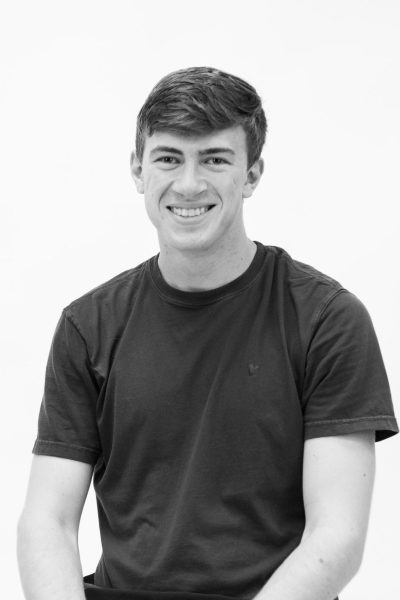 Andrew Gould, News Editor
(He/him)

Andrew Gould is a sophomore mechanical engineering major from Springfield, VT. He started at the Cynic as a news reporter. In high school,...