New demands for administration follow nationwide walkout
Hundreds gathered outside the Waterman building April 27 to participate in a nationwide walkout against campus sexual violence organized by Explain the Asterisk, an activism group originally founded at UVM. 
The protest resulted from continued frustration with UVM's efforts to address its mishandling of campus sexual violence, said sophomore Sabine Love, survivor and lead coordinator of the protest. Following the protest, organizers sent a list of 20 demands to the administration centered around this issue. 
The organizers emailed their demands to UVM President Suresh Garimella; Patty Prelock, vice provost and senior vice president; Erica Caloiero, vice provost for student affairs; Gary Derr, vice president for operations and public safety; and the Title IX Office directly after the protest, Love said. 
Organizers included Love, juniors Syd Partin, Reid Corliss, Abigale Szlajen and sophomores Kat Wellborn, Brooke Borstel, Kaia Ellis and Emily Carr, Love said. 
"We're angry at the UVM administration for not listening to us," Love said. "They're not hearing us when we're telling them very, very, very loudly and clear that we don't feel safe."
Approximately 350 protesters were present at the event, said UVM Police Chief Tim Bilodeau.
All the organizers gave speeches sharing their stories of sexual assault and expressing disappointment in UVM's efforts addressing the issue.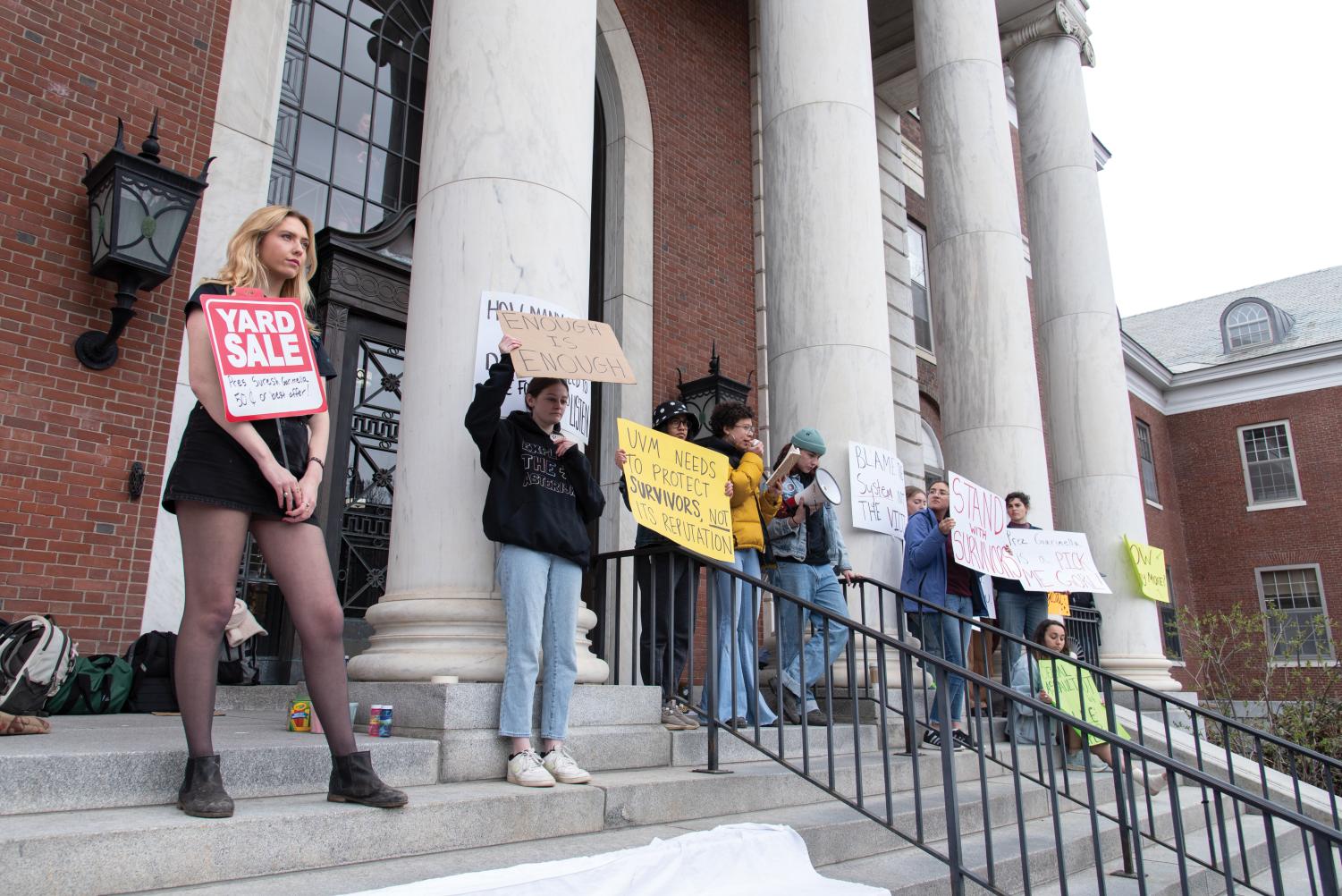 Thirteen percent of college students experience rape while in college, according to the Rape, Abuse & Incest National Network website.
For UVM's undergraduate population of 10,554 students as of spring 2022, 13% constitutes 1,372 students. 
"Sexual assault should not be a part of the UVM experience," Wellborn said. "It is not the job of survivors to protect other survivors. This is an administration problem and it is the administration's jobs [to] do better, so do fucking better."
Periodically throughout the event, speakers led the crowd in chants decrying the administration. 
This protest comes nearly a year after a crowd of approximately 2,000 people staged a walkout May 3, 2021, flooding the steps of Waterman to stand against UVM's handling of sexual violence and to advocate for improved prevention and support strategies, according to a May 4, 2021 Cynic article. 
The UVM Title IX Advisory Committee sent a list of 17 demands to UVM administrators April 30, 2021, who agreed to them May 3, 2021, according to the Cynic article. 
Since that time, UVM has implemented 14 of the list's demands and is in the process of implementing the final three, according to the University's We Hear You website.
Despite the University's actions, organizers and protesters alike do not feel UVM's efforts to meet these initial demands are enough, Love said.
"The word 'disappointing' comes to mind in terms of University response," said senior Steph Ryder, a protester and survivor. "But I think it's encouraging to see how many students care about it and hopefully will continue to take action with these things."
In 2018, then-sophomore Syd Ovitt '21 founded Explain the Asterisk following the revelation that many colleges only signify sexual violence misconduct with an unspecified asterisk on the assaulter's transcript, according to a Sept. 17, 2018 Cynic article. 
Explain the Asterisk's name comes from the fact this asterisk could refer to a wide range of circumstances, ranging from poor grades to sexual assault, the Explain the Asterisk website stated. 
Ovitt reached out to Love to coordinate the April 27 protest at UVM to serve as the leading example for other universities across the nation, Love said. Ovitt knows Love personally and reached out to Love because they are an active member of UVM's activism community. 
Fourteen other universities participated in the event nationwide, according to Explain the Asterisk's Instagram. 
The protest also coincided with Denim Day, a worldwide campaign sparked after an abuser's rape conviction was overturned on the basis of the survivor wearing jeans when she was assaulted, according to the Denim Day website.
Denim Day has since become a survivor solidarity education campaign, according to the website.
The new set of demands are unrelated to last year's demands and are based on changes the organizers of the recent walkout personally want to see, as well as input received from talking to students while tabling in the Davis Center, Love said. 
"The University has acknowledged receipt of the document and is in the process of reviewing it," stated UVM Spokesperson Enrique Correderra in an April 29 email.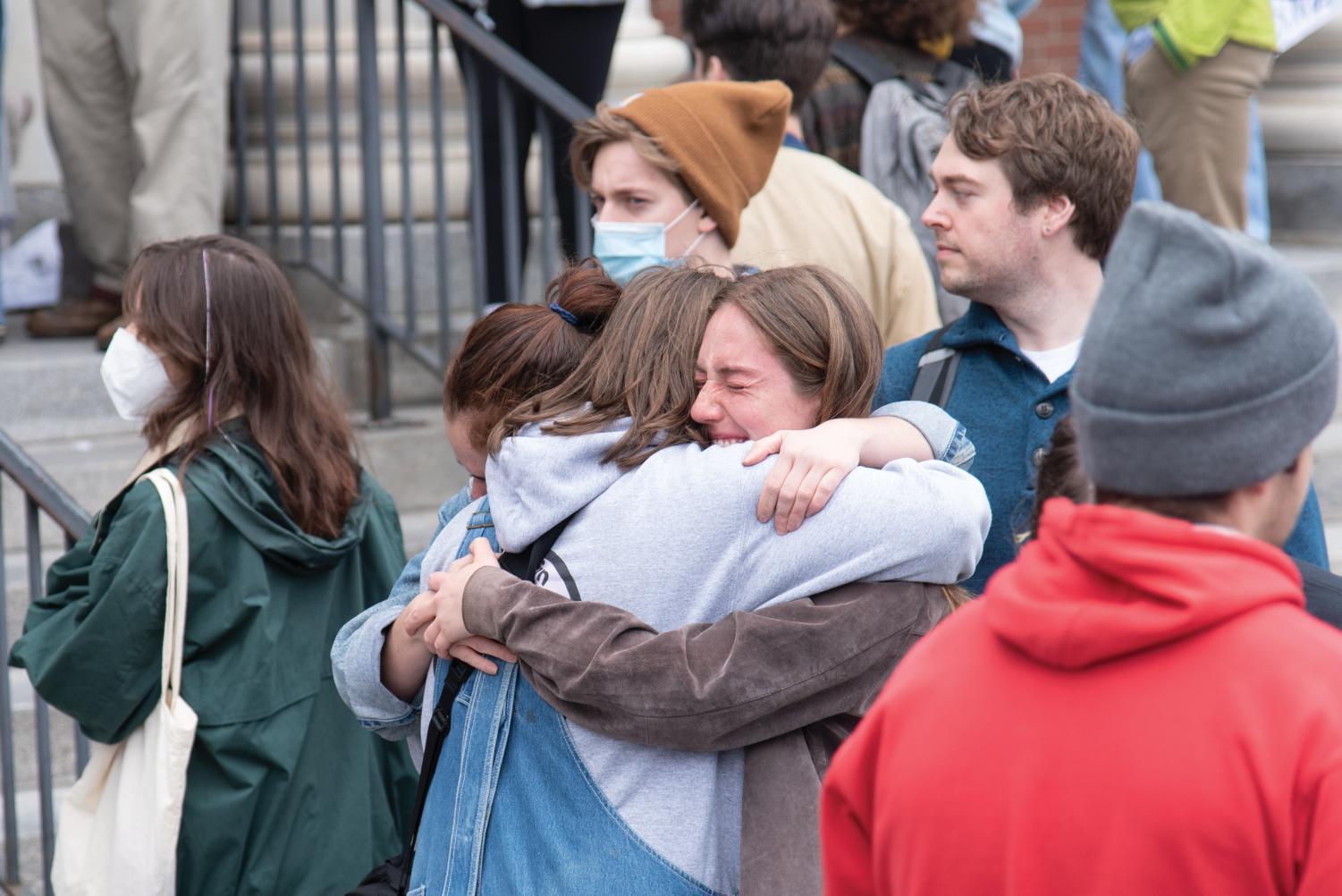 The protest was also intended to be a safe space where survivors could understand their own power, Love said.
"I think a lot of people felt that this was a very powerful space that was held," Love said. "I felt that this did some good for the people who came here today. […] I think that the people who did attend found power in it."
Organizers will continue to protest for this cause at UVM in future semesters, Love said. 
"We want to have those conversations with UVM administration about the list of demands," they said. "This is not the end, and it's going to take more planning, but we're nowhere near finished."
The UVM Women & Gender Equity Center offers support services for anyone who needs a safe space to talk to advocates through HOPE Works at their office located at 34 South Williams Street and at the Living/Learning Annex Room 215, according to their website. 
HOPE Works is a hotline providing counseling and advocacy for people whose lives have been impacted by sexual violence, according to their website. Their partnership with UVM came about as a result of the University's response to the April 30, 2021 demands from the UVM Title IX Advisory Committee, according to the We Hear You website. 
Any survivors in need of support can access 24/7 hotline services through HOPE Works advocates at (802) 863-1236. 
The following are the organizer's demands, according to an April 27 email from Love
"We DEMAND that the UVM Administration commit to transparency. 
We DEMAND that the UVM Administration

rebuild the Title IX website to increase clarity on the reporting process. This includes simplifying the language from complex legal jargon to easier to interpret language.

As a FIRST STEP toward said transparency, we DEMAND

that President Suresh V. Garimella issue a formal public apology on behalf of the Administration for its historic negligence and apathy toward the issue of sexual violence at the University of Vermont and past universities. 
We DEMAND that the University of Vermont create a secondary pathway in addition to the Title IX process that is rooted in the values of restorative justice. 
We DEMAND that another Sexual Assault Prevention Coordinator, in addition to  Elliot Ruggles, is elected and hired at UVM, for the undergraduate student population of 11,136 students (Fall 2020). We DEMAND the number of additional mental health counselors that are hired is doubled, along with the Confidential Advocates, and additional Violence Prevention Educators, to expand their support and confidential service, including confidential counseling, survivor advocacy, and accompaniment, and community-wide prevention and education. 
We DEMAND that the University of Vermont hires additional campus advocates to more effectively support the 11,136 undergraduate students (Fall 2020).
We DEMAND that all students who have survived sexual violence must be given all accommodations and resources necessary – and in an accessible manner – to ensure that they have equal access to UVM's education opportunities.
We DEMAND that the University students undergoing the reporting process for an incident of sexual violence, harassment, gender, and power-based harm, be provided greater support by the University by extending counseling terms for as long as needed by the student. We DEMAND that the University provides these students with a minimum of 10 hours of free legal counsel, and give explicit guidance, via a published statement, on academic accommodations or otherwise, that are available and given information on how to access them. 
We DEMAND that the University of Vermont double the number of counselors on staff with Counseling and Psychiatry Services by the beginning of the Fall semester in 2024. We DEMAND that UVM hires more BIPOC counselors, counselors with experience in survivor support, LGBTQ+ counselors, etc. 
We DEMAND the University of Vermont conduct an independent investigation into the Athletic Departments' mishandling of cases of sexual violence, including Athletic Director Jeff Schulman, Basketball coach John Becker, and the Assistant Athletic Director for External Communications and Relations Krista Balogh.
We DEMAND a new leader be elected to the UVM Title IX Student Advisory Committee, along with a new application for members in the committee, and work towards creating an open communicative relationship with the UVM Administration, on the basis of working to form more effective survivor support at UVM and campus sexual violence prevention efforts.
We DEMAND the University of Vermont create and continuously improve upon a mandatory course for first-year students on consent education that will take place during orientation, prior to the beginning of their first semester. 
We DEMAND that the University of Vermont creates a centralized location, whether it be a physical or digital space, for survivors to find supportive services across campus. 
We DEMAND that UVM change the policies for the way they record documentation for sexual assault to be in line with Explain the Asterisk's demands by the Fall of 2022. 
We DEMAND that the University of Vermont suspend or expel all fraternity members and athletic team, club or otherwise, members, with open sexual assault cases.
We DEMAND that the University take responsibility for and hold accountability for suspended, or unrecognized fraternities, from hosting unregistered parties, via monitoring their organization's social activities and shutting them down effective immediately.
We DEMAND that the University enact a NO Tolerance Policy, barring UVM students formerly affiliated with disbanded fraternities under investigation for sexual violence, harassment, gender, and power-based harm, and mass drugging, and enact that they are unable to join another fraternity, or from forming a new chapter of a different fraternity.
We DEMAND that the Interfraternity Council hereby referred to as (IFC), which is a part of the Fraternity and Sorority Life, is transparent about the way in which allegations of sexual assault, harassment, gender, and power-based harm are handled against their members and how they plan to address the issue of misogyny, sexism, sexual violence and exploitation, and other forms of oppressive harm now and in the future within their organization. 
We DEMAND

that the IFC design and implement inclusive and effective sexual violence prevention measures and reporting systems for registered and unregistered parties.
We DEMAND that the Office of Affirmative Action and Equal Opportunity, (AAEO), provide a clear and prompt ethics complaint process for complaints against faculty and staff involved in addressing sexual violence on campus. 
We DEMAND that the AAEO employees undergo trauma-informed training to ensure their reporting practices recognize the presence of trauma symptoms and work to promote environments of healing and recovery, rather than practices and services that may inadvertently re-traumatize students reporting incidents of sexual violence, harassment, gender, and power-based harm. 
We DEMAND that the UVM Administration commit to developing plans with the goal of maintaining the financial well-being of students and employees, especially those who experience the greatest impact. 
We DEMAND economic justice for survivors of campus sexual violence at UVM who have taken leave; dropped out; and/or incurred physical health, mental health, legal, academic, housing, transportation, or other costs as a direct or indirect result of the violence they survived.
We DEMAND the immediate abolition and disaffiliation of all fraternities and sororities, currently affiliated and disaffiliated, at the University of Vermont by 2025. 
The DEMANDS presented in this document represent our expectations for the work that the faculty, students, and staff on these groups and many others – all committed to ensuring that UVM operates in a healthy and safe manner to the best of its ability – and will carry out continuous and indefinite work to mitigate sexual violence at The University of Vermont."
About the Contributors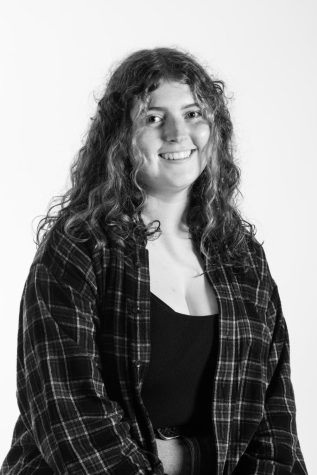 Halsey McLaen, News Editor
(She/they) Halsey McLaen is a junior from Groton, Connecticut, majoring in environmental sciences with a minor in reporting and documentary storytelling....