Provost provides updates on supporting UVM's Jewish community
Patricia Prelock, provost and senior vice president, identified several new updates from UVM administration concerning the ongoing work the University is engaging in to support Jewish students on campus in an Oct. 24 presentation to UVM Hillel's board of directors. 
These updates come in the midst of a federal investigation from the Department of Education into UVM over claims of mishandling antisemitism cases on campus and the resulting backlash from Jewish organizations over the University's response. 
"I want my message to be clear to the entire campus community: antisemitism, in any form, will not be tolerated at UVM," UVM President Suresh Garimella wrote in a statement condemning antisemitism during the board of trustees meetings Oct. 28. "Conduct that targets and threatens Jewish individuals or groups, or that unreasonably interferes with their ability to participate in UVM programs and activities, is unacceptable and completely contradictory to Our Common Ground values."
Garimella put the Division of Student Affairs and the Division of Diversity, Equity and Inclusion in charge of building initiatives to continue to support Jewish students and community members in the future, he stated. 
"We acknowledge the steps in the right direction and remain in dialogue with the university to ensure they follow through on the requisite accountability against antisemitism," stated Matt Vogel, executive director of UVM Hillel, in a Nov. 2 email.
University leadership attended antisemitism conferences in April 2022 and on Oct. 30, and will attend one specifically for addressing bias incidents on Nov. 14, according to the presentation. The University is consulting and communicating with Jewish nonprofit groups American Jewish Committee and Anti-Defamation League about future campus training for combatting antisemitism. 
In the area of campus prevention work, the University is instating annual bias training for students, staff and faculty, and identity centers across campus are delegating space and programming for Jewish students to connect with other identity groups, the presentation stated. 
University leadership will also participate in the Deliberative Citizenship Initiative through Davidson College, a project across multiple college campuses that seeks to improve deliberation skills in order to better improve communication across identities, according to the DCI website. 
The Office of Institutional Research and Assessment is working with Jewish students to pull out data from the spring 2022 Campus Climate Survey related to antisemitism, the presentation stated. The students will provide a report of their findings and recommendations to the provost. 
The Division of Diversity, Equity and Inclusion is working on Strategic Action Plans that are due to administration on Dec. 1, based on data from the spring 2022 Campus Climate Survey, the presentation stated. 
UVM also updated their bias reporting website to streamline the process and provide more clarity, according to the presentation. The University is working to create a new platform to respond more efficiently and effectively and anticipates it will be ready in two months. 
Information Technology, DEI, Student Affairs and the Affirmative Action and Equal Opportunity groups are working on this new platform, which will allow for the University to track the timeliness of responses and easily follow up with the involved groups of an investigation following a report, according to the presentation.
The bias response team is reviewing the Discrimination, Harassment and Sexual Misconduct Policy and will finish the updating process by Dec. 1, the presentation stated. The team was also renamed the Campus Support and Response Team. 
Further continuing education and development efforts include outreach and networking between administration and local Rabbis, Jewish studies and Holocaust Center faculty, and student leaders in Hillel and SGA, as well as possible religious literacy education and bystander intervention training for residential advisors, according to the presentation.
"We will remain fully engaged with students, community leaders, and external organizations to ensure that our Jewish students, faculty and staff are fully supported at UVM and feel the sense of belonging that as President I want every member of our community to feel," Garimella stated.
Ron Lumbra, chair of the board of trustees, also addressed the state of antisemitism on campus in his report to the board in an Oct. 28 meeting. 
"I want you to know it's critical to me that our Jewish students feel safe and embraced in our community and assure you the board will do its part to help," Lumbra said. "We must work hard to assure we come together as a community such that people of differing views, perspectives, life experiences and backgrounds can safely and confidently express themselves in a civil and constructive manner."
Resources about Jewish life and culture as well as responses to recent bias incidents at UVM can be found on the new Jewish Life at UVM webpage. 
UVM Hillel is hosting a briefing event with the Hillel staff, directors and board chair on Zoom on Nov. 10 at 6 p.m.
About the Writer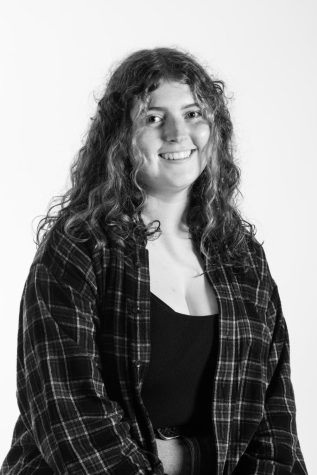 Halsey McLaen, News Editor
(She/they) Halsey McLaen is a junior from Groton, Connecticut, majoring in environmental sciences with a minor in reporting and documentary storytelling....