Students protest University president
NoNames for Justice protest shuts down Main Street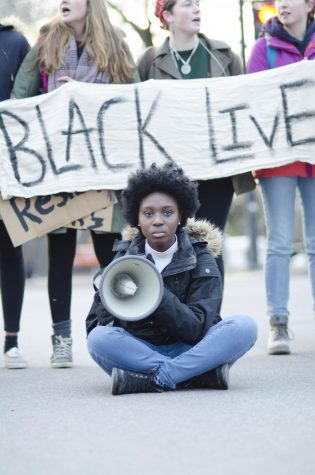 President Tom Sullivan did not meet with student racial justice protesters who blocked traffic for three hours.
The group, who said it wanted to "me
et on common ground," began protesting on South Prospect Street and Main Street at 4:30 p.m.
After three hours, they marched to occupy Waterman building, where they remained until 9:20 p.m Thursday, Feb. 22.
Sullivan was unavailable during the protest, but wants to meet with NoNames for Justice, an anonymous activist group, said Annie Stevens, vice provost for student affairs.
"He will reach out to whoever you want him to reach out to [in] No Names for Justice. He wants to meet as soon as possible," she said. "I know you want to meet now, but he's not available tonight. I want you to move in to get warm."
Stevens, who spoke over the phone with Sullivan through the protests, said she did not know where he was.
"Tom Sullivan showed where his loyalties lie," said senior Diana Allos, events and programming chair of the Womyn of Color Coalition. "It seems clear they're not with students of color on this campus."
The protest began after people of color, grad students and members of NoNames entered a graduate level class co-taught by Stevens to explain why she needs to acknowledge the list of demands and support the group, junior and NoNames member Starr Cobb said.  
In September 2017, NoNames put forth a list of demands for the administration to comply with in order to eliminate racism on campus.
The protesters took to the streets when Stevens refused to admit the university's failure to create a safe environment for students of color, said Harmony Edosomwan, president of the Black Student Union.    
Police pushed traffic back from the protesters and blocked off Main Street from University Place to South Prospect Street.
"We need to have control," Burlington Police Chief Brandon Del Pozo said. "We don't want it to be like Charlottesville where someone steps on the gas."
Del Pozo said that the protesters did not have a permit.
"This is civil disobedience; they are breaking the law," Del Pozo said. "Folks really care about this matter. Right now we're trying to err on the side of the First Amendment."
Del Pozo told NoNames for Justice leaders that he had been in communication with the president's team, and that Sullivan would not be meet with protesters that evening.
Edosomwan directed protesters to Waterman and students chanted as they made their way over.
"Students of color deserve respect; we're sick of the school's neglect," they chanted.
Hundreds of protesters filled the middle of the foyer and lined the staircase leading up to the second floor landing, where Edosomwan and senior Angelica Crespo, cofounder of the Womyn of Color Coalition, addressed the crowd.   
"All the people who stood out there when we couldn't feel our feet, y'all are beautiful," Crespo said.
People in the crowd recited poems, and then the atmosphere turned festive.  
Stevens, Jilliene Johnson and Dennis DePaul, of the Dean of Students office, bought pizza for the protesters.
Pizza boxes covered a table on one side of the room and snacks covered one on the other. In the middle, students danced to rap music.
"
I take it the same as every administrator on campus: Racism is real, white supremacy is real—all those things are real and they're here.
— Dennis DePaul, associate dean of students
"The University need to address white supremacy on campus," DePaul said.
 "We need to own that they're here and figure out a way to combat them and change the systems," DePaul said. "I am certainly ready and willing to do that."
DePaul said he did not know why Sullivan wasn't at the protest or where he was.
"That'll be the question, I'm guessing, for a while," DePaul said. "What I heard Annie [Stevens] say is he offered to meet with them tomorrow, so I'm hoping that happens."
Students called for the resignation of Stevens, Sullivan and Provost David Rosowsky during a Feb. 20 rally, saying that they have not taken adequate measures to protect students of color and have failed to adhere to demands put forth by NoNames for Justice.
Stevens said she did not know if the administration would adopt No Names for Justice's demands.
The protest was held in solidarity with John Mejia, a UVM employee who began a hunger strike Feb. 16 in protest of racist rhetoric on UVM campus and in Burlington.
"John Mejia is starving themselves, and the University is sitting idle," graduate student Doretha Benn said. "UVM has been stagnant in social justice efforts for years now."
Mejia has said that they will not end their strike until the administration adopts No Names's demands, as well as the ones they have added.
A Feb. 22 interview with Mejia had to be cancelled because they said they were not feeling well.
Multimedia reporter Sawyer Loftis covers the Feb. 23 protest in this Sounds of Solidarity podcast. Listen here.