Sullivan apologizes for eugenics survey in open letter
Tom Sullivan, outgoing University president, has apologized for the "stereotyping, persecution and in some cases state sponsored sterilization" of the Vermont Eugenics Survey that took place at UVM from 1925 to 1935, according to an open letter to the UVM community. 
The letter was sent in an email June 21.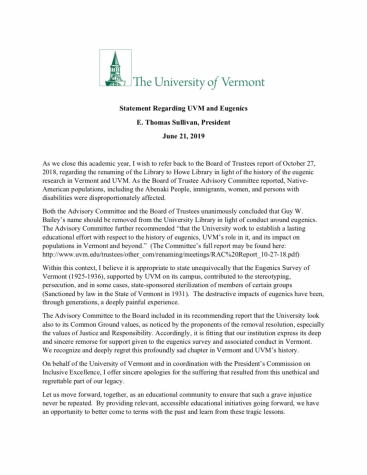 In the letter, Sullivan addresses the removal of Guy W. Bailey's name from the Howe Library in October 2018 and the eugenics movement as a whole. 
He acknowledges that the removal was necessary in the context of Bailey's work in the eugenics movement. 
In addition, he said, "The University must work to establish an educational relationship between the history of the eugenics movement and UVM's role in it."
In closing, Sullivan offered his sincere apologies for the suffering that resulted from this "unethical and regrettable" part of UVM's legacy, and urged the community to move forward together to ensure that history might never be repeated. 
Reception to the letter was generally positive, according to a June 21 Seven Days article. 
Don Stevens, chief of the Nulhegan Band of the Coosuk-Abenaki Nation, told Seven Days he asked Sullivan for an apology, and is glad it has now been given. 
"I have to give Tom Sullivan and UVM credit for actually [apologizing]…I want this to be a positive," he said. 
Sullivan's full letter can be found here.
About the Writer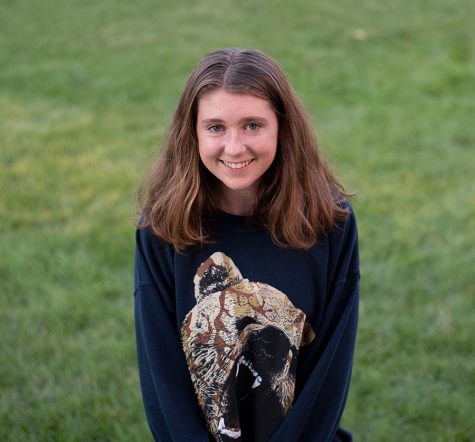 Mills Sparkman, Digital Media Editor
Mills Sparkman is the Opinion Editor for the Vermont Cynic. She is a junior majoring in Political Science from Bristol, Rhode Island, not to be confused...