UVM asks for student input on divestment amidst pressure from campus groups
On a Friday afternoon when many students might be gearing up for the weekend, over 100 others chose to pack themselves behind a partition in the Silver Maple Ballroom. 
They came to ask the board of trustees one thing: which side of history did they want to be on?
Over the last two semesters, students from the activist groups Sunrise Movement and Organize, a  club centered around divestment, have urged the board of trustees to divest from fossil fuels, raising their voices through protests, petitions and speeches during the board's public forum.
Now, for the first time, the board of trustees has asked students for input on divestment following the mounting pressure from students for UVM to divest.
Richard Cate, vice president of finance and University treasurer, sent an email to the UVM community March 20 calling for input regarding sustainable investing through a survey that closed April 3, citing the fact that various campus groups have made themselves heard by the board.
What happened after the January 31 board meeting
Following the protest at the January 31 board meeting, a group of students in Organize sent an email to club members about their plans to hold a demonstration Feb. 14, an Admitted Student Visit Day.
Organize planned to approach admitted students and ask them if they knew UVM had $27 million invested in fossil fuels, said junior Sarah Sciortino, a leader in the club.
The administration got involved as soon as they heard about the plans.
"We got called in by Annie Stevens," Sciortino said. "She was saying, 'we're really close. Don't do this. I'll get you a meeting with the president. Don't ruin where you are now. You have a good relationship with the board.'" 
Vice Provost Stevens stated in a March 31 email to the Cynic that she wanted to ensure any activism wouldn't disrupt the visit day. 
"I outlined all the ways that they could engage in activism in constructive ways, and be respectful of other University activities," the email stated. "To my knowledge there have been no issues that we had to address as a result of their continued activism."
Leaders of Organize then met with President Suresh Garimella, who echoed Stevens' words, asking Organize not to do anything on Admitted Student Visit Day, Sciortino said. 
"We were not really sure if they were placating us or not," Sciortino said.
After the meetings with Stevens and Garimella, Organize decided to hold off on protesting at Admitted Students Visit Day to see how things played out with the board, Sciortino said.
A few weeks later they got word that the board was creating a sustainability work group that was asking for student input, Sciortino said.
The board selects new chair and creates sustainability work group
In his first meeting as newly elected board chair, Ron Lumbra announced the creation of the sustainability work group, about a month after the January protest.
The work group is made up of nine board members tasked with compiling a report that will advise the board on what to do regarding divestment. The work group is scheduled to present the report to the full board at the May 15 meeting.  
Members of the work group include the chair of the investment subcommittee Robert Brennan and Garimella. Cate was chosen to be the liaison between the work group and the student body by Garimella, Cate said.
When Lumbra announced the creation of the work group March 2, he also expressed some skepticism.
"We've had lots of vocal input from students and faculty members on the topic of divestment," Lumbra said at the meeting. "The link between climate and divestment is suspect at best, however, there is lots of energy and emotion around the topic in the campus community."
Junior Kieran Edraney, another leader in Organize, said he is optimistic about Lumbra's willingness to hear from students.
"This is the first time in a long time where the board is really reaching out to every student and giving them the opportunity to give input," Edraney said.  "All my interactions with Lumbra have been positive, and I think he genuinely wants this to be an opportunity for student input."
In terms of whether or not the work group will lead to divestment, Sciortino said it's too early to tell.
"I'm hesitant to be super hopeful but I also don't want to be pessimistic," Sciortino said.  "I hope in the end they make the recommendation to the full board to divest, it's possible that they won't, but in the end that's the hope."
Lumbra wanted to gather information about divestment for the report, so Cate suggested the survey as a way to hear student input, Cate said in a March 27 interview.
Carlyon Dwyer, the chair of the workgroup, stated that the survey is part of the work group's effort to learn and provide feedback to the full board.
"We are looking at what [the sustainability] program looks like now and what opportunities may exist for the board, administration and individual students to improve upon our already progressive sustainability efforts," Dwyer stated in a March 29 email.
The survey questions were written collaboratively by Lumbra and Cate, Cate said.
After asking for input on sustainable investing and fossil fuel divestment for the endowment, the remaining two questions on the survey ask students about their personal choices regarding sustainability.
These questions ask: "Do you invest in green funds (free of fossil fuels)?" and, "what do you do in your daily life to reduce your personal carbon footprint?"
Green funds are investments in companies that are environmentally responsible and do not invest in fossil fuels.
Cate said the board was interested in student engagement, so they wanted to also ask students about what they were doing on their own to be sustainable.
Sciortino said she hopes the board still sees the importance of divestment regardless of what students answer to these two questions. 
"I hope they don't devalue the importance of divestment because there are other things that people might do to reduce their carbon footprint," Sciortino said. 
As of  March 27, the survey had 481 total responses. 
The work group holds their first meeting
The work group held their first meeting March 26 over the phone, in an effort to stay on task despite the changing landscape due to the COVID-19 pandemic. 
Dwyer opened the meeting by thanking everyone for adapting to changes. She also said that the work group will try to stay on target to present to the full board in May. 
The meeting was open to the public, and approximately 15-20 people that were not a part of the meeting called in to listen, according to Assistant Trustee Coordinator Erin Dickinson.
Cate and UVM controller Claire Burlingham started by discussing UVM's current sustainability achievements and the existing language of the board's statement of investment policies and objectives that guide the board in how they choose to invest. 
As the meeting continued, the group focussed more on the logistics of divestments and what other universities are doing to navigate the change.
Many members asked Brennan about the nuances of investing and what kinds of changes could be feasible. 
Brennan explained how divesting the entire portfolio from fossil fuels would be difficult because the board doesn't directly invest the majority of its own endowment. Instead, it hires 30 investment managers who autonomously invest portions of the endowment.
"These managers have the discretion to do what they want, we can't tell them what to buy or sell," Brennan said. "But we could be communicating with them in more specific ways regarding our ESG objectives which we should work on doing."
ESG stands for Environmental, Social and Governance, and is a blanket term for ethical investing criteria, which can include avoiding fossil fuel investments among other things.
UVM doesn't know where some parts of the endowment are even invested, Cate said in a March 27 interview.
"With a hedge fund, you don't know what stocks are held by the hedge fund when you buy them," Cate said.
This means there could be more than $27 million invested in fossil fuels through hedge funds, but we can't access that information since hedge funds don't share it, Cate said.
Board members also pointed out at the meeting that while headlines claim universities are divesting, they're not always divesting 100% of their endowment. 
"If you look at Middlebury College's announcement, they are only phasing out what they are calling direct fossil fuel investments," Brennan said. "A lot of publicity was generated around the headline, but the actual specific investments that were going to be excluded were a very small slice of the investable portfolio." 
Dwyer said that divestment is not an all or nothing proposition.
"When we look at what other universities are doing, the headlines will focus on divestment, but the bulk of the work is around other issues relating to sustainability on campus, many of which we've been doing,"  Dwyer said at the meeting.
"It is part of our charge to look not at what the headlines say but at the nuts and bolts of these programs and how they might provide guidance to us," she said.
Edraney said he was happy to hear the board talk about the complexities of divestment at the meeting.
"They're giving the issue the attention that it deserves," he said.
The work group will meet again on April 17 to discuss the public comment submissions.
About the Writer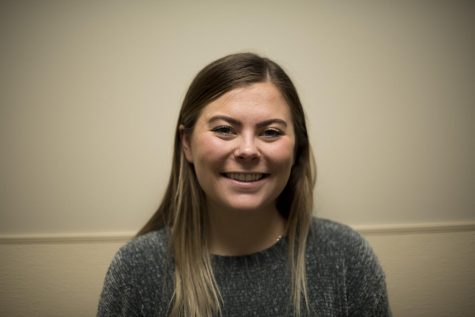 Emma Pinezich, News and Sports Editor
Emma Pinezich is a senior Political Science and French double major from New York. She started working for the Cynic as an illustrator in her first year...