UVM Bus driver found responsible for pedestrian injury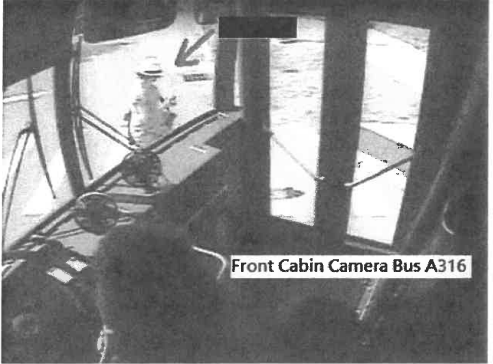 Advertisement
Hang on for a minute...we're trying to find some more stories you might like.
A UVM police services investigation has found a UVM bus driver at fault for hitting a woman who was crossing the street.
The bus driver, Linda Fountain-Provost, was given a ticket for failing to stop for someone in a crosswalk and severely injuring Susan Shaffer, according to a Vermont Department of Motor Vehicles report.  
The DMV report indicated that Shaffer was taken to the hospital by ambulance for "suspected serious injury" and that Fountain-Provost was "inattentive" while driving.
A DMV inspector examined the bus and found nothing that would point to a mechanical malfunction, according to the report.
Dashboard footage revealed that Shaffer was nearly two-thirds of the way across the crosswalk when the bus ran over her foot, causing her to drop to the ground while the bus continued to move, according to a UVM police services report.
"I started screaming 'stop, stop,' and I was banging on the bus," Shaffer stated in a UVM police services report.  
"When the bus stopped … I saw my leg and my foot were on the grass and I looked up and I could see that my bones were exposed," she stated.
In the report Shaffer stated that as she was about to step on the curb from the crosswalk she could see the bus but assumed it would stop as she crossed the street.
As she continued to walk, it was clear the bus was not going to stop. That's when she was struck by the bus, getting "pushed" and "pulled" under the tire, according to the report.
Fountain-Provost stated in an Oct. 20 text message exchange that she had been driving buses for the last 30 years and will most likely never drive one again.
"I would only ask two things: that you emphasize that it was an accident and that I signed a non-disclosure agreement that doesn't allow me to comment," Fountain-Provost stated. "This is a tragedy, and I hope that it is emphasized that way."
Shaffer isn't the only victim in this accident, Fountain-Provost stated. The accident impacted her emotionally and has changed her life forever, she stated.
"My heart physically hurts because I can't do anything to help this woman," she stated. "I don't sleep well; I have nightmares. I stay at home. I have incredible anxiety. I've changed. Thirty years of my life and someone was hurt. I didn't see her … and that will haunt me as long as I live," Fountain-Provost stated. 
In the police report provided by the University, both student and non affiliate witness' names were redacted.
A student who was on the bus at the time said that after Fountain-Provost hit Shaffer the scene was chaotic.
"I thought we hit the curb, because that's what it felt like. Then the woman who we hit just started screaming," the witness stated. "It sounded like it was coming from underneath the bus. I then tried to get off the bus, it was chaos."
Another student stated that he felt the bus hit something and then immediately heard a "blood curdling" scream, but the bus kept going.
Detective Sergeant Brandon King, the investigating officer, was one of the first officers to arrive on scene, the report stated. As he rounded the bus to approach Shaffer, he saw she was wedged between the curb and the rear passenger side tire, according to the report.
Six UVM police officers including Chief Lianne Tuomey, a Burlington Police officer and a DMV inspector, arrived on scene to investigate the accident, according to the report.
Fountain-Provost resigned Sept. 28, a little over a month after the accident, she said in texts.
UVM Communications Director Enrique Corredera said the University had nothing more to add to the police report, but that they were sorry the accident happened.
"Our thoughts are with the woman who was injured and we wish her all the best during her recovery," he said.
UVM Transportation and Parking Services announced that changes would be made to the current bus routes starting Oct. 15, according to an Oct. 9 email to the UVM community.
The changes include only one bus running from 9 a.m. to 3 p.m. in front of Bailey/Howe Library that goes to Jeffords Hall, the email stated.
Transportation Services Supervisor Mike Altman said that he could not comment if the changes were a result of the accident. But Altman did say that campus construction was part of the decision.
Corredera said the University is always looking to improve transportation safety on campus, whether it be for buses, skateboards or pedestrians.
"The University continuously assesses and evaluates transportation issues on the campus and is always looking for ways to improve safety … on an ongoing basis," he said.
Shaffer could not be reached for comment despite numerous attempts.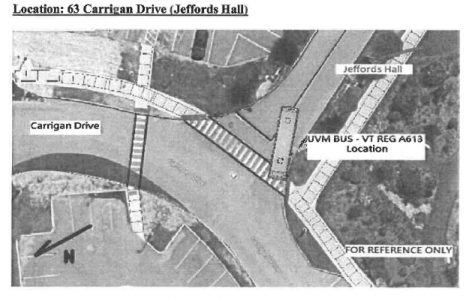 Courtesy UVM Police
About the Contributors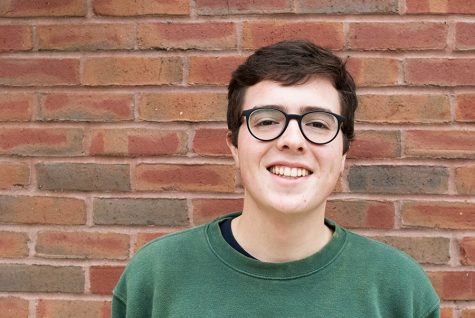 Sawyer Loftus, Former Assistant Breaking News Editor
Sawyer Loftus is the former Assistant Breaking News Editor. He is a sophomore and is double majoring in History and Political Science. He is from Colchester,...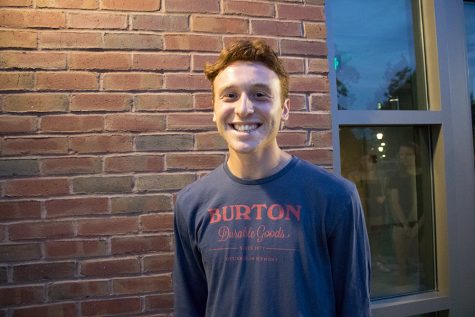 Alek Fleury, Photo Editor
Alek Fleury is an English and Political Science double major from New Jersey (the greatest place on earth). He dedicates most of his life to being the...