Strive to be sustainable in all ways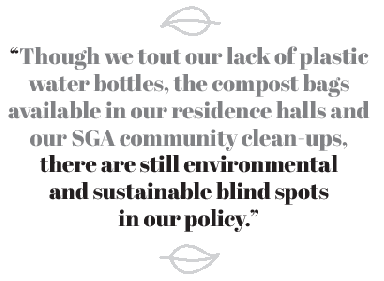 While UVM is very conscious of the environment, we must aim higher and acknowledge our faults to be truly sustainable.
Though we tout our lack of plastic water bottles and compost bags available in our residence halls, there are still environmental and sustainable blind spots.
For example, the University has still not divested fully from fossil fuels, according to junior Eco-Rep Julia Landis.
While we may not support the use of fossil fuels, we still give our money to organizations that do.
TD Securities, a division of TD Bank, was one of the earliest sponsors of the Dakota Access Pipeline, according to an October 2017 VTDigger article.
After the news of TD Bank's investment in the DAPL came out, students protested TD Bank's placement on campus. They're still in regular use today.
Though we have been using 100% sustainable energy for campus electricity since 2015, that does not mean our work is finished.
We must make sure our use of renewable energy is sustainable not just in an environmental sense, but also financially.
If we can't afford to pay for renewable energy, we won't be able to continue using it. Being financially sustainable might mean reevaluating where we source energy from, or what types of energy we invest in.
For example, we are aiming to use more thermal energy to sustain UVM's heating and cooling systems, according to Office of Sustainability director Gioia Thompson. It is not fully funded yet, so it's not sustainable financially.
But with people invested in making sure that UVM is environmentally friendly and budget-friendly, there's a higher chance that we succeed in both these missions.
So don't despair, but stay aware: our mission for sustainability will only continue as long as we invest in it.
Staff editorials officially reflect the views of the Vermont Cynic. Signed opinion pieces and columns do not necessarily do so.
The Cynic accepts letters in response to anything you see printed as well as any issues of interest in the community. Please limit letters to 350 words. The Cynic reserves the right to edit letters for length and grammar. lease send letters to [email protected].