Students, use your vote wisely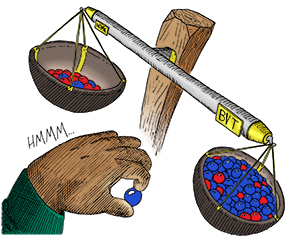 Voting is one of the most direct ways to participate in democracy. This election season, make sure your vote is an educated one.
UVM is a politically engaged campus. Democrats, Republicans and Progressives are all represented here through student groups, and it's not unusual to see a presidential campaign sign in a dorm room window.
However, with so many different viewpoints represented on campus, it can be difficult to make a decision about who you should vote for, where you should vote or even how to register.
As a news organization, the Cynic is required to remain unbiased. That's why we're not endorsing any local or national candidates or taking bold stances on any issues that affect UVM students and the greater Burlington population.
However, we unequivocally endorse voting wherever you feel most strongly, whether that be your home state or Vermont, and making an informed choice in that matter.
You as a voter have a responsibility and a choice to vote where your voice will matter most.
If you come from a swing state such as Pennsylvania, you should seriously consider who needs your vote more, Vermont or your home.
Once you've decided you are going to vote, the next step is deciding where you are going to register.
Vermont has same-day voter registration and convenient polling places downtown.
However, you can also request an absentee ballot from your home state. If you feel your vote could make more of a difference at home, take the extra time to request a mail-in ballot.
Four pages of the Cynic this week are devoted to educating you on the Burlington City Council election, March 3. We offer straight facts from news reporters and perspectives on the candidates from Opinion columnists.
The City Council election will take place at the same time as Vermont's Democratic presidential primary, a race that has gained far more media attention.
But we think local elections are just as important as national ones, maybe even more.
As students, we are a part, albeit a temporary one, of the Burlington community. We should not be afraid to use our voices in this community.
Research candidates' positions on issues that matter to you, such as public transportation or tenants' rights.
We ask you to exercise your right to vote and that you do it in a thoughtful and educated way.
Your vote, and your voice, matters.